Arts and Ageing Forum 2022: The Future of Arts and Ageing in Singapore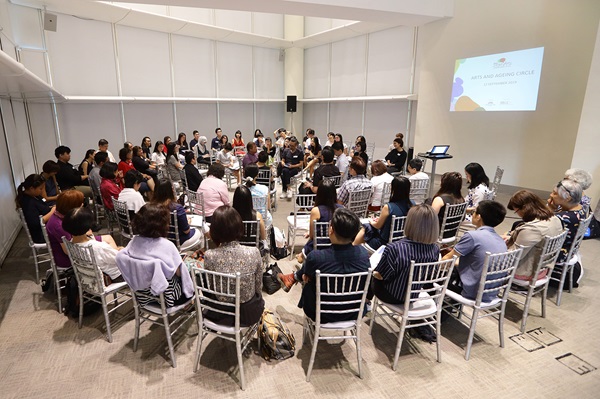 Post event survey
Thank you for joining us at the Arts and Ageing Forum on 7 October 2022!
Click here to complete a survey to let us know more about your experience. We hope to improve future editions of the Arts and Ageing Forum with your feedback.
Programme Information
Date: 7 October 2022 (Friday)
Time: 9.45am to 5.30pm
Venue: Lifelong Learning Institute, Level 2, Lecture Theatre & Level 4, Arena and Book Hall
(Note: Parts of the Forum will be livestreamed via Zoom; link will be shared with attendees who sign up for the livestream option.)
The Arts and Ageing Forum returns as a hybrid event, that is part of the #SilverArts initiative, to bring artists, social and healthcare practitioners, community leaders and funders together to network, share best practices and advocate for the social value of the arts for seniors. Since the first edition in 2014, each edition explores different themes where participants discuss perspectives and strengthen networks with other stakeholders across sectors, to explore how the arts can empower, engage and enrich seniors.
The ninth edition this year will take an exploratory journey into "The Future of Arts and Ageing in Singapore". Join us as we hear from international creative ageing experts Lifetime Arts (USA), as well as local industry leaders, and participate in experiential workshops targeted at artists and social service practitioners.
Programme Highlights



Plenary Speech: The Role of the Arts in Ageing Well
by Lynette Pang, Deputy Chief Executive, National Arts Council





Keynote: Catalysing Creative Ageing: Lessons from the USA
by Maura O'Malley, CEO, Lifetime Arts (US)


Panel Discussion: Future of Arts & Ageing in Singapore
Moderator: Dr Charlene Rajendran
Panellists:
1. Dr Emi Kiyota, Associate Professor, Yong Loo Lin School of Medicine and College of Design and Engineering, & Director (Programmes), Health District @ Queenstown
2. Grace Low, Head, Customer & Community Engagement, Esplanade
3. anGie seah, Artist
4. Maura O'Malley, CEO, Lifetime Arts

Schedule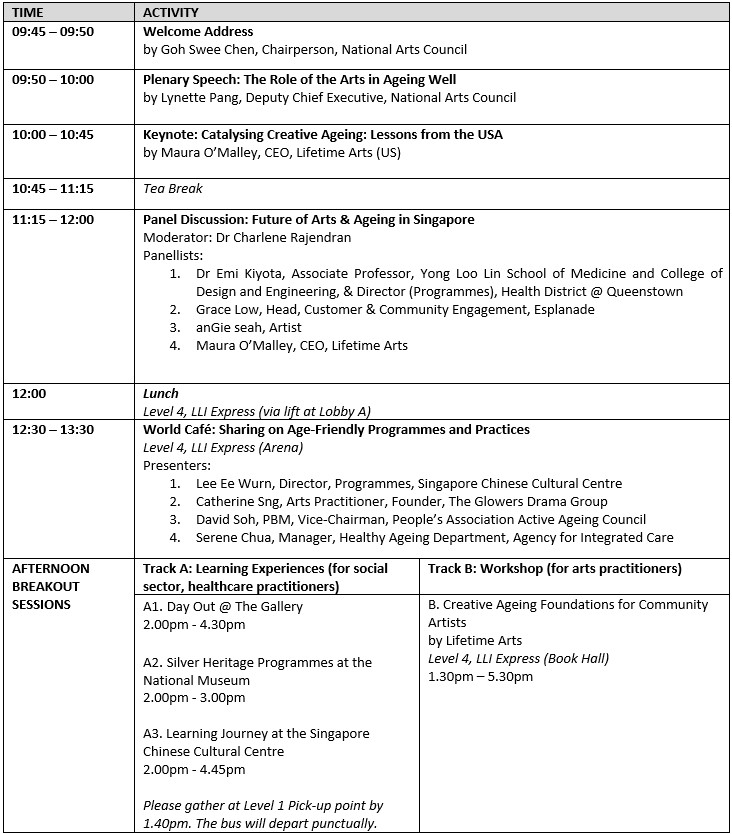 Ticketing
Get your tickets here to attend the Forum in-person or via livestream!
Please register early to avoid disappointment as spaces are limited.
Closing date for registration: 5 October 2022
Find out more about the past editions below: