What is it like to work in this sector?
Professionals working in this sector support the technical requirements of a production and offer professional services to run the production. They have strong technical competencies, must be creative in problem-solving and be adept at collaborating with diverse teams. They must also be adaptable to resolve unforeseen challenges during a production and thrive under pressure.
Apart from stage productions in theatres, professionals in this sector can apply their skills across a range of platforms and mediums such as festivals, live music venues, production studios for the small and large screen and digital and online media.

There are some 2,000 professionals in this sector, making up about 19% of the arts workforce. Many are engaged on a freelance basis by venues, rental houses or directly for production.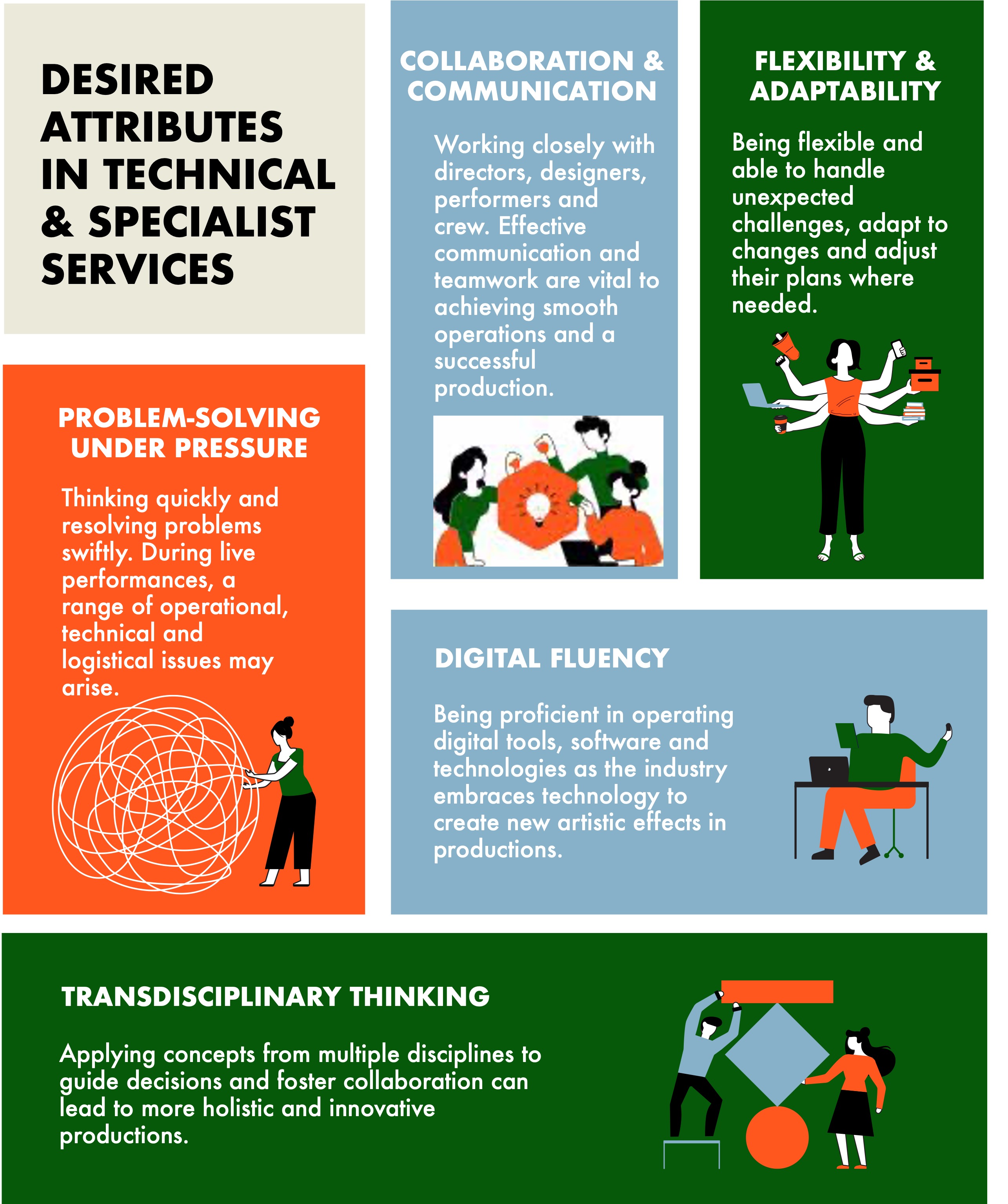 Job Tracks
This sector has two tracks: technical and production.
Technical Track
Professionals in the Technical Track specialise in the technical aspects of a production, including building and operating the physical elements. They are responsible for handling lighting, sound, automation systems, multimedia content, set construction, props management, and more. They ensure that all technical elements are executed flawlessly, contributing to the production's overall success.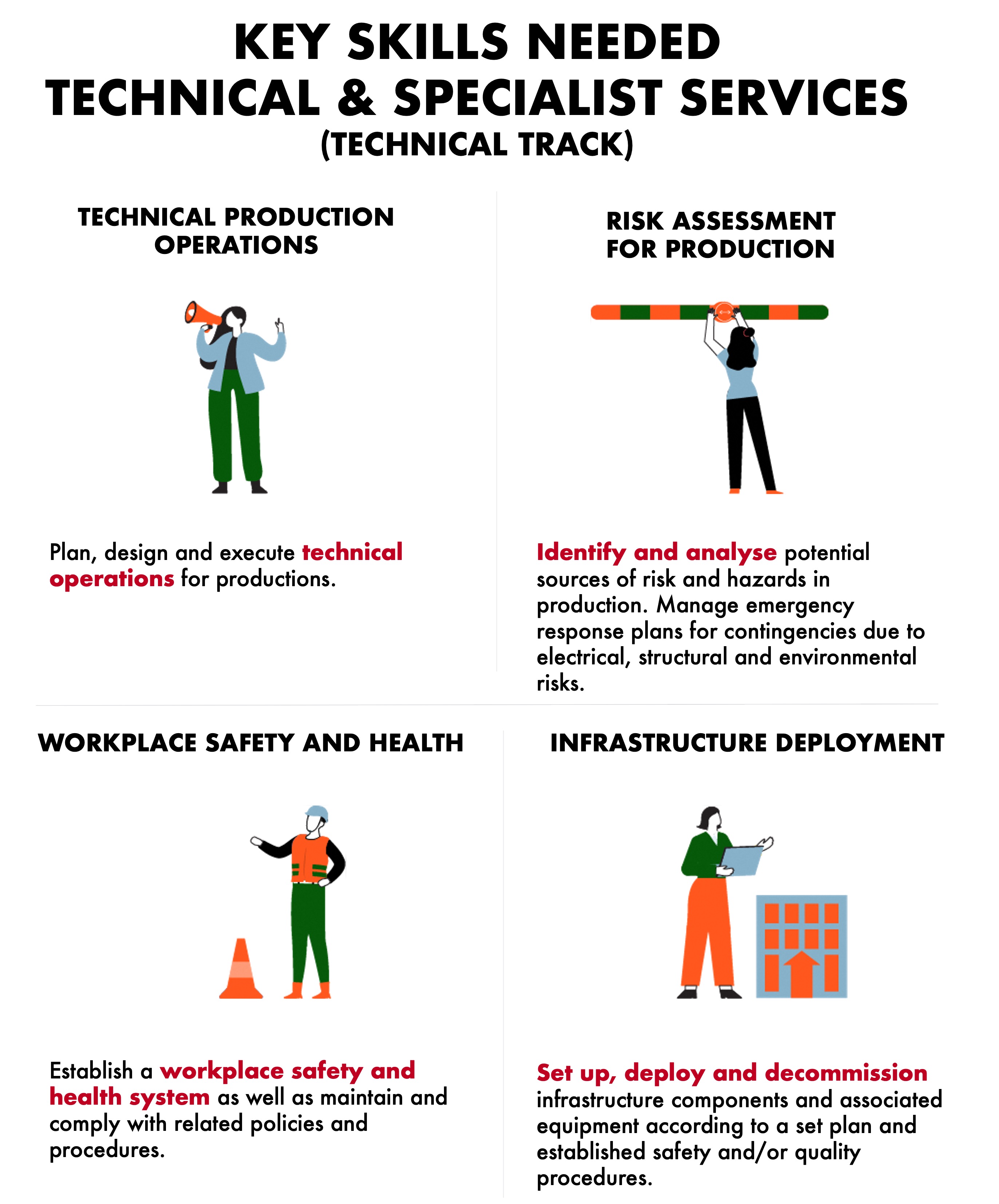 Specialist (Automation, Lighting, Multimedia, Sound, Stage)
Job Description
The Specialist manages the technical dimensions of various aspects and elements of the production and to implement these elements in line with plans designed to meet the vision and desired impact of the performance. This includes operating production/technical equipment and systems to execute the desired effect.
The Specialist is responsible for setting up and testing equipment, and working directly with producers and designers before and during performances. They should be able to accurately follow design briefs and instructions.
Depending on the scope and size of the production, the Specialist may be required to supervise junior technical personnel to ensure the correct set up is executive effectively and safely before and during a production. They may also be required to work at heights, be trained to operate elevated work platforms, understand basic electricity, follow workplace safety and health standards and serve as a point of escalation of any reports or breaches.
The specialist can either be employed full-time or casually in a venue, in a rental house or directly for production.
*Specific job descriptions for the different domains can be found in the Guide on Occupations and Skills

Key Responsibilities

Set up required production/technical equipment and systems
Operate production/technical equipment and systems
Maintain production/technical equipment and systems
Manage production/technical equipment storage and serviceability
Manage risk and safety

Key Technical Skills

Risk Assessment for Performing Arts
Technical Production Operations
Workplace Safety and Health

Automation Specialist

Infrastructure Deployment
Infrastructure Support
Rigging Equipment Maintenance
Rigging Operations

Lighting Specialist

Digital Lighting for Performing Arts
Lighting Operations

Multimedia Specialist

Camera Operations for Live Shows
Multi-Camera Operations for Live Shows
Multimedia Operation
Network Configuration
Vision Mixing

Sound Specialist

Sound Design and Creation
Sound Recording and Operations
Technical Sound Design
Technical Sound Editing and Mixing

Stage Specialist

Performing Arts Production Operation
Rigging Equipment Maintenance
Rigging Operations
Set Construction

Key Soft Skills

Communication
Transdisciplinary Thinking
Collaboration
Problem Solving
Adaptability
Digital Fluency

For more information, please refer to the Skills Framework for Arts Guide to Occupations and Skills
Production Track
Professionals in the Production Track manage the logistical and operational aspects of the production, ensuring the smooth execution of rehearsals and productions. They coordinate with various teams, manage schedules, resources and budgets assigned to them, and oversee the production process. Their efficient management ensures that the artistic vision is translated into reality and that the production runs seamlessly.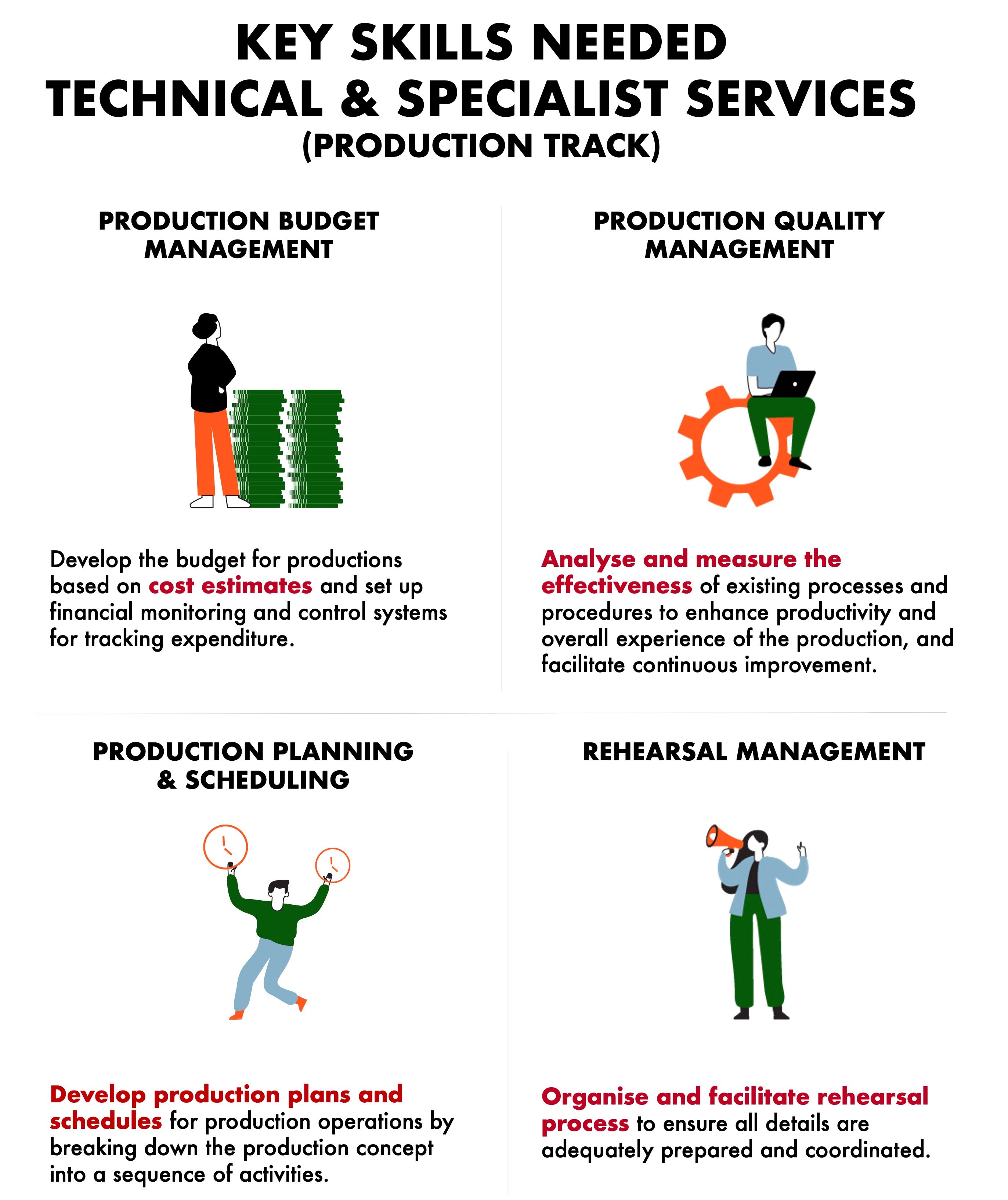 Stage Manager
Job Description
The Stage Manager is responsible for pre-production and rehearsal preparations, running and managing rehearsals and performances, and post-production administration. Duties can include overseeing the smooth execution of all rehearsals and performances, clerical organization, coordinating and communicating production activities and information between departments (including production documents), serving as the main point of contact for all involved in the production, and participating in production meetings.
He/she notates blocking, maintains the prompt book and manages the deck during rehearsals and performances. He/she may at times, need to instruct junior team members to source and/or manage look after props and costumes when there aren't any props or costume staff. He/she is also required to call or cue the show as a show caller.
Key Responsibilities

Manage pre-production and rehearsal preparations
Manage ongoing productions
Show calling
Crew and cast management
Plan asset (i.e. costs, manpower) development

Key Technical Skills

Performing Ats Production Operations
Production Budget Management
Production Planning and Scheduling
Production Quality Management
Project Management
Rehearsal Management
Risk Management for Performing Arts

Key Soft Skills

Communication
Collaboration
Adaptability
Problem Solving
Self-Management

For more information, please refer to the Skills Framework for Arts Guide to Occupations and Skills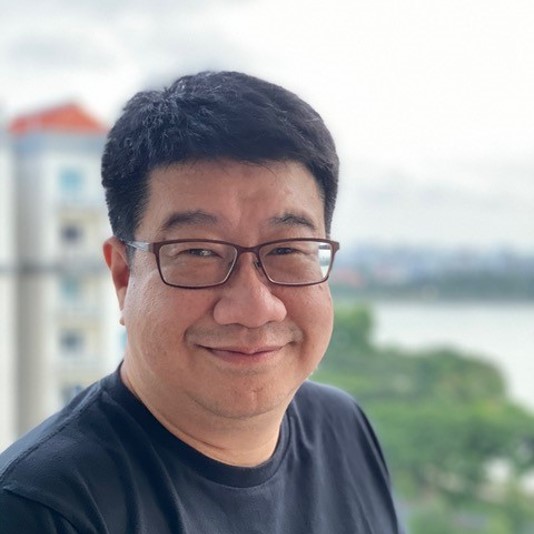 Kenny Wong, Head of Technical Production at Esplanade — Theatres on the Bay

"Technical Theatre practitioners need to be problem-solvers because the field is about finding creative solutions to artistic problems. They need to like what they are doing to tolerate the long and irregular hours. They also need to be independent and self-driven, as there is usually little to no direct supervision in a show."