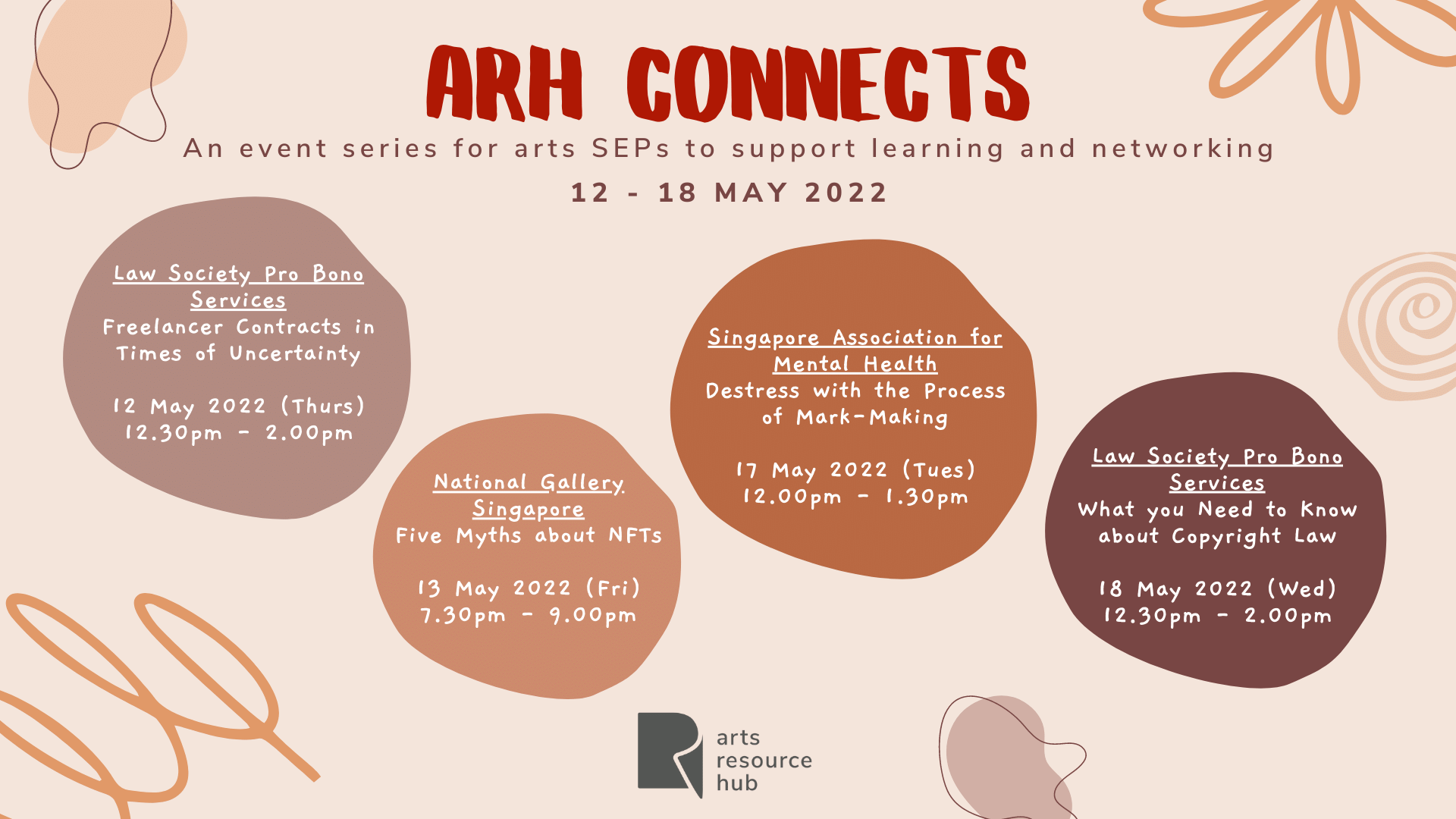 The ARH Connects event series supports learning and networking for arts SEPs, and spans the fields of finance, legal, wellness and more. Starting in May 2022, the series will be held 2-3 times each year and aims to feature more programmes led by the arts community over time. The upcoming event series in the 2nd half of 2022 will showcase some SEPG/OTG projects and include opportunities for networking.
Sign up for our events by logging into the ARH Subscribers Portal, and navigating to the Events page.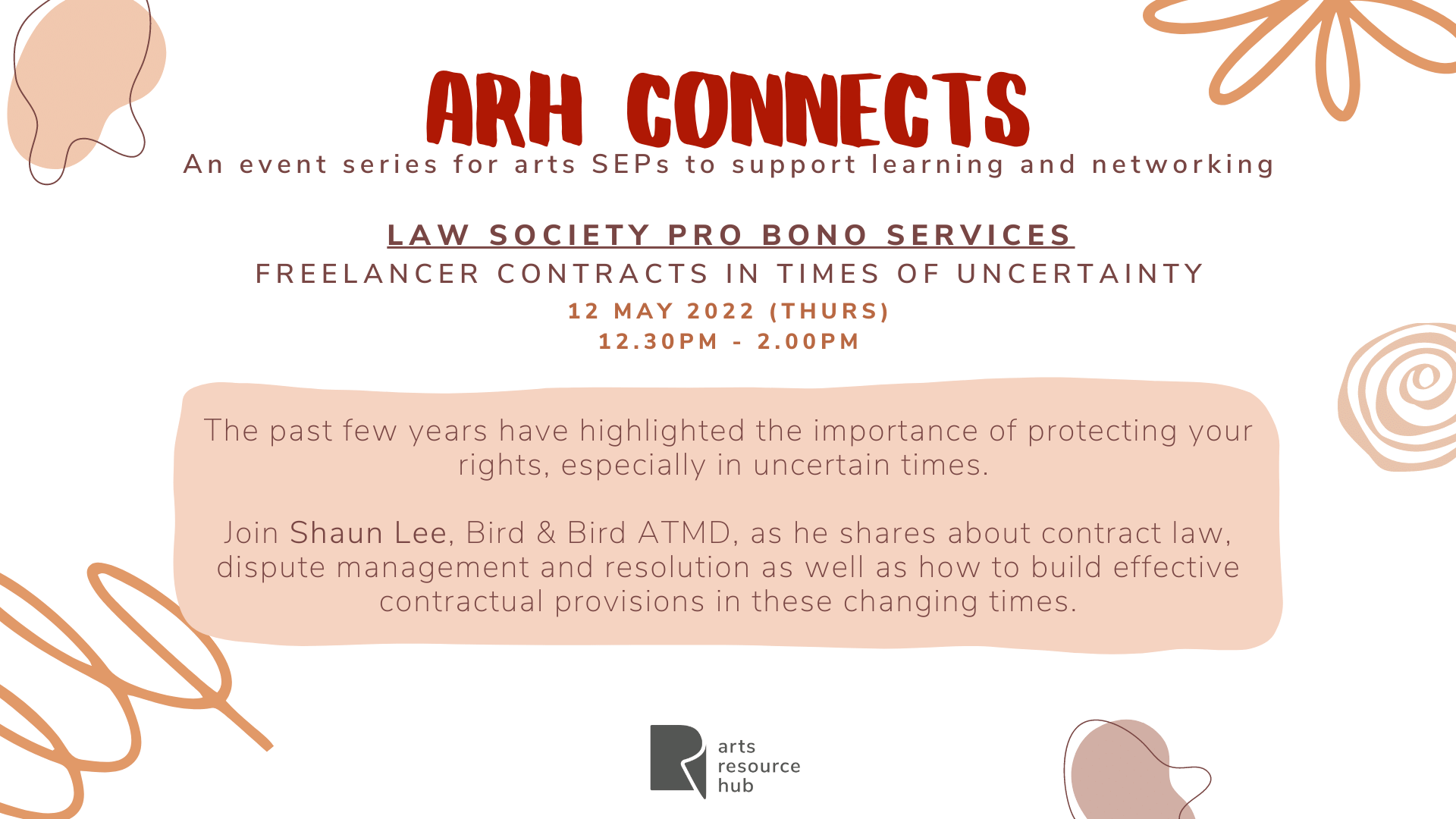 In partnership with Law Society Pro Bono Services
With the easing of safe management measures in Singapore and a return to more arts events, this is a chance to get clear about your contracts. The past few years might have highlighted the importance of contracts in protecting your rights, especially in uncertain times.
Join our speaker, Shaun Lee, Bird & Bird ATMD as he shares about contract law, dispute management and resolution as well as how to build effective contractual provisions in these changing times and responds to any questions you might have.
About our speaker
Shaun is a Counsel in Bird & Bird ATMD LLP's dispute resolution group. He is dual-qualified in Singapore and in the UK. He has represented clients in arbitration and regulatory tribunal proceedings as well as across all levels of the Singapore courts including before the Singapore International Commercial Court (SICC). He has acted for and advised clients on international commercial disputes, employment, data protection and regulatory compliance matters.
He is a member of the Law Awareness Committee and volunteers at pro bono legal clinics.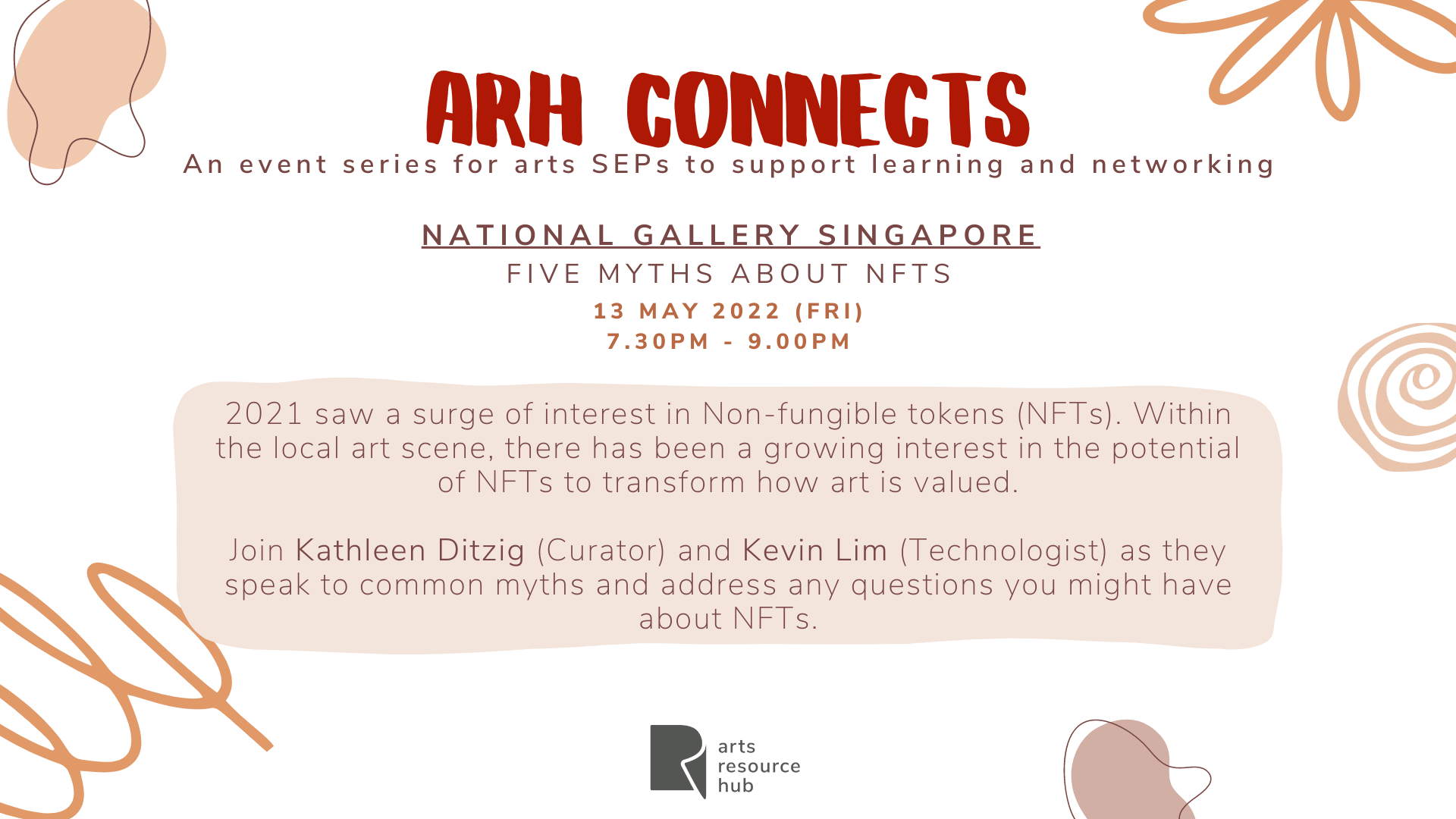 In partnership with the National Gallery Singapore
2021 saw a surge of interest in Non-fungible tokens or NFTs, with established auction houses like Christie's and Sotheby's beginning to sell NFTs. Within the local art scene, there has been a growing interest in the potential of NFTs to transform how art is valued.
Join Kathleen Ditzig (Curator) and Kevin Lim (Technologist) of National Gallery Singapore, as they speak to common myths and address any questions you might have about NFTs.
About our speakers
Kathleen Ditzig
Kathleen Ditzig is a Singaporean researcher and curator. Her curatorial practice aspires to the iterative and meaningful building of networks and platforms. It has involved the development of artist residencies, publications and exhibitions for museums and government agencies, as well as the building of independent educational programmes and exhibitions for emerging artists. Her ongoing PhD research looks to exhibitions as a technology and Southeast Asia as a Cold War exhibitionary idiom. As a curator at the National Gallery Singapore, she researches art histories of technology from a Southeast Asian perspective.
Kevin Lim
Kevin Lim (PhD)
Deputy Director, Digital Innovation & Transformation
National Gallery Singapore
Working at National Gallery Singapore for the past decade, Kevin Lim has evolved through roles in Visitor Experience, to Corporate Planning, to Innovation at the Gallery.
The Digital Innovation & Transformation (DIT) group is aimed at developing new ways for visitors to experience the Gallery:
1. Y-Lab looks at proof of problem, and scans the horizon for startups to collaborate with
2. Co:Lab X looks at proof of market, through viable in-house innovations
3. Digital Delivery look at proof of scale, by growing viable solutions reliably and sustainably
Kevin Lim graduated with a doctorate in Communication theory from the State University at Buffalo, New York and his work has revolved around the reflexive architecture of society and online social networks.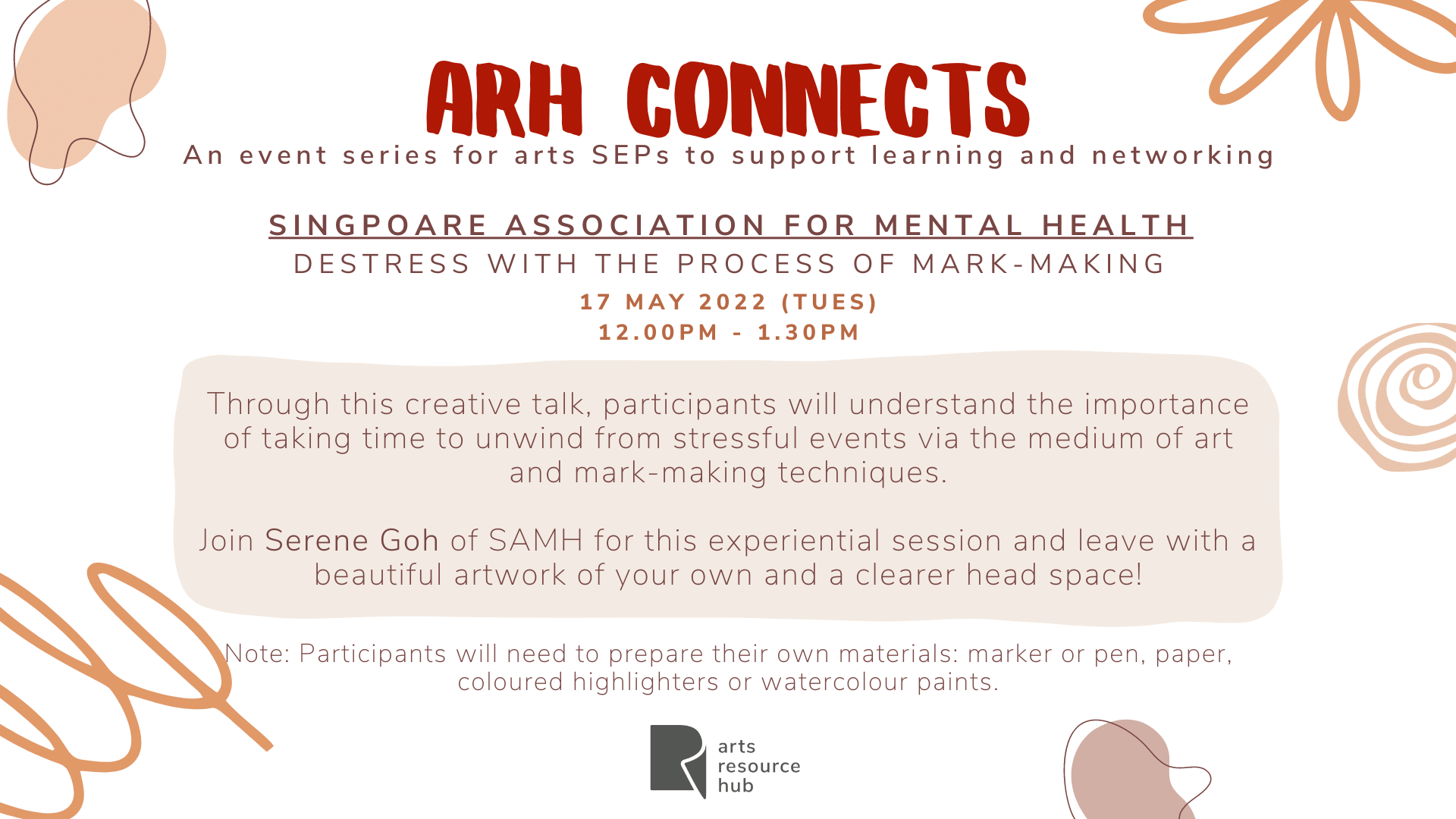 In partnership with the Singapore Association for Mental Health
Through this creative talk, participants understand the importance of self-care and taking time to unwind from stressful events via the medium of art. By using shapes, colours and mark-making techniques, participants will leave the session with a simple, beautiful-looking artwork of their own and with a clearer head space!
Note: Participants will prepare their own materials: marker or pen, paper, coloured highlighters or watercolour paints.
About our speaker
Serene Goh, Programme Specialist, SAMH Creative MINDSET Hub, designs, facilitates and evaluates creative programmes, as part of her work in mental health education, prevention and rehabilitation. As the SAMH representative in an east community collab, she works actively with partners to initiate collective impact projects that promote individual and community well-being. She also conducts trauma-informed care training and helped to set up SAMH Creative SAY!, a neighbourhood youth wellness centre located in Marsiling. She holds a B.A. in Development Studies from Brown University and a M.A. in Creative Writing from studies at LASALLE College of the Arts.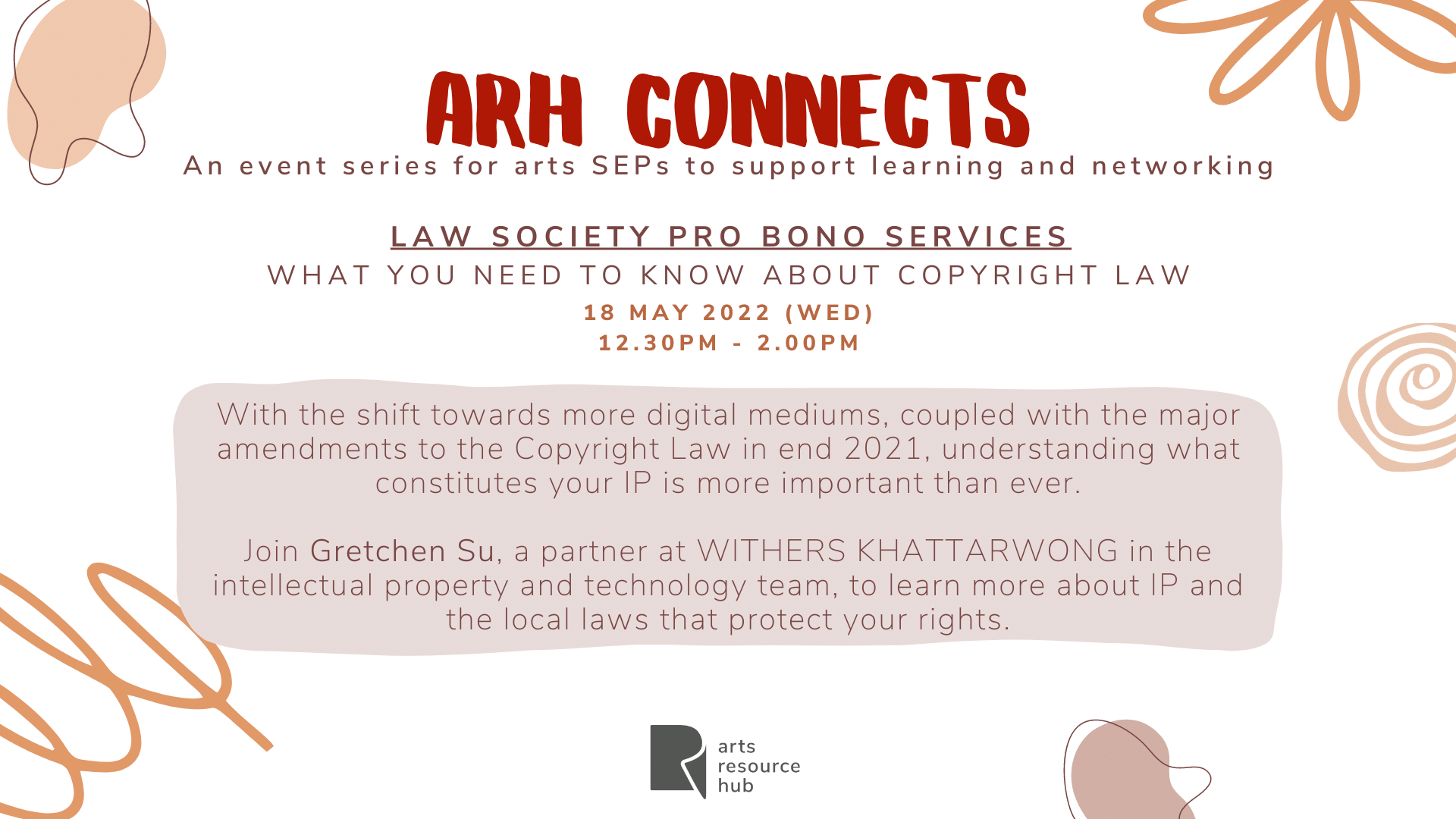 In partnership with Law Society Pro Bono Services
With the shift towards presenting art on more digital platforms and mediums in the past two years, coupled with the major amendments to the Copyright Law in end 2021, understanding what constitutes your IP is more important than ever. Given the ease in resharing and adaption in the digital realm compared to traditional mediums, more nuance and care is needed to prevent possible infringements.
Join Gretchen Su, a partner at WITHERS KHATTARWONG in the intellectual property and technology team, to learn more about IP and the local laws that protect your rights.
About our speaker
Gretchen is a partner at WITHERS KHATTARWONG, in the intellectual property and technology team. She is experienced in the protection, commercialisation, and enforcement of intellectual property rights. Her areas of work include the strategic planning and management of clients' global intellectual property portfolios, advising on brand clearance and protection, advising on and drafting commercial agreements relating to intellectual property and information technology, as well as advising and representing clients in intellectual property disputes. She is an accredited Mediator with the Singapore International Mediation Institute (SIMI).