In June 2019, Deputy Prime Minister Heng Swee Keat launched the Singapore Together movement, signalling a shift towards a Public Service that works together with citizens on goals and aspirations for Singapore. The COVID-19 pandemic has impacted the arts industry in Singapore greatly. With the Singapore Together movement, there is added impetus for the arts community to have conversations to learn from each other, and re-think how we can move forward. As Singapore and the arts sector slowly begin to re-open in a safe and calibrated manner, this crisis of our generation presents an opportunity for the sector to come together and reflect on what we have learnt, reimagine a future for the arts that we desire, and emerge stronger.
On 1 December 2020, Minister for Culture, Community and Youth Edwin Tong hosted the Emerging Stronger Conversation with the arts community, including stakeholders such as arts companies, representatives from our cultural institutions and partners from the technology/digital sector. During the session, the arts community discussed how the future of arts would look like in the new normal, and how the sector and government can work together to progress effectively in the post-pandemic world for a "better" normal. The key points from the discussion were:

• Digitalisation needs to be an innovative and collaborative effort

With COVID-19, digital and blended presentations have become the way forward, providing new ways of experiencing the arts for audiences. The digital space has provided both opportunities and challenges for local arts groups. The online space has helped arts groups transcend physical boundaries to reach audiences, particularly during the Circuit Breaker period when many free programmes were offered to the public. However, there is a need to rethink arts business models for arts and culture offerings to be presented to audiences in a sustainable manner, such as monetising digital works and the protection of intellectual property in the digital space. Arts groups would also need to build their capabilities to increase the production quality of their digital works, and to be innovative in finding new modes where digital formats can complement and enrich physical arts offerings for audiences. Collaboration between the partners in arts industry and the digital and technology sector is, therefore, necessary in order to enable the arts sector to grow and thrive in this new normal.
Ultimately, digitalisation complements rather than replaces physical events and performances. While the pandemic has pushed the arts community in growing its digital capabilities, human connection and physical participation remains an important part of the arts sector.

• Strengthening outreach to our audiences and partners
While the online space has enabled arts groups to expand their audience outreach, there is competition from burgeoning international arts content and other forms of digital media. It is necessary to consider new ways to retain and grow these audiences, both online and in physical spaces. This can be achieved by innovating new forms of audience experiences. Hybrid solutions, such as a blended experience of live and digital presentations, may also strengthen the community's outreach to audiences, as audiences still value real life interactions and look for new forms of arts experiences.

Additionally, participants discussed the importance of joint solutioning within and outside the arts sector, and building public-private partnerships for the sector. These partnerships can strengthen the industry's existing capabilities to adapt quickly and find new ways to reach audiences.
• Strengthening knowledge and resource sharing, within and beyond the arts sector

The arts community also highlighted the importance of sharing resources to safeguard the livelihoods and capabilities of the sector. Smaller arts groups and artists especially require support from arts sector and technological partners to build the infrastructure and capabilities to pivot to digitalisation. There is a need to find new ways to collaborate and share knowledge between the arts community and the private sector partners on various issues, from safe management measures, to resources and venues or spaces, to creative and technological capabilities. Finally, clustered and shared solutioning is necessary to address the specific and shared concerns of the arts community, whether within their disciplines or across the sector. Deeper conversations involving different types of stakeholders are necessary to promote knowledge and resource sharing so that the arts community can survive and thrive in the new normal.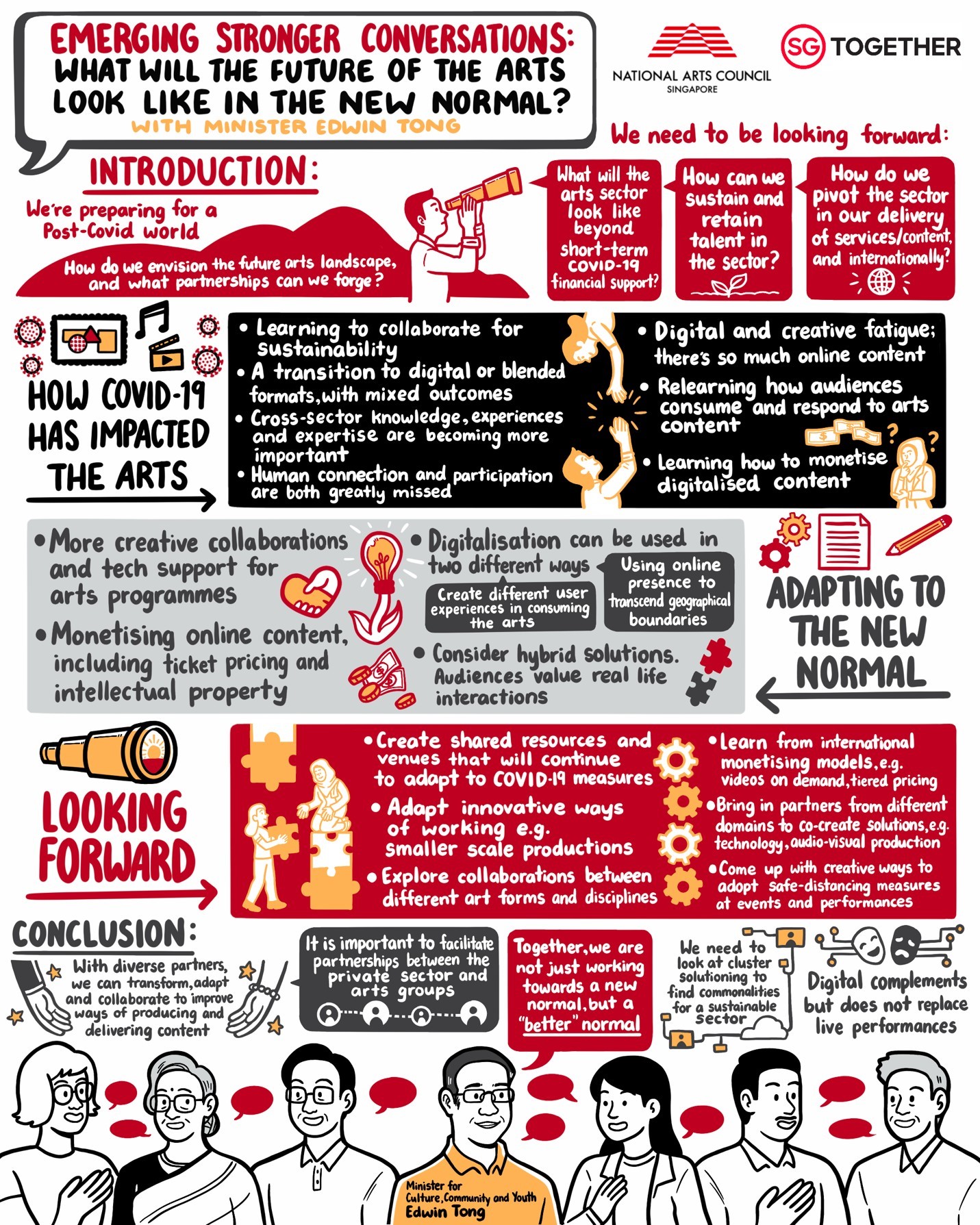 NAC Emerging Stronger Conversations with the Arts Community: Arts & Creative Self Employed Persons
On 11 December 2020, the Chairman of the National Arts Council Ms Goh Swee Chen hosted the Emerging Stronger Conversation with arts & creative self-employed persons (SEPs), including stakeholders such as key advocates for freelancers and leaders of ground-up initiatives. During the session, participants discussed how the future of arts & creative SEPs would look like in the new normal, and how arts & creative SEPs can thrive in the post-pandemic world. The key points from the discussion were:

• Digitalisation has provided both opportunities and obstacles during COVID-19

As arts and creative SEPs started moving their work online, they found both new opportunities and challenges in the digital sphere. The online space has helped SEPs connect with audiences during the pandemic and expanded possibilities for international collaborations. However, participants noted that going digital also resulted in an increased workload due to the new skills required to independently present digital works, and at times without additional remuneration. It is important that arts and creative SEPs are supported with the capabilities to work online to generate revenue, while concurrently relooking at how audiences appreciate and value the arts in this new format of delivery.

• Support systems need to be in place to protect arts and creative SEPs

Participants were appreciative of the current grant schemes, such as the Digital Presentation Grant (DPG), which enabled arts workers to pivot to the production of new, digital content during the pandemic. However, enhancing the capability of freelancers, including legal knowledge, IP rights, etc. were identified as important areas to ensure the sustainability of the arts and creative SEPs during the pandemic and beyond. Participants also suggested to have more opportunities for independent artists to present their works beyond major festival and platforms, to support the creation of works and sharing of resources among SEPs, which will help to develop capabilities and establish collaborations within the ecosystem.

• Building local and international eco-systems for SEPs to flourish

Besides government schemes - community support, self-help and connections among SEPs allowed them to respond swiftly to changes during COVID-19. SEPs were also energised by cross-sector collaborations for art-making and hoped for more of such opportunities to be available. COVID-19 had also brought on unexpected collaborations with international artists, allowing for mutual learning beyond geographical borders. arts practitioners who gained skills and experience internationally could more actively share their learnings with others, to build capabilities for the local arts eco-system. Such mutual learning and collaboration need to be in place for SEPs to develop holistically in their careers.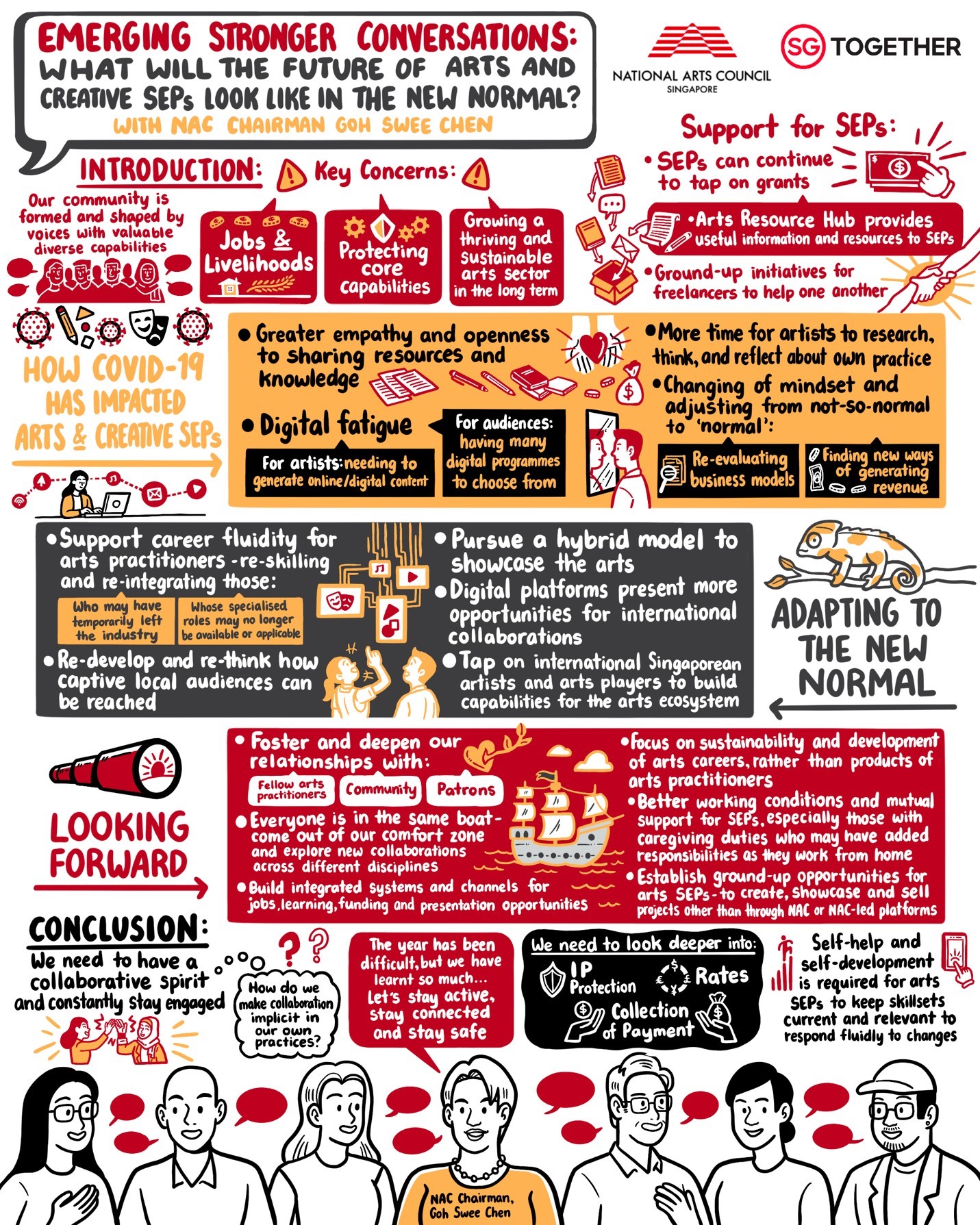 Updated as of 21 October 2021