#ArtsInYourNeighbourhood
From its first edition in 2014, #ArtsInYourNeighbourhood as an initiative by the National Arts Council (NAC), has been bringing engaging and enriching arts experiences by established artists and arts groups to various neighbourhood spaces across the island.
After more than 15 editions, NAC has been to over 30 towns, offering a diverse mix of arts programmes inspired by various neighbourhoods. It has brought different communities together and enlivened their neighbourhoods by providing the opportunity for communities to experience, appreciate and be inspired by the arts right at their doorsteps.

From 2022, NAC will present arts programmes with partners, to continue engaging communities in neighbourhood spaces, creating opportunities for interaction to build a more connected society. Communities can look forward to quality #ArtsInYourNeighbourhood programmes throughout the year islandwide, organised by artists and arts organisations, community partners and cultural institutions.
2022 #ArtsInYourNeighbourhood Programmes

POTLUCK Zine, produced by System Sovereign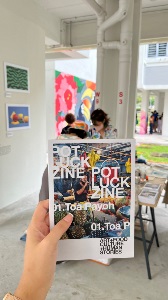 4 September - 6 November 2022, Block 10 Toa Payoh Lor 7 void deck

POTLUCK Zine is an exhibition co-created by Toa Payoh East residents and System Sovereign's Brilliant Corners initiative, founded by Singaporean multidisciplinary duo Kiat and Cherry Chan. Check out the artworks co-created by Toa Payoh East residents, in collaboration with artists Boon Baked, YABAI YABAI (aka Stacy Tan), Dju-lian Chng, and Stephanie Peh.

Experience the e-zine HERE!

This programme is supported by NAC and People's Association Integration Council, in partnership with the Integration and Naturalisation Champions (INC) at Toa Payoh East Division.
Better 2gather, produced by Participate In Design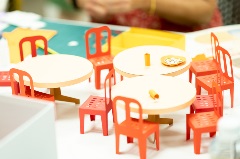 15 October - 15 November 2022, Square between Telok Blangah Market and Food Centre (82 Telok Blangah Drive)

Guided by papercraft visual artist Cheryl Teo, residents of Telok Blangah came together to co-create a papercraft exhibition celebrating their diverse backgrounds and experiences. Visit the exhibition to experience the many stories and memories of the Telok Blangah community and neighbourhood.

This programme is supported by NAC and People's Association Integration Council, in partnership with the Integration and Naturalisation Champions (INC) at Telok Blangah Division.
OTH Community Theatre, by ACT 3 International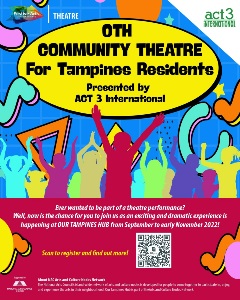 6 November 2022 (Sunday), 5pm – 5.30pm, Our Tampines Hub, Festive Arts Theatre

Our Tampines Hub (OTH) Community Theatre programme aims to create a family-based performance through weekly theatre workshops with residents of Tampines. Participants have been working together in a creative process of theatre-devising to put together a performance for their children, families, friends, and their community.

This programme is in partnership with Our Tampines Hub.
Singapore Writers Festival – 25 Programmes in 25 Libraries

4 – 20 November 2022, Various locations

To mark the 25th edition of the Singapore Writers Festival (SWF), SWF will collaborate with the National Library Board to present 25 programmes in 25 libraries across the island. Come discover talks, workshops and book club meetings taking place beyond the festival grounds and in your public library. Find out more here.

Singapore Art Week (SAW) x PAssionArts 2023

6 - 15 January 2023, Various locations

Singapore Art Week (SAW) 2023 is collaborating with People's Association (PA) to present the inaugural SAW x PAssionArts platform for artists to work alongside Community Arts & Culture Clubs (CACCs) to engage five neighbourhoods across Singapore namely Bedok, Bukit Gombak, Limbang (Choa Chu Kang), Pasir Ris East and Radin Mas. These programmes will engage with the respective communities and will be presented as installations within the neighbourhoods.
Garden of Joy by Jaxton Su

January – April 2023 , Timing TBC, Location TBC

Garden of Joy (working title) is a community art project which aims to engage the Bukit Canberra community through a series of meaningful co-creation workshops. Participants of all ages will work together to create an art installation inspired by the abundance of nature in their neighbourhood.

Bring the Arts to Your Neighbourhoods!

Individuals or organisations producing quality and enriching arts programmes in neighbourhood spaces are welcome to use the #ArtsinYourNeighbourhood hashtag in social media publicity, for discoverability.
#ArtsInYourNeighbourhood Brand Toolkit
NAC hopes to establish strong partnerships and work with more artists and partners to bring arts to various community spaces across the island. Download the #ArtsInYourNeighbourhood brand toolkit and logo files to brand your quality and enriching arts programmes as part of the #ArtsInYourNeighbourhood initiative. Publicity materials that include the #ArtsInYourNeighbourhood logo should be sent back for clearance before publishing or printing. For any clarifications, please write to nac_artsforall@nac.gov.sg.

Downloadable links for brand guides, logo files & templates.
Find out more about the past editions of #ArtsInYourNeighbourhood below: