The National Arts Council (NAC)'s Research Grant supports the important process through which we understand the issues and challenges that the arts and culture sector faces. To expand our knowledge and information of the sector, the grant enables academics, researchers, artists and non-profit arts organisations to carry out a research project over a maximum period of two years.

In recognition of the importance of research and building up research capabilities, the grant also supports the preservation and documentation of arts practices in Singapore, ranging from the traditional arts to arts and communities as a practice.

The grant is open to individuals, organisations and collectives and supports: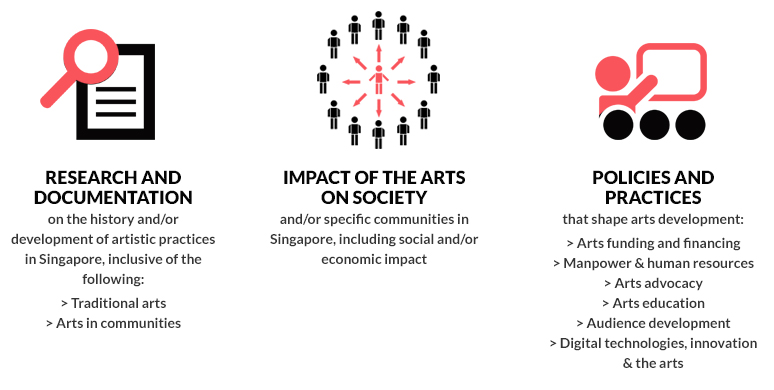 Research and documentation on the history and/or development of artistic practices in Singapore inclusive of


Traditional arts
Arts in the community

Impact of the arts on society and/or specific communities in Singapore, including social and economic impact
Policies and practices that shape arts funding and financing:


Arts development
Manpower and human resources
Arts advocacy
Arts education
Audience development
Digital technologies, innovation and the arts
The grant supports up to 100% of qualifying costs if the project is not funded by other sources. For individuals, the grant quantum is capped at $50,000. For organisations, the grant quantum is capped at $100,000 per financial year.