What is it like to work in this sector?
Arts Educators* are primarily practising artists with a teaching practice and an artistic practice that inform and complement one another. They tend to work in a variety of settings such as schools, private studios, arts organisations and community centres that provide full-time, part-time employment or freelance work opportunities for Arts Educators as music teachers, dance instructors and drama educators, to name a few. 1 in 2 arts professionals who worked in the Arts Education field operate as Self-Employed Persons (SEPs).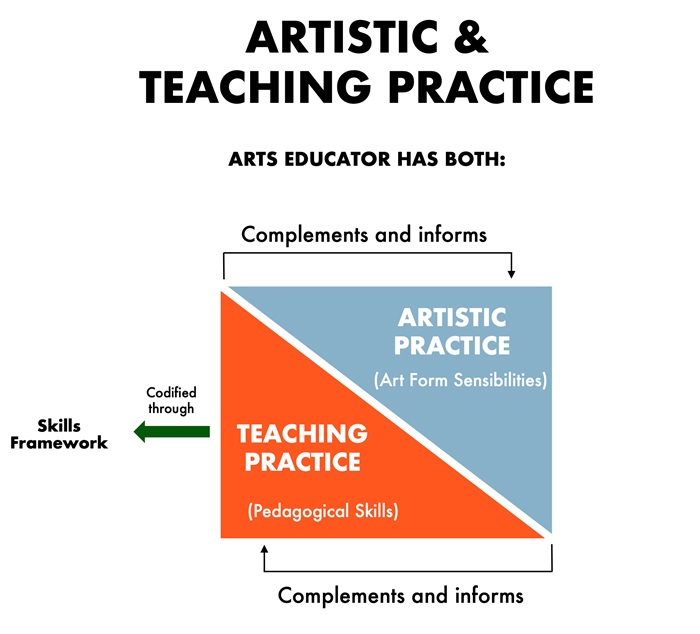 Arts Educators deliver arts education programmes that encourages the appreciation of and participation in the arts and/or achieve other learning goals through an arts education programme. They play an important role in providing Singaporeans with quality arts experiences from a young age. They help to develop new arts audiences and nurture future arts professionals and cultivate patrons who appreciate and support the arts.

*Arts Educators, in the context of arts workforce, do not include in-service school teachers who teach subjects such as Art or Music. Instead, Arts Educators refer to teaching artists with dual careers in the arts and education fields and tend to work as instructors for Co-Curricular Activities (CCAs) or facilitators of lessons and programmes under the NAC-Arts Education Programme (NAC-AEP) or Artist-in-School Scheme (AISS) in the formal school setting and as instructors in community settings.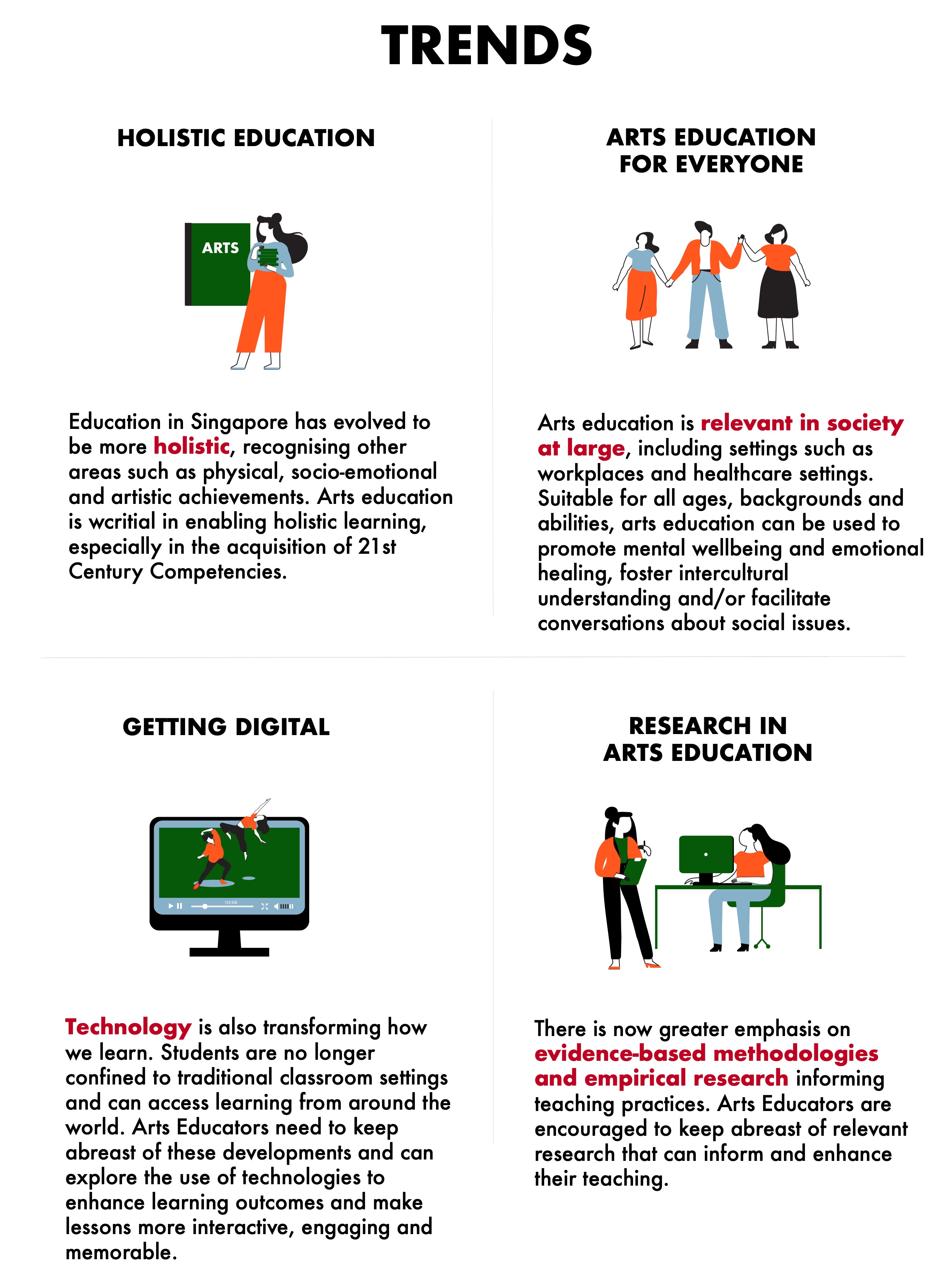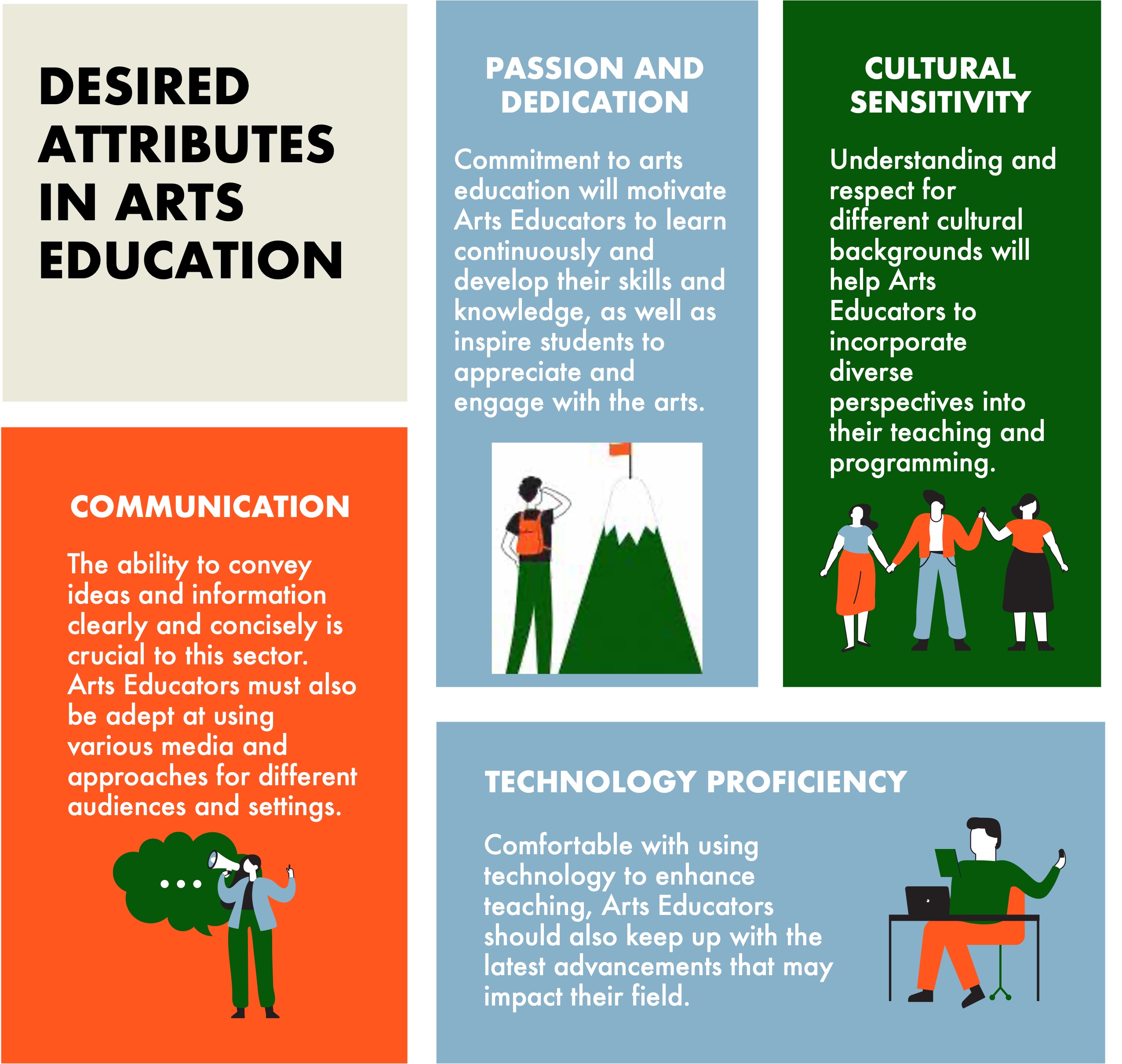 Educator Track
Arts Educators are responsible for designing and delivering arts lessons, guiding students in their creative pursuits and nurturing their artistic abilities. Their arts education programmes are typically informed by their own artistic practice.
Arts Educators teach various arts forms, such as Dance, Digital Media, Music, Literary Arts, Theatre and Visual Arts, to students of various ages and proficiencies. Arts Educators are not only proficient in their art form, but also invested in sharing their skills and knowledge with students.
Generally, qualifications in the art form, or at least substantial training with a reputable artist/company, is required of Arts Educators. Some jobs might require applicants to have a degree in Education or a teaching certification for the particular art form, and/or some experience teaching the relevant student profile(s).

Arts Educator
Job Description
Arts Educators design, deliver and review learning experiences and use effective assessment strategies to help learners perform according to required standards. Their teaching practice is complemented and informed by their artistic practice in their chosen art form. They have a strong understanding of effective teaching pedagogies and learning strategies and are agile in adapting them for specific contexts, student needs, and learning objectives. They coach learners towards achieving their fullest potential in the craft and in gaining a deeper understanding and appreciation of artistic work. They help learners connect with and express their creativity, and equip them with the tools to explore their ideas and imagination.
Arts Educators invest in the advancement of arts education by developing and improving pedagogies, programmes, and curricula. They take an active role in engaging with arts education institutions and mentoring emerging artists. They are self-reflective and take a critical approach to their own teaching and art form practice, often adopting a signature teaching approach unique to themselves.
Arts Educators deliver arts education programmes in schools, universities, community centres, welfare organisations and co-curricular settings to diverse student profiles.

Key Responsibilities

Design arts education programmes
Deliver arts education programmes and nuture learning
Assess student learning and creative showcase
Evaluate programme effectiveness
Advance art form education and develop thought leadership

Key Technical Skills

Vendor & Partnership Management
Art for Diversity & Wellbeing
Learning Strategy & Framework Development
Arts Curriculum Design
Learning Environment Design
Art Form Experience & Knowledge
Art Form Pedagogy
Art Form History & Culture
Lesson Delivery & Classroom Management

Key Soft Skills

Communication
Creative Thinking
Collaboration
Decision Making
Problem Solving

For more information, please refer to the Skills Framework for Arts Guide to Occupations and Skills
Researcher Track
Some Arts Educators may choose to branch out into research as an Arts Education Researcher. Such individuals review literature, conduct studies using various research methodologies, analyse data, and present findings to the larger arts education community. Their objective is to refine existing teaching methods and the quality of the arts education curriculum.
Arts Education Researchers collaborate with educators, artists, administrators, and policymakers to identify gaps and explore interests in selected arts fields and propose recommendations related to arts education and beyond. They typically conduct research in the context of institutes of higher learning, arts organisations, or independently.