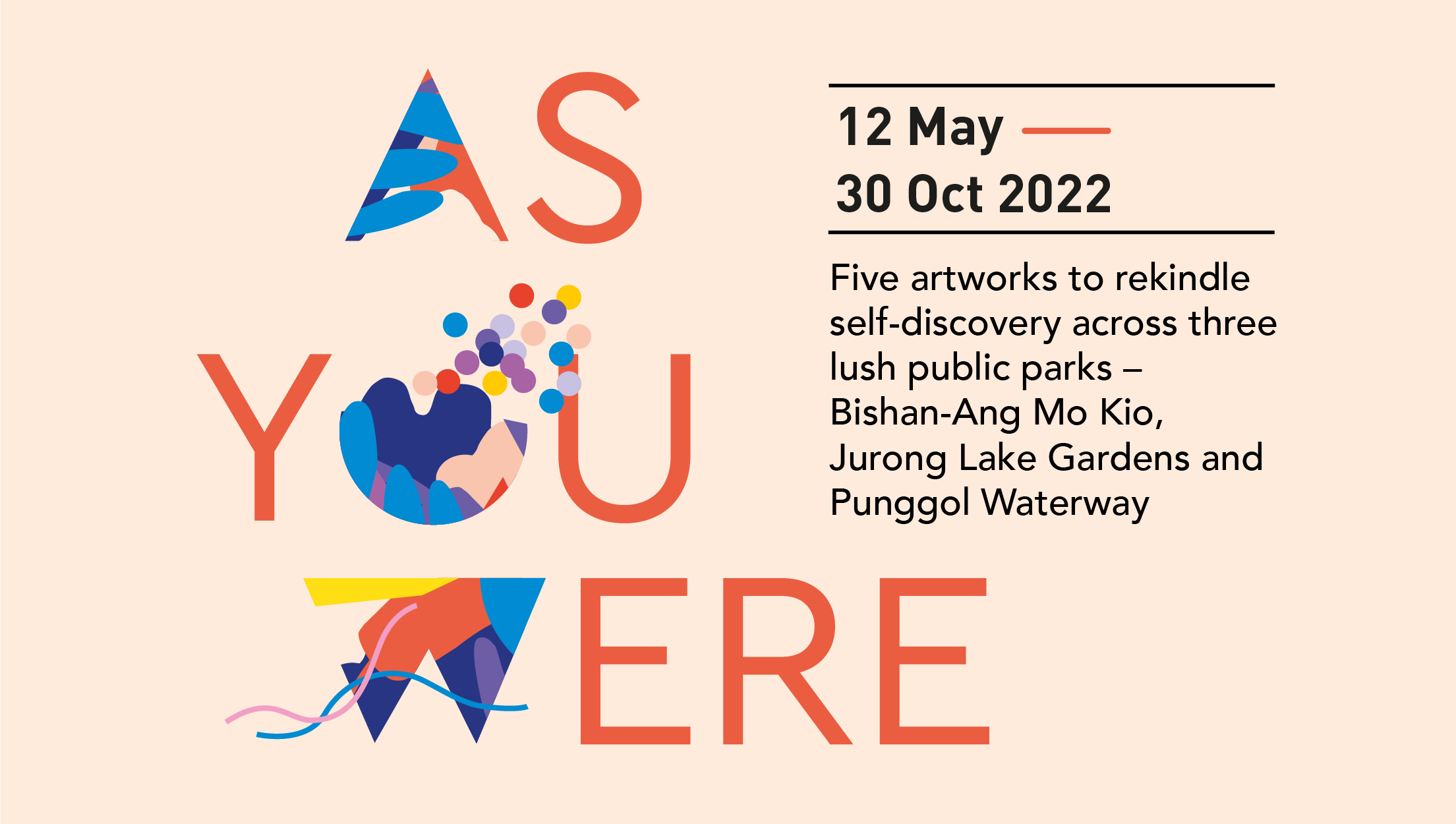 As You Were is a series of public art installations that stem from reflections prompted by the pandemic and of future aspirations as the world moves forward to embrace the endemic.
The five public art installations echo the artists' responses to hope, recovery, and transformation. Curated as creative interventions within the lush greenery of the three parks – Bishan-Ang Mo Kio Park, Jurong Lake Gardens, and Punggol Waterway Park, the artworks aim to engage and elevate the spirits of the visitors.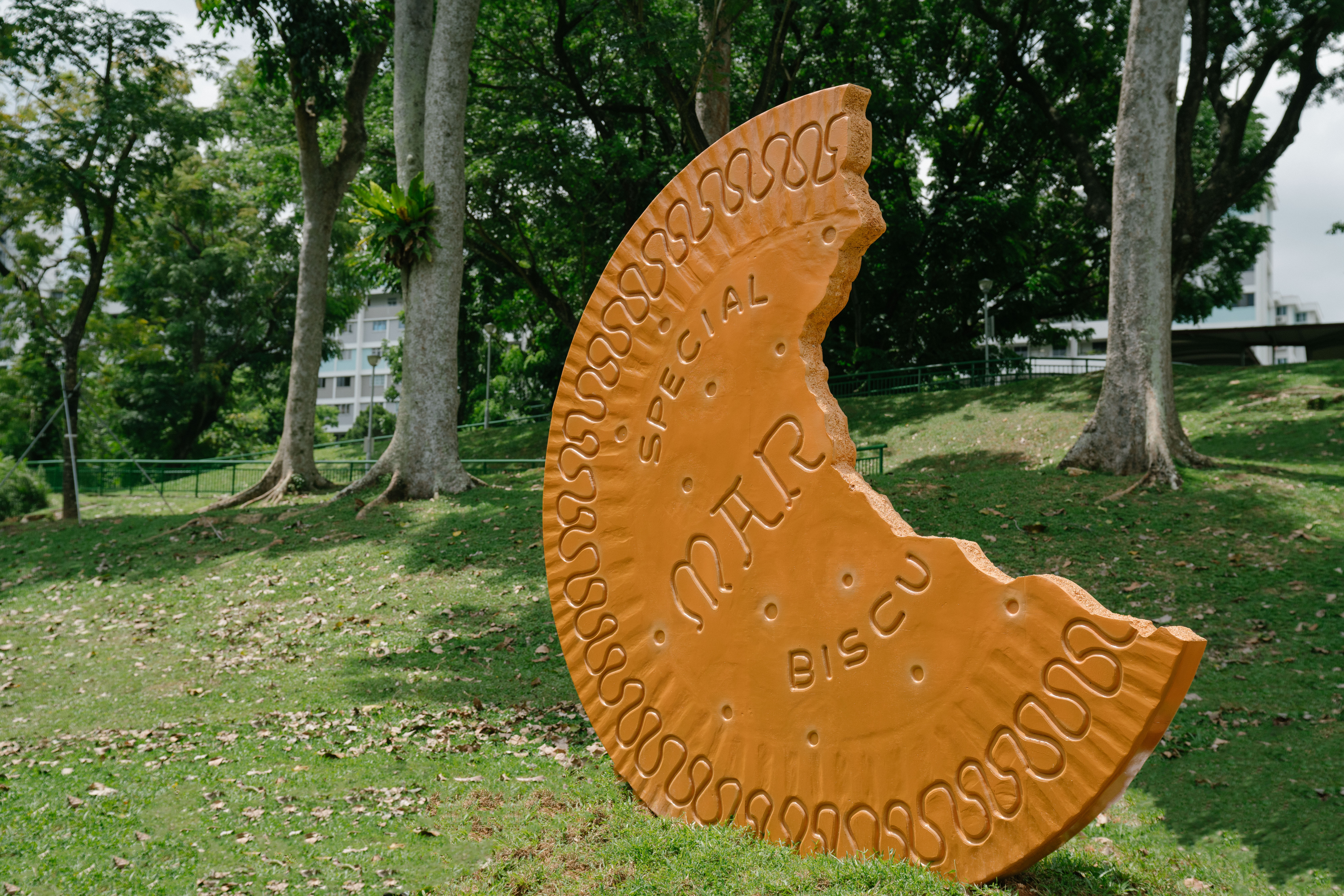 Small Moments
by Daniel Chong
Small Moments touches on the unassuming moments we have taken for granted before the pandemic. Consisting of half-eaten Marie biscuit, it is enlarged and seemingly dropped into the middle of the park. It almost seems ridiculous to make a monument of such an everyday object - yet that is exactly its point.

These are the small moments we missed only in their absence - sharing a biscuit, eating in a park - these tiny luxuries are now a post-pandemic yearnings. However, this work also attempts to touch on this topic through warmth and humour. While looking back, it also acknowledges the absurdity of trying to recreate how things were in the past.


Location: Field nearer to Dog Run Area (Google Maps Link)
Material: Marine Plywood
Size (L x W x H): 3m x 0.15m x 3m

Image Credit: Isaiah Cheng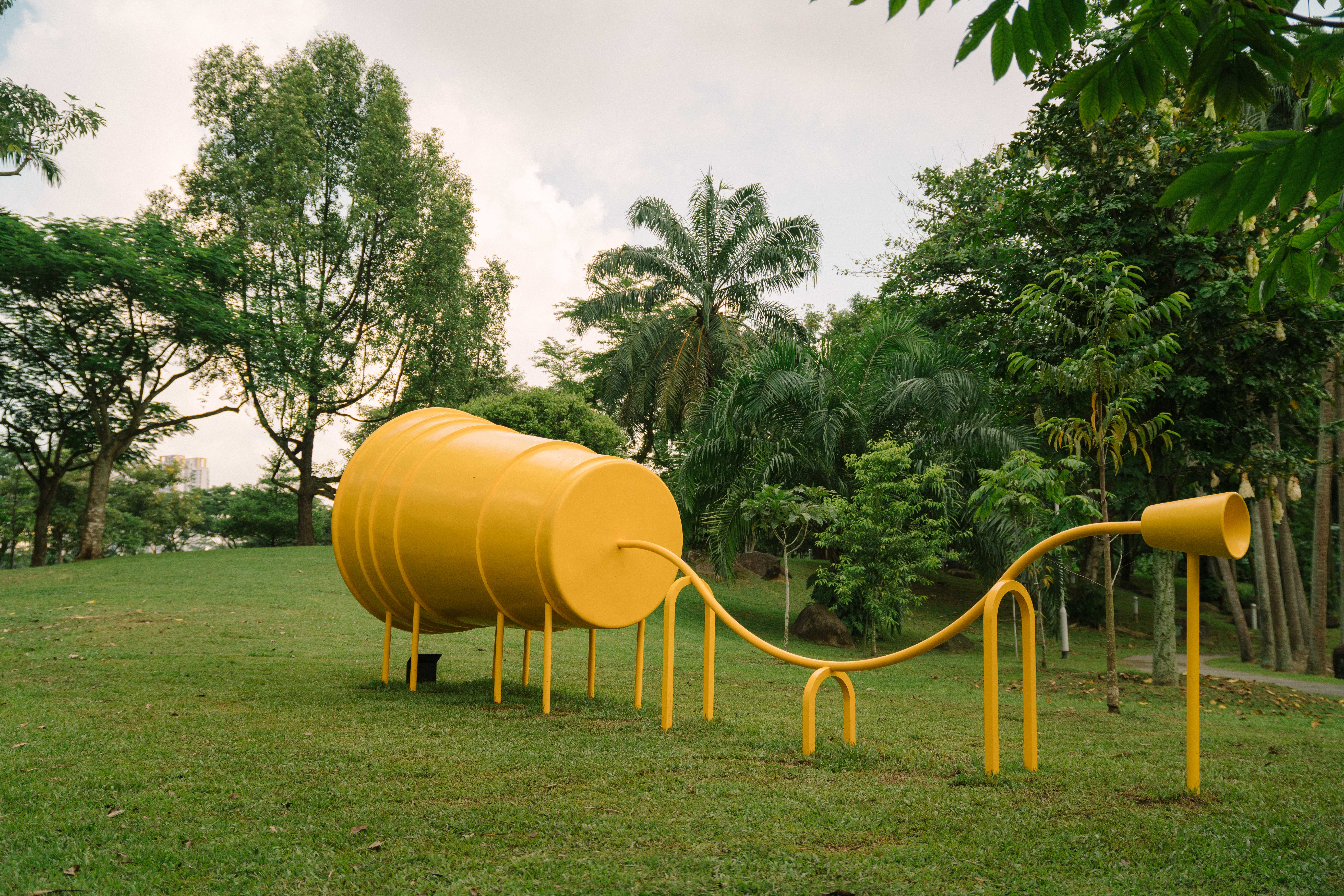 Can You Hear Me?
by Quek Jia Qi & Aaron Lim
Reminiscent of the cup-and-string telephone that encourages children to listen attentively, "Can You Hear Me?" is an invitation to active listening - a lost art in the age of distraction. With increased screen time and physical distance in modern urban life during the pandemic, communities are yearning to find solace by being present with the sounds of nature: birds chirping, leaves rustling and water flowing in the streams.
Putting a spin on the phrase we often hear in Zoom, "Can You Hear Me?" seeks to rekindle listening as a way of being, knowing, and caring for the world around us. Visitors are invited to embrace and attend to what nature can offer through the cup-and-string instrument.


Location: Lotus Pond (Google Maps Link)
Material: Fibreglass and Powder Coated Galvanised Steel
Size (L x W x H): 7.0m x 2.0m x 2.2m

Image Credit: Isaiah Cheng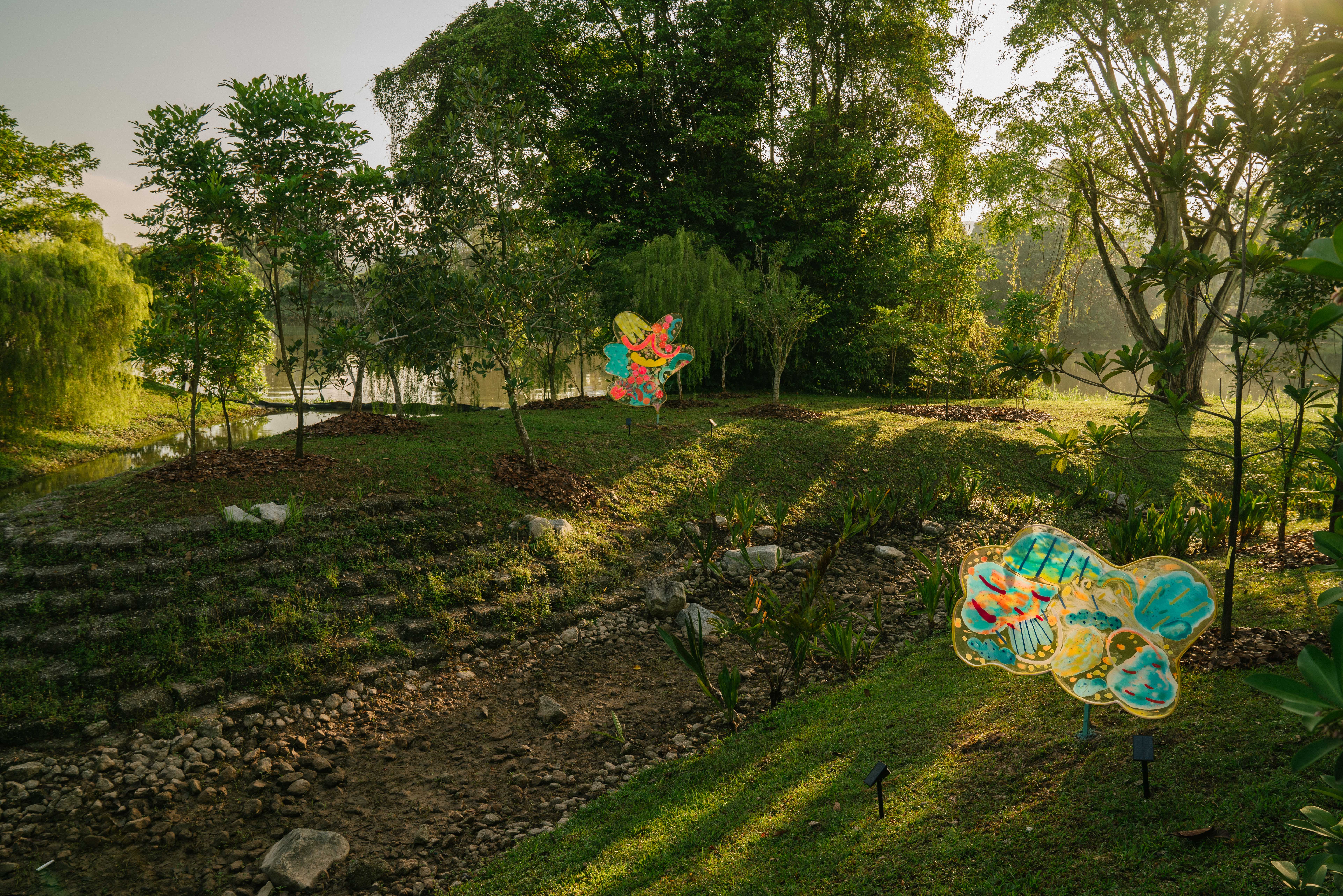 Our Dreams Must Continue
by Teo Huey Ling
Image Credit: Isaiah Cheng

A group of quirky shapes are sprouting out and taking over at the Jurong Lake Garden. The ambiguous shapes resemble dream bubbles, whimsical and playful, popping out from the ground, infusing humour, intervene and transforming the lush landscape in a spirited way.

Its vivid colours attract attention as it shimmers under the sunlight. It daydreams and ponders in Mother Nature, entertaining the imagination to those who encounter it. The artist hopes to instil a sense of positive energy, ease away worries as we re-emerged with inspiration during these changing times

Location: Forest Ramble (Google Maps Link)
Material: Resin, Mild Steel
Size (L x W x H): Series of 4, Variable Sizes
Design A: 1.74m x 0.05m x 2.28m, Design B: 1.13m x 0.05 x 1.92m, Design C: 1.26m x 0.05 x 1.55m, Design D: 1.59m x 0.05m x 1.41m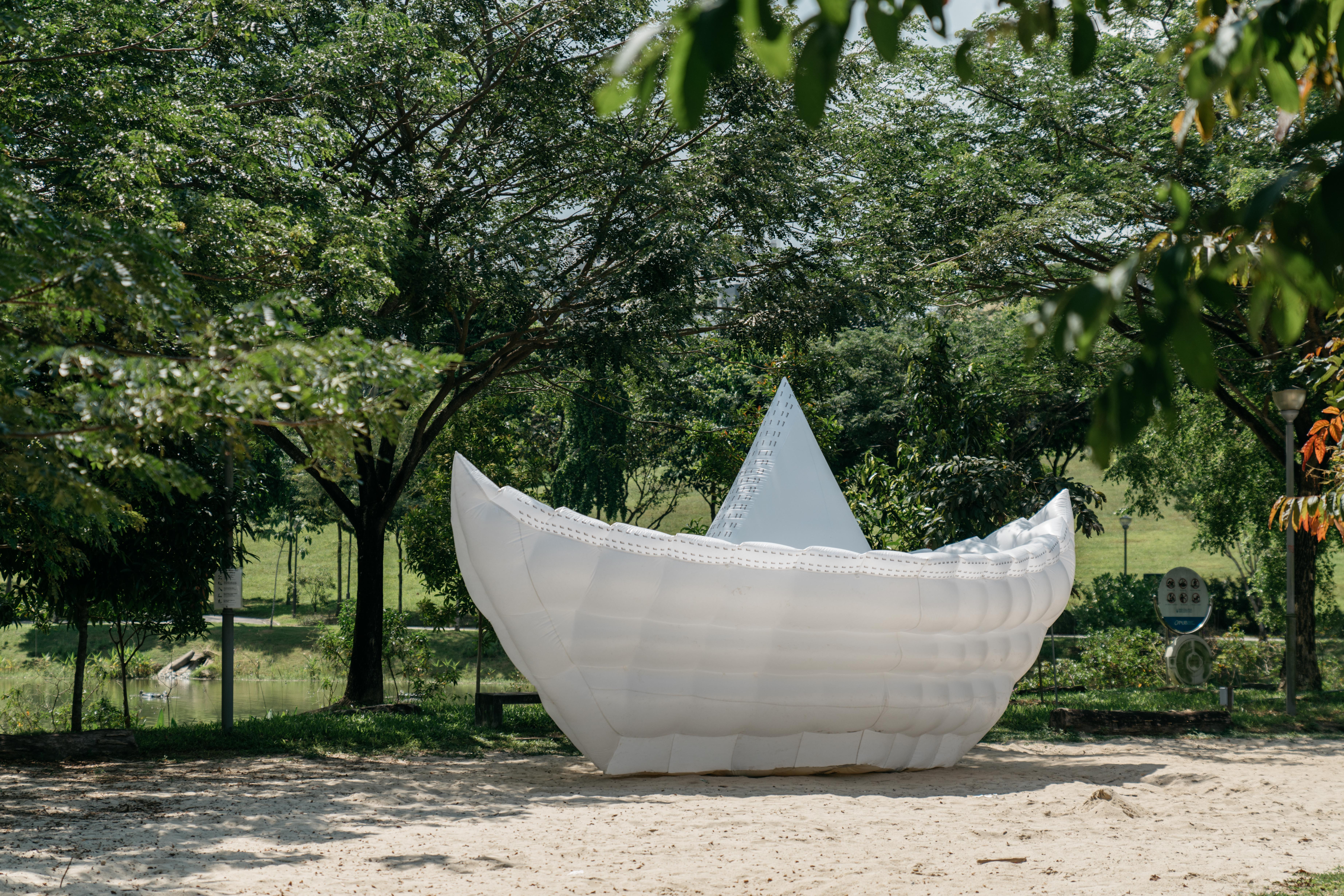 Afloat
by Ang Song Nian
Afloat is a eight-meter long inflatable that takes reference from two ubiquitous objects - the paper boat and the mask.

From around the region, many rituals and customs see paper boats and lanterns being put into bodies of water, representing the release of fear and desire, symbolic cleansing, and also blessings for one's loved ones and to others. On the other hand, the mask has become one of the most synonymous objects and motifs related to the COVID-19 pandemic. In the ongoing global-wide fight against the pandemic, the mask naturally becomes one of the first lines of defence against the virus, while at the same time, an act of solidarity in a display of willpower to overcome the challenges.


Location: Sand Play Area (Google Maps Link)

Material: Oxford Cloth
Size (L x W x H): 7.98m x 2.01m x 2.5m

Image Credit: Isaiah Cheng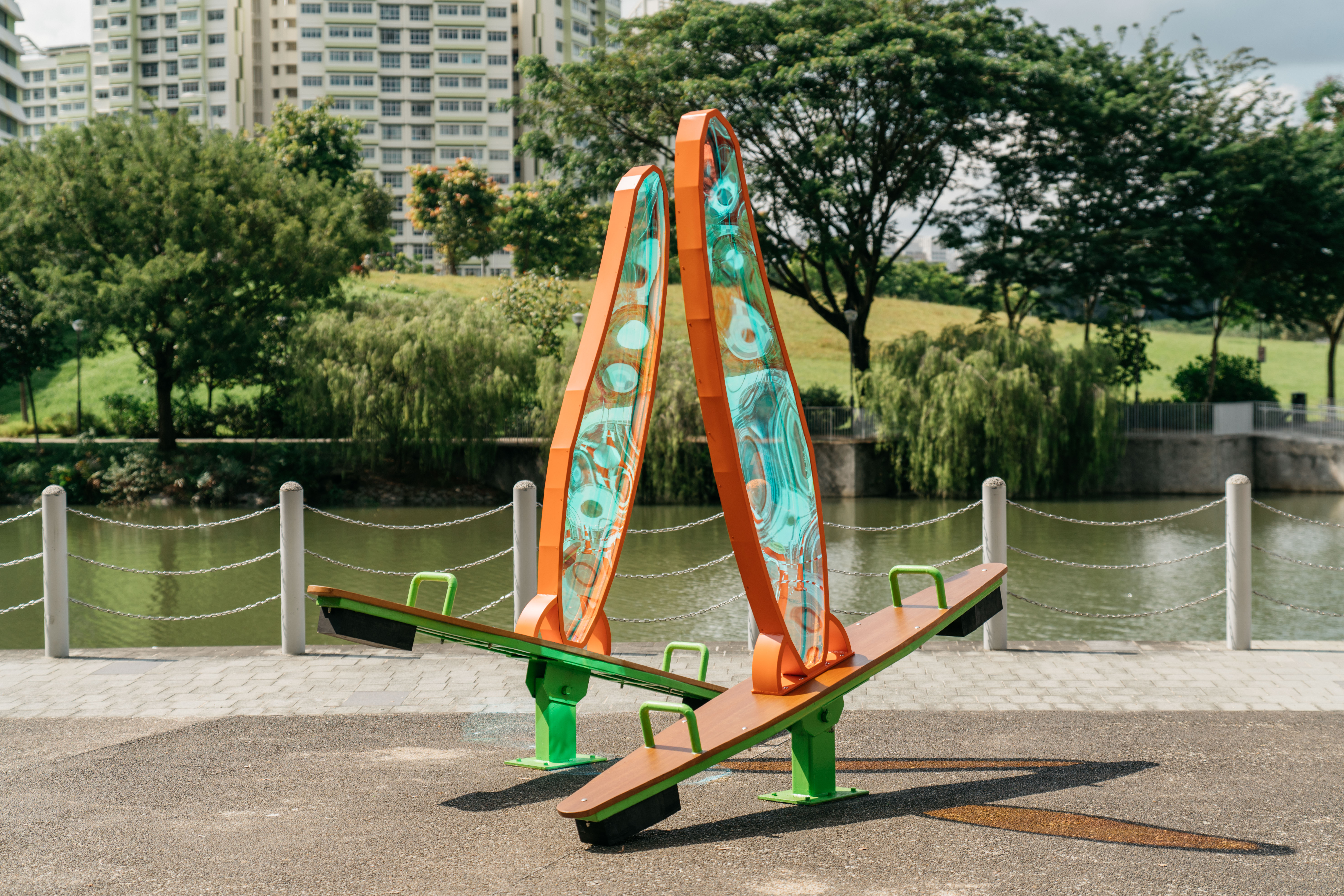 n o o n (at play)
by Hazel Lim & Adeline Kueh
Taking inspiration from the Sanskrit word lila (लीला), the artwork consists of a set of 2 seesaws, serving as pivoting points that reference creative play, and the bridge between the skies and the earth.

As a palindrome, n o o n also foregrounds the idea of balance: of night & day, work & play, mind & body, flora/fauna & our urban landscape. Using an abstracted form of the Golden Leather Fern, the work emphasizes the care and inclusion of play as a form of engagement with the public around the Punggol Waterway.

Location: Open Area behind Punggol Waterway Point (Google Maps Link)
Material: Recycled wood & rubber, spray-painted steel & iron, Plexiglass & iridescent film, LED lights
Size (L x W x H): 2.6m x 1.8 x 2.5m

Image Credit: Isaiah Cheng