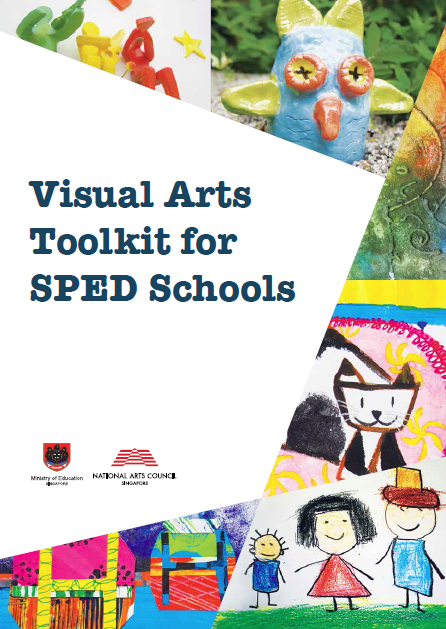 The arts are an expression of ideas, feelings and experiences. The different art forms, theatre, dance, music, literary arts and visual arts encourage cognitive, behavioural and affective growth and development among students in Special Education (SPED).
In 2012, the National Arts Council (NAC) introduced the Artist-SPED School Partnership Programme to provide a unique opportunity for artists and SPED teachers to co-develop and co-teach arts-based lessons. A variety of media, and lessons were customised to the learning needs of students with diverse abilities and interests. As a result of this programme and the NAC Artist-in-School Scheme, seven projects were selected to be included in this Visual Arts Toolkit for SPED Schools, catering to students of varied disability profiles.
This Visual Arts Toolkit contains a collection of unique and innovative projects jointly developed and implemented by Singapore-based artists working in close collaboration with SPED teachers to bring the teaching and learning of the Visual Arts into the SPED classroom. These projects give students the opportunities to express themselves through different modes, acquire social skills and cultivate their self-confidence. This contributes to their holistic development. By gathering these experiences into a toolkit, NAC hopes to inspire more SPED teachers to explore ways to introduce the visual arts into their classrooms, and engage students in appropriate, meaningful and successful artmaking.
MOE-NAC Collaboration
The Ministry of Education (MOE) is a key partner in bringing the Visual Arts Toolkit to fruition. The MOE considers the arts as an integral part of the SPED curriculum, one that contributes to a holistic development of SPED students. In the SPED Curriculum Framework (2012), the arts come under one of the six core Learning Domains to meet the desired Living, Learning and Working (LLW) outcomes of every student.