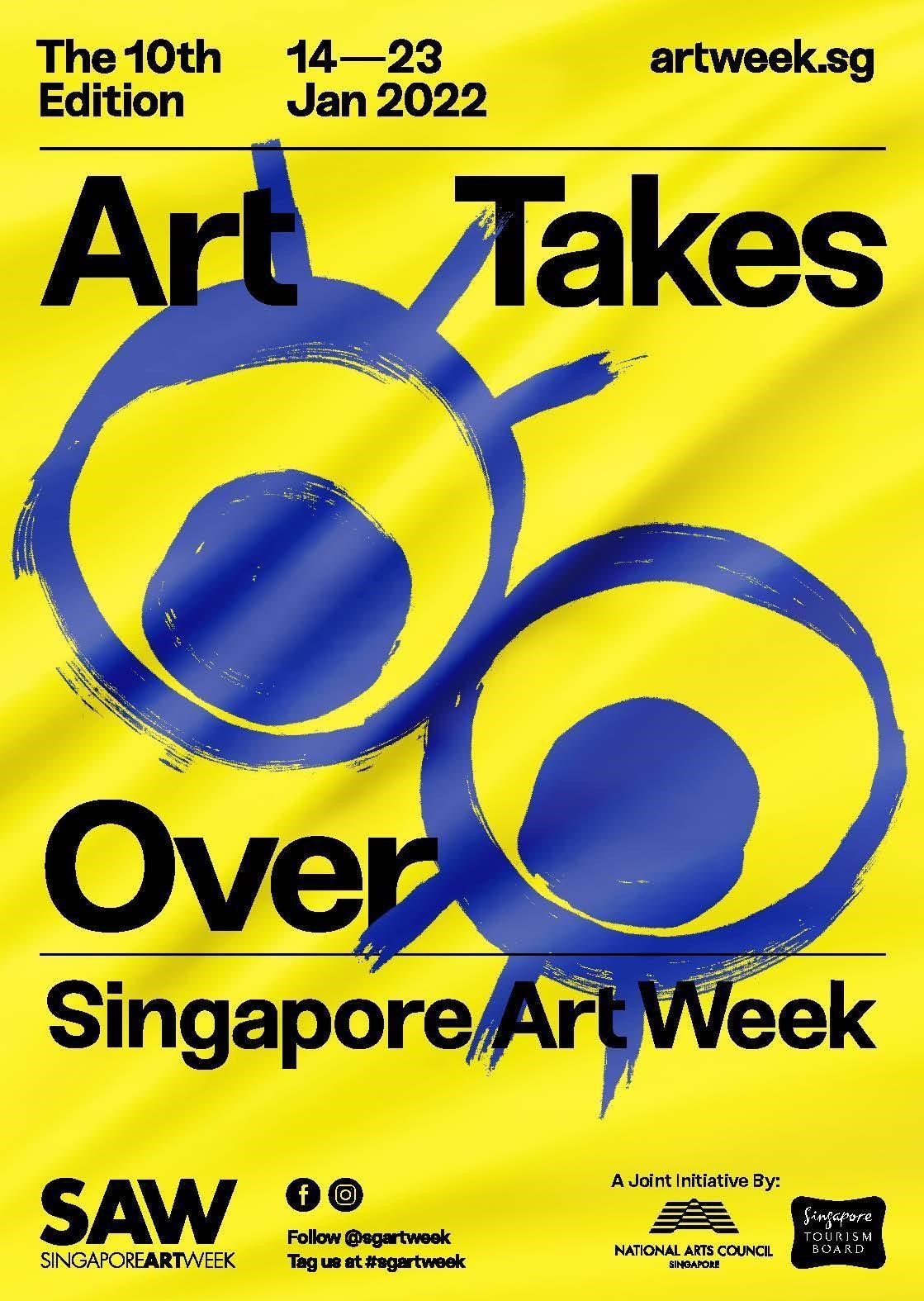 CELEBRATE LEGACIES AND NEW FRONTIERS AT THE 10TH EDITION
OF SINGAPORE ART WEEK
Singapore Art Week (SAW) 2022 ushers in a new dawn for Singapore's arts community as it builds on past legacies to welcome exciting prospects in the visual arts as art takes over this January. Its highly anticipated return will feature over 130 diverse arts programmes and close to 600 artists, curators, creatives and partners from Singapore, Bangkok, China, Australia, Turkey, the United Kingdom and United States of America across phygital realms, starting with a refreshed SAW Digital platform accessible from today.
Singapore, 1 December 2021 - As a pinnacle event in Asia's arts calendar, Singapore Art Week (SAW) is set to take over the island and beyond with a diverse range of visual arts experiences and sensibilities. Happening from 14 to 23 January 2022, SAW 2022 will see our Singapore and global arts community come together once again in full strength with this joint initiative by the National Arts Council (NAC) and Singapore Tourism Board (STB), to present over 130 programmes across physical and digital platforms.
The 10th edition will see over 35 Singapore-based projects from its open call, and offerings from close to 600 artists and creatives, curators, and partners from Singapore and countries such as Bangkok, China, Australia, Turkey, the United Kingdom and United States of America. SAW 2022 takes its theme "Art Takes Over" even further in this tenth edition with programmes that spotlight the rich artistic practices of Singapore's modern and contemporary artists; raise awareness on the infinite possibilities across art mediums, such as the creative use of technology; go beyond the white cube to offer new experiences in unexpected spaces; and present new perspectives from inside out.
Tay Tong, Director of Sector Development (Visual Arts) at NAC, remarked, "The world is opening up, literally, and figuratively in spirit, and we see SAW as a catalyst for the discovery of art from Singapore and the region. It is an annual platform that presents the diversity in the Singapore visual arts ecosystem. SAW 2022 is energised by the exciting propositions that our artists, curators, and presenters have created. Many step outside of their comfort zone to create work that responds to the times, while remaining connected to our audiences here and abroad. The works are delivered through enhanced arts experiences or through digital technology."
"Over the past decade, SAW has established itself as the leading go-to visual arts season for, and in the region. As a flagship event for the National Arts Council, it has contributed to the growth of our visual arts landscape. As we look towards the future, we welcome Singapore and regional artists to continue presenting the best of their art with SAW, as we engage critically with the international arts landscape beyond Singapore," Tay adds.
Celebrating legacies of the past, present and future

| | |
| --- | --- |
| | |
| "Di Mana Dia Anak Kambing Saya (Part of)" by Abu Jalal and Nafsiah as part of APAD's Bridging Through the Age: An Intergenerational Collaborative Exhibition | "What Lies Within" by Alpana Vij to be shown at The Story of Calico by Critical Craft Collective Singapore |
Singapore is home to visionary artists of various backgrounds, mediums and perspectives that make up the rich artistic practices that have helped build a thriving visual arts scene. SAW 2022 will feature a diverse range of intergenerational programmes that create meaningful dialogues between emerging and established artists. For instance, to mark their 60th anniversary, non-profit Singapore-based art association Angkatan Pelukis Aneka Daya (APAD translates to Association of Artists of Various Resources) will present Bridging Through the Age: An Intergenerational Collaborative Exhibition. The exhibition, which showcases nine pairs of artists' efforts of addressing and overcoming marginalised issues of age-segregation through the spirit of collaborative art-making, will also witness the artists' exchange of new ideas and perspectives. The artworks presented are testimonies of their attempt of converging undiscovered differences and similarities.
SAW 2022 will also witness new beginnings, with the official launch of the Critical Craft Collective Singapore, an initiative started by artists Adeline Kueh and Hazel Lim to investigate the relationships between craft and contemporary art, design, and new technologies. Festival goers can reflect on the variety of perspectives presented by the Critical Craft Collective Singapore at The Story of Calico, from the lens of artists such as veterans Homa Shojaie, and Sam I-Shan, and up-and-coming artists like Alysha Rahmat Shah, as they reclaim themes of intimacy through the materiality of calico, a plain-woven textile made from cotton.
Familiar venues and art concepts with a twist

Work in progress key visual by Muhammad Izdi
for Creative Intersections: In the Year of the Tiger at Funan
At SAW 2022, arts lovers will see their favourite precincts and neighbourhoods come alive with new launches and expanded programmes. Fans of SAW signature events can look forward to the return of marquee event Light to Night Festival 2022 at the Civic District by National Gallery Singapore, with artistic interventions and phygital programmes under the theme "New Ways of Seeing, Thinking and Being". The visual art festival will bring even more engaging and multi-sensory experiences in partnership with world-renowned artists and creatives to champion fresh perspectives and dialogues around art and objects from the National collection, the heritage of the Civic District, and relevant social issues. As a pioneer of Singapore's mall-wide art activation, Funan will make a comeback with Creative Intersections: In the Year of the Tiger, curated by Chan + Hori Contemporary. Through a specially commissioned fictional tiger narrative, newfound collaborations between artists and brands will find resonance with adventurous shoppers as they explore aspects of conservation, science, habitats, and pop culture in this month-long activation.
Pushing new frontiers with unconventional spaces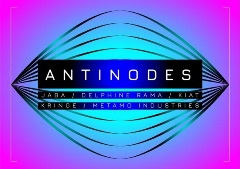 With the evolution of the arts scene, SAW 2022 boldly steps away from the conventional white cube. At the industrial Tanjong Pagar Distripark (TPD), SAW will take over two expansive warehouse spaces and a cargo lift on Level 5, presenting an unorthodox art-going experience alongside its four open call projects. One of them is A N T I N O D E S, which rallies street culture, music, architecture, technology, fashion and spirituality in this unlikely collaboration. Through experimental modes of presentation such as robotics and augmented reality, the showcase documents changes in Singapore artistic practices amid the pandemic. Opening to the public during SAW 2022, Singapore Art Museum's new two-floor space will feature exhibitions such as REFUSE, a time-based installation space and archive on Singapore's very own art rock band The Observatory.
In the thread of introducing art interventions in the everyday, Hawker! Hawker! is set at the historic location of Lau Pa Sat. Curated by Singapore and New York-based artists respectively, Yen Phang and Oh Yam Chew will spark dialogue over the future of our hawker culture through mukbang[1], kopi [2] chats and other interdisciplinary formats like participatory installation, digital art, and writing. Similarly, beloved Basheer Graphics Books at Bras Basah Complex will house DIASPORA, an exhibition helmed by Eddie Ching of Artblovk pop-up gallery and co-curated by Lim Cheng Tju that investigates the blurring of the public and private space in a time of turbulence and uncertainty. Stepping right into an artist's theatrical home, Somewhere in Bedok features an intergenerational and interdisciplinary presentation with works by the likes of Ian Woo, Sarah Lin, and Masuri Mazlan that explore concepts of domesticity and the uncanny within a HDB flat.
Connecting Singapore's arts to the world

Experience virtual meditation with Christiane Peschek as part of HORIZONS.
Right image: Still from EDEN, 2020.
Come January, SAW 2022 is set to be at the centre of important arts conversations with its blockbuster line-up of international programmes. In partnership with Singapore art discourse publication so-far, UK digital museum AORA Space, and Metis Art, SAW will present HORIZONS, where artists from Singapore and around the world will participate in a virtual interdisciplinary programme across three time zones over 24 hours. Audiences will be able to enjoy studio visits, live performances, panel talks and workshops, with artists and thought leaders such as Samson Young (Hong Kong), Zoe Whiteley (the United States of America) and Gonzalo Herrero (the United Kingdom).
An anchor event in SAW is S.E.A. Focus by STPI Creative Workshop & Gallery, which is always highly anticipated by art collectors and aficionados around the world. The pioneering art platform aims to foster a deeper appreciation of Southeast Asian contemporary art and artists, and the 4th edition will return to TPD, in collaboration with Art Basel - the world's leading fair for modern and contemporary art.
[1] Mukbang translates to "eating broadcast" in South Korea, and refers to videos of people eating large quantities of food, usually livestreamed.
[2] Kopi is a dialect for traditional coffee in Singapore and parts of the Southeast Asian region.
Finding intersections and encouraging global discourse in the arts
Taking a decentralised approach towards thought leadership, SAW 2022 will launch SAW Dialogues. Artists and experts will be invited to share insights to pertinent topics that have embroiled the art world today. These hybrid industry talks will be complemented by panel discussions in partnership with SAW. For instance, A&M Salon by Singapore art publication Art & Market (A&M) will gather creative individuals to discuss art at intersections with food and fashion. In Suspension, a three-day mini symposium by Hothouse, will shed light on the quintessential conditions of art and life during a pandemic. Key panels by SAW Dialogues will be held in Gillman Barracks at Block 47 in a mini cinematheque that will screen SAW Digital programmes, and more. Other partners also include STPI Creative Workshop & Gallery, Singapore Art Museum and National Gallery Singapore.
Starting from today, festival goers can access the refreshed SAW Digital platform for a teaser of SAW 2022, as well as the most up-to-date details on the full programme line-up and participating artists. For more information on SAW 2022 programmes, please refer to artweek.sg.
-end-
For media enquiries, kindly contact
Faith Leong
Manager, Communications & Marketing
National Arts Council
DID: +65 6346 9424 / 9173 0246
Email: Faith_LEONG@nac.gov.sg
About Singapore Art Week 2022
As Singapore's signature visual arts season, Singapore Art Week (SAW) represents the unity and pride of a diverse and vibrant arts community. In its 10th edition, SAW 2022 will be a celebration of the Singapore visual arts in its decade of growth - in the practices of Singapore artists, in the formats of presentation and in the spaces these will inhabit.
SAW 2022 will run from 14 January to 23 January 2022, with over 130 events with art across the island and online, featuring new works, transnational collaborations, and virtual art experience. Audiences all over the world can access and discover the exciting art in Singapore's arts and cultural institutions and beyond, or engage in enriching discussions, talks, public art walks and tours. A catalyst of creativity, SAW 2022 continues to be a spotlight, gathering and launchpad for the arts community in Singapore.
SAW 2022 is a joint initiative by the National Arts Council (NAC) and the Singapore Tourism Board (STB).
About the National Arts Council
The National Arts Council champions the arts in Singapore. By nurturing creative excellence and supporting broad audience engagement, our diverse and distinctive arts inspire our people, connect communities and profile Singapore internationally. We preserve our rich, cultural traditions as we cultivate accomplished artists and vibrant companies for the future.
Our support for the arts is comprehensive – from grants and partnerships to industry facilitation and arts housing. The Council welcomes greater private and corporate giving to and through the arts so that together we can make the arts an integral part of everyone's lives.
For more information on the Council's mission and plans, visit www.nac.gov.sg.
About Singapore Tourism Board
The Singapore Tourism Board (STB) is the lead development agency for tourism, one of Singapore's key economic sectors. Together with industry partners and the community, we shape a dynamic Singapore tourism landscape. We bring the Passion Made Possible brand to life by differentiating Singapore as a vibrant destination that inspires people to share and deepen their passions.
For more information, visit www.stb.gov.sg or www.visitsingapore.com. Follow us on Facebook (@STBSingapore), Instagram or Twitter (@STB_sg).
Back to Media Centre