Under the new Memorandum of Understanding, both countries aim to encourage the development of cultural exchanges while exploring the intersections between arts and technology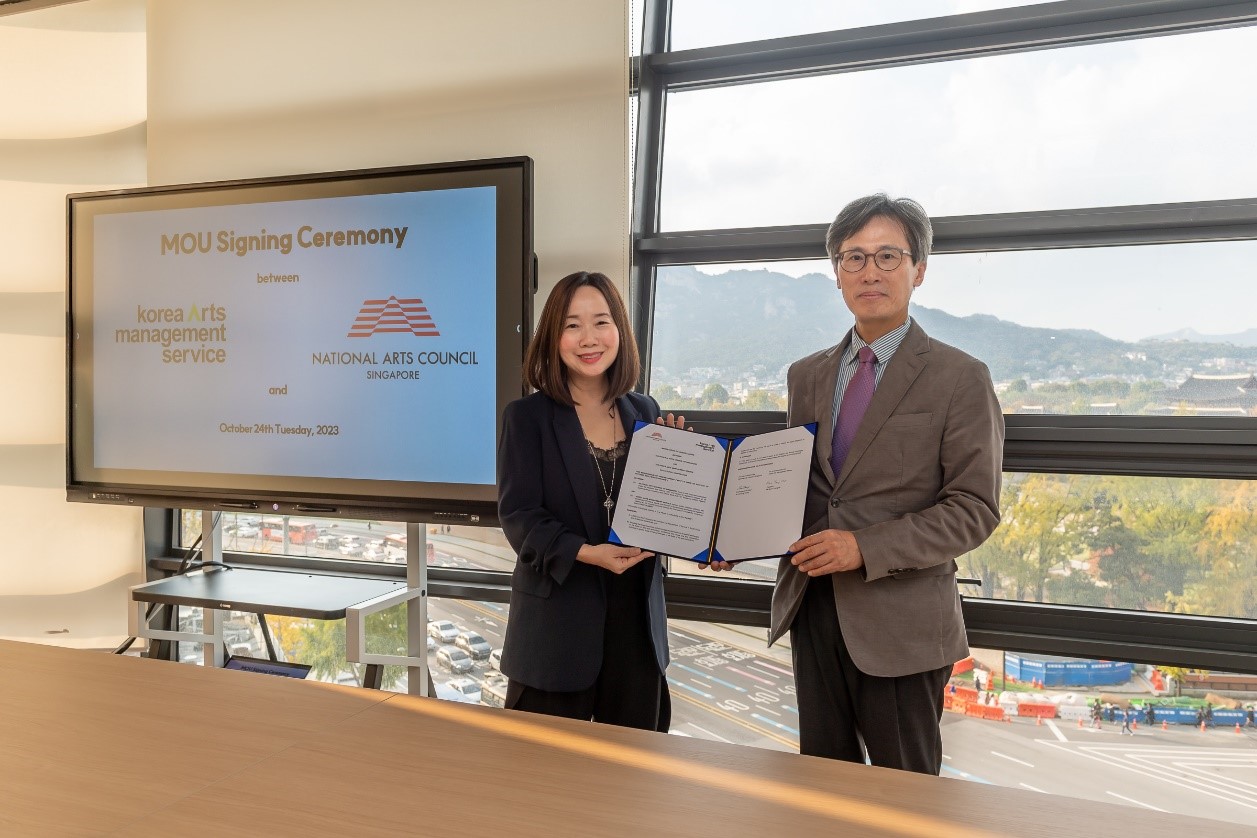 From Left to Right: National Arts Council, Singapore Deputy Chief Executive Officer Ms Lynette Pang with President of Korea Arts Management Service Mr Moon Young Ho at the Memorandum of Understanding Exchange Ceremony held at Arts Korea Lab headquarters on 24 October 2023
South Korea, 24 October 2023 – The Korea Arts Management Service (KAMS) and the National Arts Council of Singapore (NAC) signed a Memorandum of Understanding (MoU) today, committing to champion the creation and appreciation of the arts in South Korea and Singapore over the next five years, in the fields of arts and technology, performing arts and visual arts. The MoU is testament to the strong cultural cooperation and commitment from the two countries to support exchanges between artists and arts professionals in the future.
In a ceremony held at the Arts Korea Lab headquarters, the MoU was exchanged between Ms Lynette Pang, Deputy Chief Executive Officer of NAC and Mr Moon Young Ho, President of KAMS. The MoU embraces the following areas:
Capability and skills development opportunities

in the areas of arts and technology with both countries as part of Asia Labs Network, an arts and technology innovation network in Asia

Artistic collaborations and exchange

between artists and arts professionals from Singapore and South Korea, and opportunities to participate at key cultural platforms and festivals such as the Seoul Performing Arts Festival and Singapore International Festival of Arts

Thought leadership development opportunities

for thought leaders from Singapore, South Korea and around the region to engage in dialogue about arts and culture; and

Increased research cooperation

in areas of creative industry, and art and technology.
"Arts Korea Lab by Korea Arts Management Service is the first comprehensive support platform for artists and arts companies in Korea. For arts creation and the growth of arts companies, we have constructed a cycle for the arts ecology and enhanced the foundation of the arts industry by supporting the convergence of art and technology, developing digital audiences, et cetera. Through this MoU with the National Arts Council of Singapore, I hope that building a network for the convergence of arts and technology in Asia can be a meaningful first step toward improving the arts of each country", shared Mr Moon Young Ho.


Ms Lynette Pang added, "Partnerships are a key pillar of Our SG Arts Plan (2023 - 2027) as we build upon collaborations and collective efforts to develop a vibrant arts scene in Singapore. It is timely for the National Arts Council of Singapore to expand our internationalisation opportunities in partnership with South Korea especially in areas of arts and technology to open new markets for local arts. South Korea is a country rich in culture, heritage, creative capital and innovation. We look forward to explore exciting collaborations and co-create innovative projects that will showcase the best of our cultures and talents under this MoU to more international audiences."


Singapore and South Korea have enjoyed a strong cultural relationship. Significant exchanges between the two countries include Pluritopia, a joint initiative by NAC and Arts Council Korea (ARKO), produced and curated by Singaporean artists Spang & Lei to promote arts and culture exchange between artists, creatives, and technologists. Through the collaborations between 20 talented participants from Singapore and Korea, audiences had a glimpse into the possibilities of virtual artists' studios created for remote online dialogue, collaboration and experimentation beyond the post-pandemic world. Singapore has also actively participated in thought leadership platforms such as the ARKO International Arts Symposium 2022 where Artistic Director of T:>Works, Ong Keng Sen, was featured as one the keynote speakers; and Artistic Director of The Theatre Practice, Kuo Jian Hong, was featured in one of the live panel sessions discussing new approaches to international collaboration and exchanges. In 2020, NAC also participated in Seoul Music Cities Convention to share Singapore's view on the importance and role of music in urban policy from an Asia perspective.
- End -
For media enquiries, kindly contact:
Angelina Soh
Senior Manager, Strategic Communications & Marketing
National Arts Council
+65 6980 2919
Haein Choi
Team Lead, Contents Development Team
Korea Arts Management Service
02-2098-2907
Back to Media Centre