New commissioned series "As You Were" features five interactive and larger-than-life artworks situated at Bishan-AMK Park, Jurong Lake Gardens, and Punggol Waterway Park
More than ever, the public can look forward to enjoy the outdoors and interact with the artworks that reflects Singapore's step towards the endemic world, as the nation opens up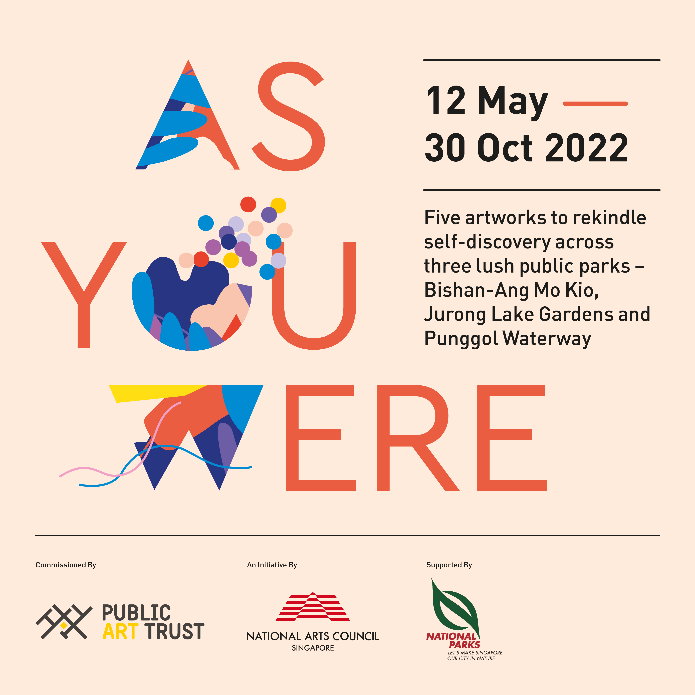 Singapore, 12 May 2022
– Bring out your inner child with the simple joy of a seesaw, share your secrets through a larger-than-life paper cup, or marvel at a giant version of a Marie biscuit. From now till 30 October, the public can engage with five public art installations located across three park spaces in Singapore – Bishan-AMK Park, Jurong Lake Gardens, and Punggol Waterway Park. Commissioned by the Public Art Trust (PAT) under the National Arts Council (NAC), As You Were is a public art showcase featuring seven artists stepping into nature to create interactive visual artworks that portray their imaginations of an endemic world. These works were developed based on the multitude of changes experienced in our daily lives since the onset of COVID-19. As You Were offers the public an opportunity to reconnect with nature as well as one another through fun and meaningful artworks that encourage a sense of play. It is also a reflection of the nation opening up, and the artworks serve as a timely reminder for the public to connect, communicate and play as we step out of the pandemic. Tay Tong, Director of Sector Development (Visual Arts), NAC, said, "As our public spaces come to life again, the dawning of a new, endemic world is a huge step forward for our arts community, and for all Singaporeans. Our artists sought to contemplate and facilitate society's reconnection to nature and community, and this showcase has provided an opportunity for them to push their creative boundaries to create works that inspire joy and reflection in the daily lives of our Singapore public."
Encouraging play by evoking nostalgia


Nostalgia was a primary source of inspiration for the works – with Small Moments by Chong Zhi Wei Daniel; n o o n (at play) by visual artist Hazel Lim and installation artist Adeline Kueh; and Can You Hear Me? by Quek Jia Qi and Aaron Lim drawing on familiar objects that gesture towards the bygone days.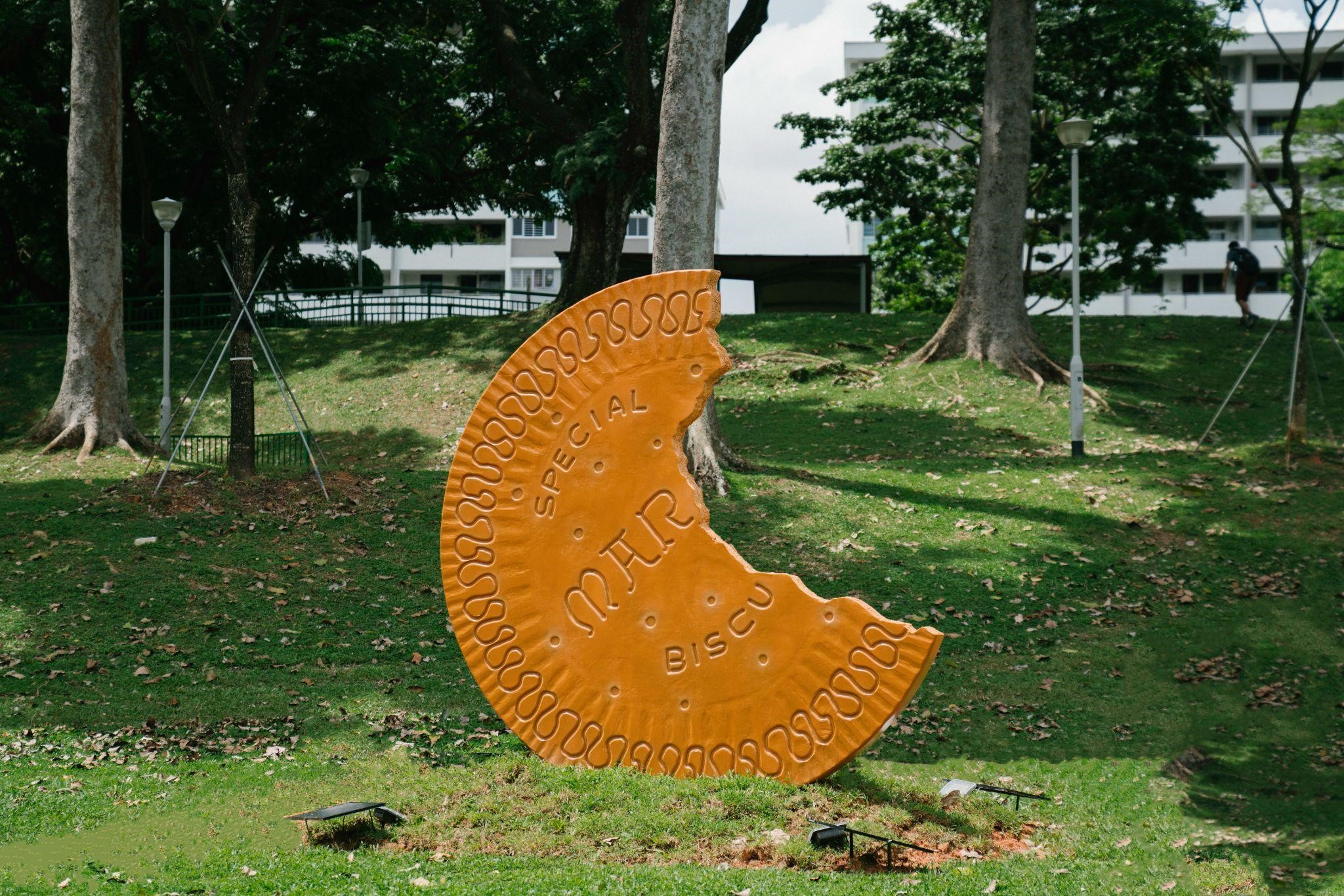 Small Moments by Chong Zhi Wei Daniel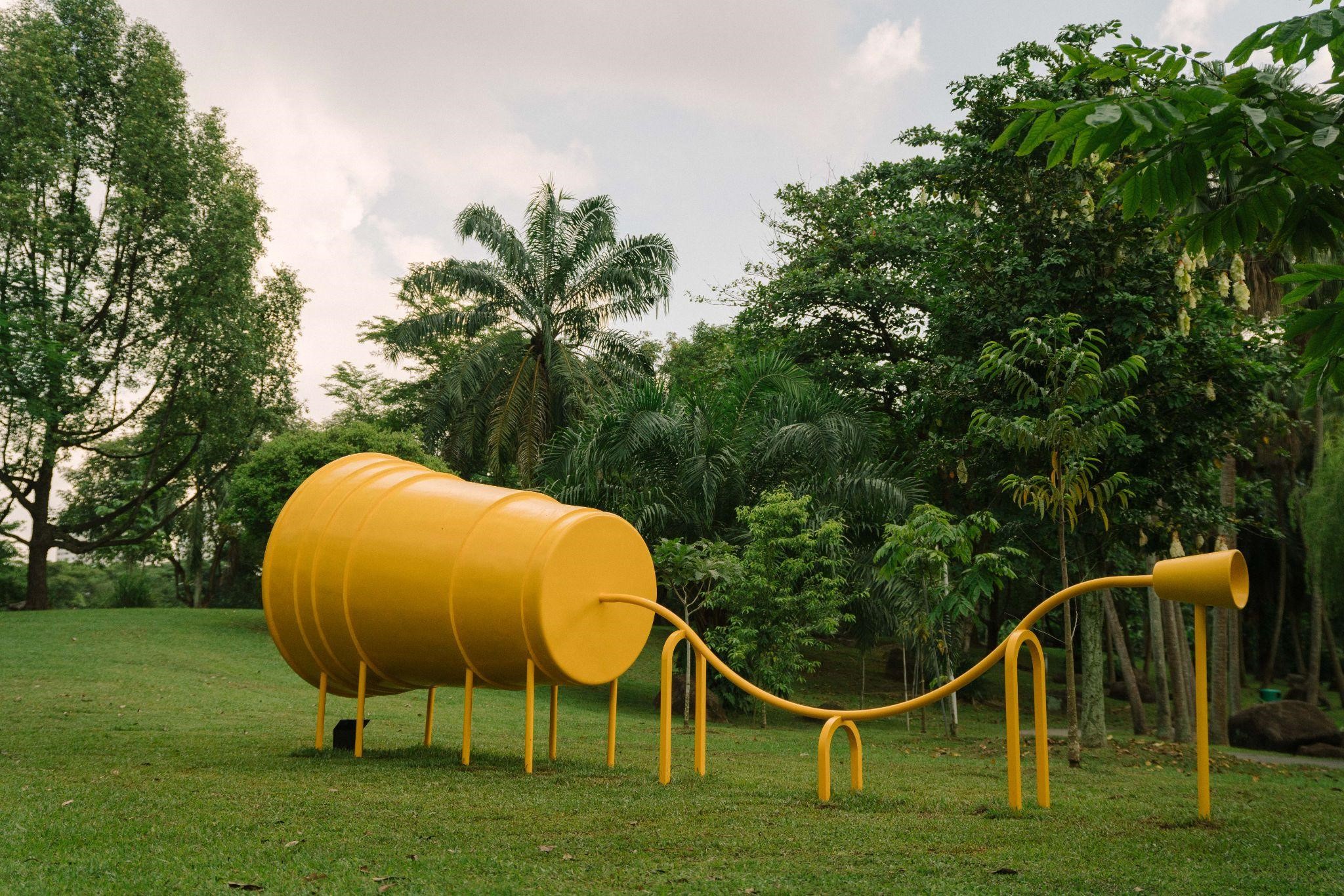 Can You Hear Me? by Quek Jia Qi and Aaron Lim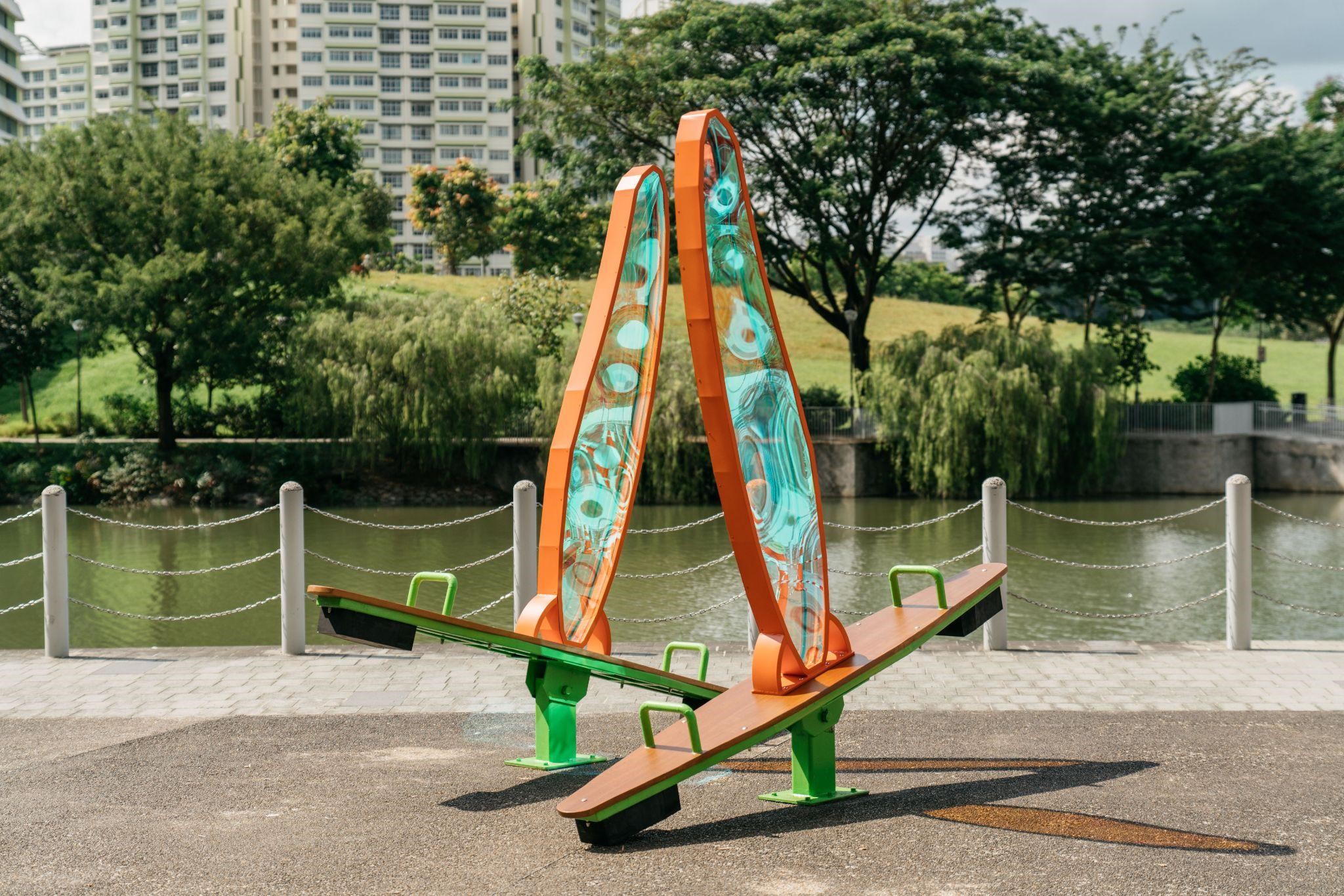 n o o n (at play) by Hazel Lim and Adeline Kueh
The artists enlarged objects representative of one's childhood, which serve as encouragement and reminders for the public to heal and play together after a challenging two years. Members of the public are invited to unleash their inner child as they find amusement at a giant Marie biscuit looming over visitors in Small Moments, or rest from the demands of the day with the set of seesaws in n o o n (at play).

Beyond evoking a sense of camaraderie, the works aim to create a deeper connection with our natural environment. Echoing a much-used phrase in the age of Zoom calls, Can You Hear Me? invites all to cultivate the art of active listening by taking solace in the sounds of nature through a paper cup telephone. By carving spaces for intimate interaction, the public is invited to contemplate and renegotiate ideas of togetherness today.

Natural landscape transformed by creative imagination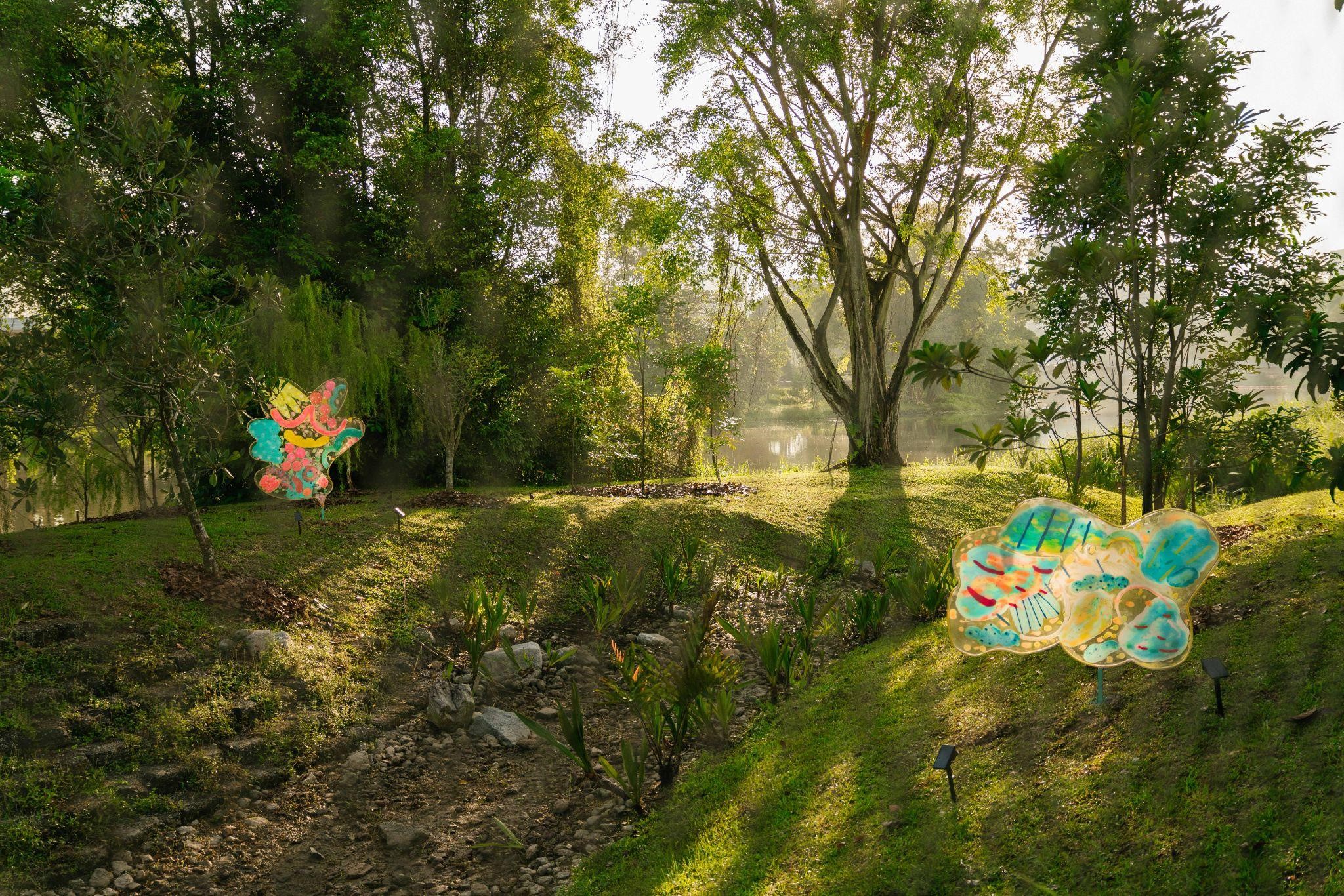 Our Dreams Must Continue by Teo Huey Ling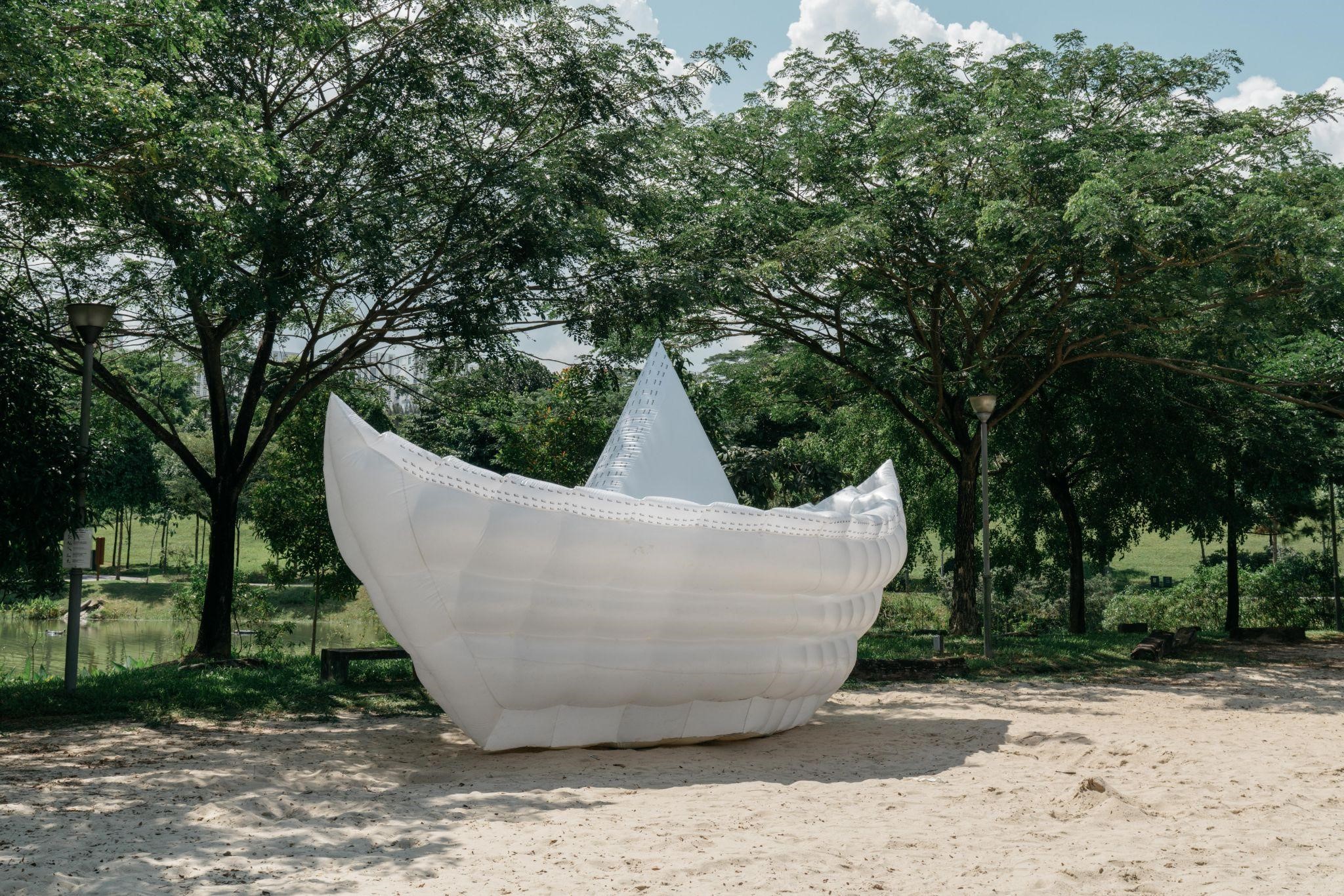 Afloat by Ang Song Nian


Taking the idea of contemplation into the wider community, artists such as Teo Huey Ling and Ang Song Nian produced works that encourage the public to press on collectively - be it through the whimsical and playful shapes that resemble daydreams in Our Dreams Must Continue or Ang Song Nian's nod to the iconic face mask in Afloat, an object that has come to represent an act of solidarity of those around the world in fighting the pandemic.

As You Were represents the resilience of the arts community during the COVID-19 pandemic, where artists are going beyond their usual practice to exercise their creative imagination, and make art that is widely visible and accessible to all. This showcase sees the majority of the artists experimenting in public art for the first time, and the result is an innovative effort to create meaningful art that inspires and resonates with a wider audience. This also reiterates NAC's commitment to make art accessible to the public in everyday spaces, adding vibrancy to the visual arts landscape.

In line with this new series of commissions, NAC will launch a Public Art Guidebook to equip commissioners and artists with the best practices to develop public art for Singapore. This echoes NAC's commitment to work in tandem with the arts community and foster partnerships among Government agencies, strengthening our art ecosystem for a vibrant arts scene. This guidebook will be available on NAC's website.

For the full list of artworks and participating artists, please refer to the PAT website or follow the latest updates at NAC on Facebook and Instagram.

ANNEX A: AS YOU WERE EVENT LISTING
ANNEX B: ARTWORK AND ARTIST DESCRIPTIONS FOR AS YOU WERE

For media queries, please contact:

Yeo Zhi Yi

Senior Associate

Tate Anzur

96418 8147

zhiyi.yeo@tateanzur.com

Faith Leong

Manager, Communications & Marketing

National Arts Council

6346 9648 / 9173 0246

Faith_LEONG@nac.gov.sg

About Public Art Trust
The Public Art Trust (PAT) is an initiative by the National Arts Council established since 2014. Its mission is to make art a part of our urban spaces, and to bring art closer to Singaporeans. The PAT aims to achieve this by commissioning new public art in spaces where we live, work and play; bringing art closer to the community through impactful programming and outreach; as well as to promote visual literacy and best practices in public art.
About National Arts Council
The National Arts Council champions the arts in Singapore. By nurturing creative excellence and supporting broad audience engagement, our diverse and distinctive arts inspire our people, connect communities and profile Singapore internationally. We preserve our rich, cultural traditions as we cultivate accomplished artists and vibrant companies for the future. Our support for the arts is comprehensive – from grants and partnerships to industry facilitation and arts housing. The Council welcomes greater private and corporate giving to and through the arts so that together we can make the arts an integral part of everyone's lives. For more information on the Council's mission and plans, please visit
www.nac.gov.sg
.

ANNEX A: AS YOU WERE EVENT LISTING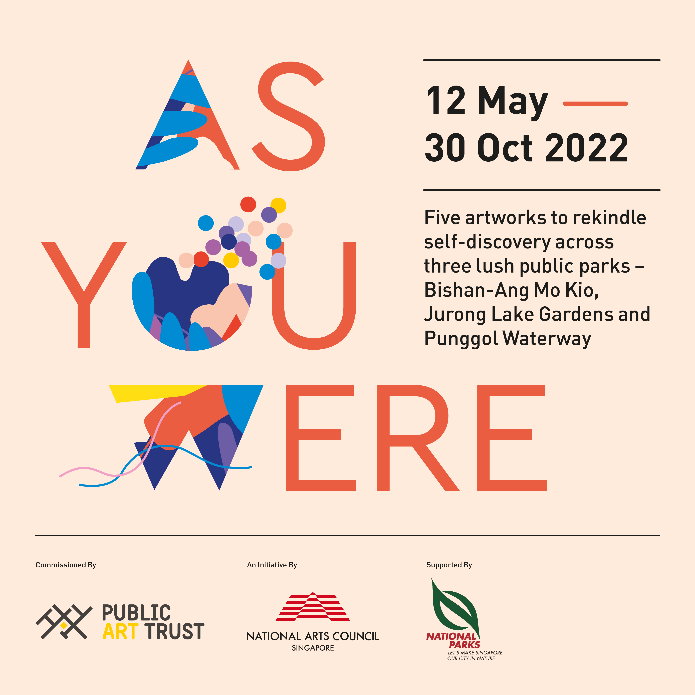 As You Were
Date: 12 May to 30 October 2022
Venue: Bishan-Ang Mo Kio Park, Jurong Lake Gardens, and Punggol Waterway Park
A brand new commission by the Public Art Trust under the National Arts Council (NAC), As You Were presents a series of five public art installations by seven homegrown artists, located across three of Singapore's nature parks. This showcase reflects artists' imaginations of an endemic world as they step out of their studios and into nature.
From whispering secrets through a larger-than-life paper cup telephone to reliving one's childhood memories at a seesaw-inspired work, these works encourage a sense of play with all who encounter it. Step out and explore these works for yourself today!
ANNEX B: ARTWORK AND ARTIST DESCRIPTIONS FOR AS YOU WERE
No.

Image / Artwork details

Artist bio

BISHAN-ANG MO KIO PARK

1

Small Moments

Year: 2022
Material: Marine Plywood
Size: 3m (L) x 0.15m (W) x 3m (H)
Location: Bishan–Ang Mo Kio Park
Collection: Public Art Trust

Concept:

Small Moments is an artwork about the brief unassuming moments before the pandemic, and the ones we yearn for now. Over the past few years, people have come to acknowledge that our way of living has changed. As Singapore finds ways to open up, we as individuals find ourselves renegotiating the ideas of togetherness as we find new ways to manage our relationships.
Small Moments attempts to touch on this topic through warmth and humour, using a half-eaten Marie biscuit as both a metaphor for togetherness, the past and perhaps the absurd nature of holding on. The biscuit is absurd, yet funny. This small moment is recreated and enlarged.

About Daniel Chong

Daniel Chong is an artist that works with everyday objects. Working between the quiet slippages of function and sentimentality, Chong subtlety exposes the emotive qualities attached to these objects. From strength to grief and recently, intimacy, Chong engages with materialism as a means to unearth our emotional connections through objects. His practice is often characterised with the ability to softly nudge perceptions through minute interventions.

His recent exhibitions include a solo presentation 'Shifting Subtilties' (2019) at 1a space in Hong Kong and participation in the OSTRALE Biennale O21 in Dresden, Germany. Chong has also curated a number of projects such as co-curating 'Bad Imitation' (2022) at Tanjong Pagar Distripark as part of Singapore Art Week and 'Stranger('s) Touch' (2022) a project that explores touch through the guise of a beauty store

2

Can You Hear Me?

Year: 2022
Material: Fibreglass and Powder Coated Galvanised Steel
Size: 7.0m (L) x 2.0m (W) x 2.2m (H)
Location: Bishan–Ang Mo Kio Park
Collection: Public Art Trust

Concept:

With the phrase we often hear in the age of Zoom, "Can you hear me" is an invitation for an exercise on active listening - a lost art in an age of distraction.
With the increased screen time, online communication, and socially-distanced interactions during the COVID-19 pandemic, people are yearning for nature and finding solace in it as they learn to hear birds and other creatures more clearly than ever before.


About Quek Jia Qi and Aaron Lim

Quek Jia Qi is an interdisciplinary artist and educator. She works collaboratively to explore how modes of exchange intersecting art and pedagogy can facilitate spaces for transformation and bring individuals and communities together for civic engagement. She has led participatory workshops, site-specific installations, public programmes, and performances across the US, UK, Europe, and Asia.

Aaron Lim is an artist and architectural designer interested in cross-disciplinary practices that involve collaborative modes of making and community engagement where spatial agency is shared. His works have been presented at the Singapore Heritage Festival, London Festival of Architecture, Urban Redevelopment Authority, Noise Singapore, and Singapore Coffee Festival.

JURONG LAKE GARDENS

3


Our Dreams Must Continue

Year: 2021
Material: Resin, Mild Steel
Size: Series of 4, Variable Sizes
Design A: 1.74m (L) x 0.05m (W) x 2.28m (H)
Design B: 1.13m (L) x 0.05 (W) x 1.92m (H)
Design C: 1.26m (L) x 0.05 (W) x 1.55m (H)
Design D: 1.59m (L) x 0.05m (W) x 1.41m (H)
Location: Jurong Lake Gardens
Collection: Public Art Trust

Concept:

A group of quirky shapes are sprouting out and taking over at the Jurong Lake Garden. The ambiguous shapes resemble dream bubbles, whimsical and playful, popping out from the ground, infusing humour, intervening and transforming the lush landscape in a spirited way.
Its vivid colours attract attention as it shimmers under the sunlight. It daydreams and ponders Mother Nature, entertaining the imagination of those who encounter it. The artist hopes to instill a sense of positive energy, ease away worries as we re-emerged with inspiration during these changing times


About Teo Huey Ling

Teo Huey Ling's work includes drawings, contemporary sculptures and art installations. Being tremendously driven by intricate and laborious processes, the artist takes interest in learning and mastering technical skills to uncover the properties of the material she works with. In recent years, the artist took an interest in community-based arts.

Her personal work strives on the notions of ambiguities that shift the forms of the biomorphic shapes through repetition, overlapping and juxtaposition.

She was one of the selected artists for Chingay 2022 Mini Float and does her work in Telok Kurau Studios, an arts housing under the National Arts Council. She has exhibited in Australia, Croatia, Dubai, Malaysia, Taiwan and Paris.

PUNGGOL WATERWAY PARK

4


Afloat

Year: 2022
Location: Punggol Waterway Park
Material: Oxford Cloth
Size: 7.98m (L) x 2.01m (W) x 2.5m (H)
Collection: Public Art Trust

Concept:

Afloat is a eight-metre long inflatable that takes reference from two ubiquitous objects - the paper boat and the mask.
From around the region, many rituals and customs see paper boats and lanterns being put into bodies of water, representing the release of fear and desire, symbolic cleansing, and also blessings for one's loved ones and to others.
The mask has become one of the most synonymous objects and motifs related to the COVID-19 pandemic. In the ongoing global-wide fight against the pandemic, the mask naturally becomes one of its first lines of defence against the virus, while at the same time, an act of solidarity in its display of determination to overcome the challenges.


About Ang Song Nian

Working extensively with photography and installation, Ang Song Nian is intrigued by human interventions on landscapes, and the traces of human existence and consciousness brought to light by natural phenomenon. He currently lectures at The School of Art, Design and Media at the Nanyang Technology University.

5


n o o n (at play)

Year: 2022
Location: Punggol Waterway Park
Material: Recycled wood & rubber, spray-painted steel & iron, Plexiglass & iridescent film, LED lights
Size: 2.6m (L) x 1.8 (W) x 2.5m (H)
Collection: Public Art Trust

Concept:

Taking inspiration from the Sanskrit word Lila (लीला), the artwork is a set of 2 seesaws that serve as pivoting points, that bridge between the skies and the earth.
The balance between work/school and life is also foregrounded, through the big, fun and interactive seesaws that require at least 2 persons in order to activate the motions and analog play (as opposed to digital/ versions) help create the idea of the "healthy body and healthy mind".
Using an abstracted form of the Golden Leather fern, the work emphasises the care and inclusion of play as a form of engagement with the public around the Punggol Waterway.
This project is a reconsideration of the components of play into the existing urban landscape through thoughtful designs and aesthetics. This positioning is of particular importance considering the pandemic, including elements of care.


About Hazel Lim (Right) and Adeline Kueh (Left)


Hazel Lim is a visual artist with a background in painting and employs text, crafting methods and drawings to create installations that delve into the production of narratives, notions of displacement, construction of histories and imaginary landscapes. In her current research on the Aesthetics of Care, Hazel is employing crafting techniques such as needlework and paper craft to investigate the utility of diagrams, image making and colour theory, whilst at the same time, interrogating the relationship of craft to the domestic and feminine.

Adeline Kueh makes installations, photography and embodied works that reconsider the relationship we have with things and rituals around us. Her works are imbued with a sense of desire and longing, and act as modern-day totems that explore personal histories and overlooked moments. Adeline uses drawing as a conceptual tool to try to map out the historical trajectories across time and space through her use of found objects and new production. As a co-founder of the Critical Craft Collective, the centrality of craft in contemporary practice, as well as the politics of care have become increasingly important in the collective's push towards creating the Craft Council of Singapore
Back to Media Centre