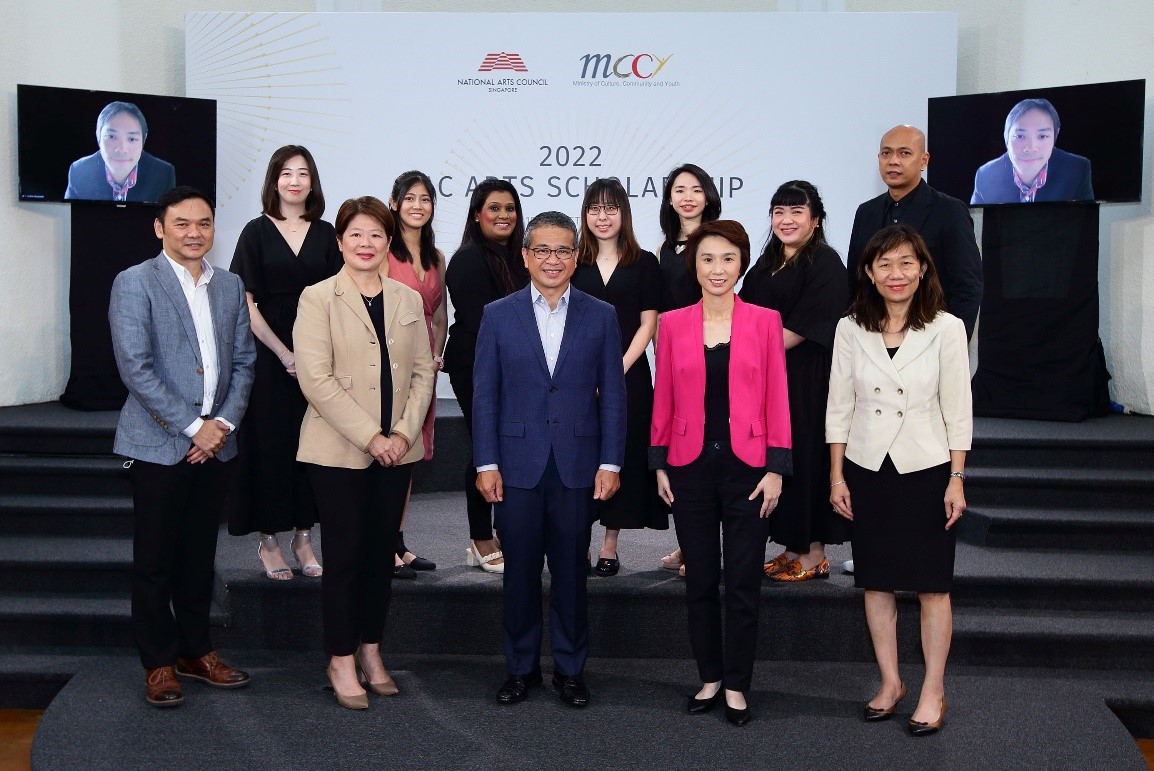 2022 NAC Arts Scholarship recipients with Mr Edwin Tong, Minister for Culture, Community and Youth, Ms Low Yen Ling, Minister of State, Ministry for Culture, Community and Youth, Ms Goh Swee Chen, Chairman of the National Arts Council (NAC), Mrs Rosa Daniel, Chief Executive of NAC, and Mr Low Eng Teong, Deputy Chief Executive (Sector Development) of NAC


SINGAPORE, 16 August 2022 – Eight outstanding individuals have been awarded the National Arts Council (NAC) Arts Scholarship this year. The Scholarship nurtures remarkable individuals to be future arts leaders and game changers in pushing artistic boundaries as they inspire growth and drive the positive development of our local arts scene.
As a reflection of the rich diversity in Singapore's vibrant arts ecosystem, this year's NAC Arts Scholarship recipients comprise artists, arts managers and practitioners who will pursue their studies in various fields such as fine arts, arts management, arts pedagogy, and community arts. This speaks to the ability of the arts to impact many aspects of our lives and society, including emerging areas that the arts can play a more prominent role in, such as music therapy and arts and disability, recognising the collective power of the arts in improving one's well-being and building an inclusive society.
The arts scene in Singapore is back in full force as we emerge stronger from the COVID-19 pandemic. With the care and creative economy forecasted to grow, so are the opportunities for the arts workforce. NAC has committed close to $500,000 over the next four years to the scholarship recipients to support talent development in the arts sector. NAC will also partner arts and cultural institutions to provide pathways for the Scholars to develop their careers after they return from their studies. Scholars can look forward to exposure beyond their immediate areas of training, in areas such as mentorship, career guidance and broadening of their networks. In addition to the NAC Arts Scholarship, there are numerous other avenues for the artistic and professional development of the wider arts workforce, including residency programmes, continuing education and training programmes.
Mr Edwin Tong, Minister for Culture, Community and Youth, and Second Minister for Law, said at the ceremony, "Today, we have a vibrant and diverse landscape of cultural institutions, practitioners, and arts groups. All our scholars come from different backgrounds, disciplines, and fields, which add to the colourful vibrancy along the spectrum of the arts value chain. From creative professionals to arts managers to practitioners in applied and community arts, the diversity of the cultural ecosystem contributes to the richness and fabric of this arts ecosystem. The Government is committed to supporting the arts and heritage in partnership with the community. We have placed particular emphasis on growing talent for the sector – not just the arts practitioners but also educators, administrators, and other important roles in the sector. This is evident in the rich diversity embodied by this year's arts scholarships recipients."
NAC is formulating the next iteration of Our SG Arts Plan, which will chart the subsequent phase of growth for Singapore's arts scene from 2023 to 2027. Capability development will continue to form a vital part of the Council's multifaceted support for the arts, such as through the NAC Arts Scholarship. NAC will join hands with the public, private and people sectors to foster a connected society, create a distinctive city, and drive sustainable growth through a creative economy.
You may download high resolution images here: https://bit.ly/NACArtsScholarship2022
ANNEX: THE NAC ARTS SCHOLARSHIP AND 2022 RECIPIENTS



For media enquiries, kindly contact:
Low Zhaoting
Senior Manager, Communications & Marketing
National Arts Council
DID: +65 6346 9425
Email: LOW_Zhaoting@nac.gov.sg


ANNEX: THE NAC ARTS SCHOLARSHIP AND 2022 RECIPIENTS

The National Arts Council (NAC) Arts Scholarship aims to nurture outstanding individuals to contribute to the arts and cultural development in Singapore. As future leaders of the arts and culture sector, scholarship recipients will challenge themselves to push artistic boundaries and lead their peers to create positive impact for the Singapore community through the arts. The recipients will fulfil a service commitment of up to 2 years in the arts sector upon graduation.


S/N

Recipient

Biodata

1

Neoh Yew Kim

Bachelor Performance in British Sign Language and English (Performance), Royal Conservatoire of Scotland (United Kingdom)

Image credit: Neoh Yew Kim

Neoh Yew Kim will be pursuing a Bachelor of Arts Performance in British Sign Language and English at the Royal Conservatoire of Scotland. Yew Kim was involved in the ASEAN Para Games Opening Ceremony 2015 as the Deaf interpreter, the National Day Parade 2016 as the song signer, and some short films and corporate videos. In 2021, Yew Kim joined ART:DIS Singapore's BEYOND DIS:PLAY, a 2-year theatre training programme, where she was exposed to a wide range of performing skills, including stage acting, screen acting, script writing and public speaking. As part of her solo showcase, she is currently devising a semi-autobiographical monologue that sheds light on the state of being in-between the Deaf and Hearing worlds using visual metaphors, signed mime and physical narrative.

Yew Kim aims to enable Singapore's arts and cultural landscape to become more inclusive, collaborative, and accessible for the Deaf community, thereby lifting visibility and improving the D/deaf's[1] overall independence and economic circumstance. Using the performing arts, Yew Kim wishes to experiment and find methods on how Singapore can successfully help people with disabilities to live a fulfilling life. In the future, Yew Kim hopes Singapore will become an example for other nations to look up to as a guide on achieving social cohesion with the disabled. Yew Kim also wishes to revive Deaf Art from the legacy of Hi! Theatre, Singapore's first deaf theatre founded in 1986.

Through Yew Kim's course of study, she hopes to gain different perspectives from both the Deaf and Hearing worlds simultaneously. With both perspectives, Yew Kim could educate and work with D/deaf and mainstream communities through high-quality, interdisciplinary art to build an inclusive and collaborative society. She also hopes to gain an understanding and proficiency in Deaf Art culture and literacy, thus developing a sense of national pride in Deaf culture and keeping Deaf Art alive.

2

Aishwariyah Shanmuganathan

Doctor in Education (Visual and Performing Arts), Nanyang Technological University (NTU), National Institute of Education (NIE) (Singapore)

Image credit: Aishwariyah Shanmuganathan

Aishwariyah Shanmuganathan is pursuing a Doctorate in Education (Visual and Performing Arts) at Nanyang Technological University (NTU), National Institute of Education (NIE). Aishwariyah is a Drama educator, practitioner, and active advocate for the arts. Aishwariyah holds a Masters in Education (Drama) and serves as the current President of the Singapore Drama Educators Association (SDEA).

As an Educator and Practitioner, Aishwariyah has been actively involved in community and school-based arts projects for over a decade. Her work includes lecturing in tertiary institutions, directing, writing, and crafting professional development programmes for performers, teachers, and corporates. Her process-driven work has brought drama-based education to a wide range of learners from various institutions and industries.

As an advocate for the arts, Aishwariyah spearheads many Continuing Education and Training (CET) projects, and Advocacy initiatives within SDEA. Aishwariyah takes a keen interest in the professional needs and wellbeing of self-employed/freelance teaching artists and works to strengthen the value and practice of arts in education.

Aishwariyah strongly believes in the transformative power of drama and hopes for drama to hold a more significant place in Singapore's education system.

Through Aishwariyah's doctoral research, she aims to explore the critical aspects of drama in education and identify how drama-based pedagogy can pave the way for developing arts-informed educational thinking, practices, and policies in Singapore.




3

Amanda Kye-Ning Tan

Master of Music (Conducting)

Boston Conservatory at Berklee College of Music (United States)

Image credit: Amanda Kye-Ning Tan

Amanda Kye-Ning Tan is a Singaporean violinist and conductor. She plays the violin in various community, pre-professional, and gig orchestras around Singapore. Amanda also teaches the violin and music theory to children and adults. She also serves as Conducting Fellow of the Braddell Heights Symphony Orchestra.

Amanda believes that great potential lies in Singapore's youth and how they wield their imagination and technology while adapting to a digital world. As a "Gen Z" musician, social media is integral to her lifestyle. This has developed into a passion for narrative interpretation and imagery and how it may assist the enthusiastic amateur in appreciating abstract music. Amanda hopes to contribute to a more diverse and inclusive local soundscape through projects that capture and harness the imagination, stoking the musical coals of Singapore's future.

As the world evolves with technology, it is also important for Singapore to rethink its relationship with art in an increasingly connected world. Singaporeans can bring the diversity and standard of Singapore's art to the next level. Amanda hopes everyone's combined efforts will push locals and local music to the global stage and contribute to a richer soundscape.

Through the NAC Arts Scholarship, Amanda will be able to enhance her skills at the Boston Conservatory at Berklee. The merging between a multi-disciplinary Conservatory and a contemporary College will provide opportunities to Conservatory students in areas where Berklee's strengths can add value, such as through recording, producing, business, and video game and film scoring. Amanda looks forward to returning to Singapore as a better version of herself and sharing ideas and skills for the empowerment of the community.

4

Goh Sin Tze, Elvia

Master in Arts Management and Creative Producing, University College Cork (Ireland)

Image credit: Goh Sin Tze, Elvia

Goh Sin Tze, Elvia will pursue a Master in Arts Management and Creative Producing at University College Cork. Elvia is the General Manager of Ding Yi Music Company and has been actively engaged in the local arts scene since she graduated from Singapore Management University (SMU) with a Bachelor of Business Management.

As an avid music lover, she performs with The Purple Symphony, Singapore's largest inclusive orchestra, and is the founder of SMU's Chinese Orchestra. In 2019, Elvia and other arts enthusiasts, established an Arts & Culture Scholarship at SMU to inspire and support undergraduates to venture into arts management with focus on the traditional arts.

Her vision for the Singapore arts and cultural landscape is a melting pot of arts practitioners, arts managers, arts partners, arts educators, arts supporters, arts audiences, and many others, each actively contributing and championing a sustainable and strong arts environment, where everyone plays an indispensable role to keep the gears oiled and in a forward motion.

Elvia aspires to be a leader of change in the traditional arts scene, especially Chinese music. She hopes to expand her scope and deepen her expertise in the possibilities of arts through partnerships and collaborations.

With the support of the NAC Arts Scholarship, Elvia is grateful for the opportunity to further her studies which she believes will provide more headways to lead arts organisations meaningfully and create a positive impact on the Singapore community.




5

Leong Seok Ting, Denise

Master of Arts in Dance Leadership and Community Practice (Community Dance)

Trinity Laban Conservatoire of Music & Dance (United Kingdom)

Image credit: Leong Seok Ting, Denise

Leong Seok Ting, Denise will be pursuing Master of Arts in Dance Leadership and Community Practice (Community Dance) at Trinity Laban Conservatoire of Music & Dance. Denise is an arts manager and community dance artist.Her work involves working with a different spectrum of seniors from St. Luke's Eldercare, Thye Hua Kwan Moral Charity, Presbyterian Community Services, and Dementia Singapore to name a few.Denise also leads community dance programmes for children and youth at risk from Methodist Welfare Services, Hope Centre etc.

Denise's interest in dance and health saw her working as a dance health expert facilitator at St. Luke's Hospital, improving the health and wellbeing of patients in the rehabilitation department. In the UK, Denise assisted with ballet classes for the blind and partially sighted at the Royal Opera House, and supported as a teaching assistant, for children and youth programmes at Dance Umbrella and Trinity Laban. Denise is currently the Outreach Manager of The Human Expression (T.H.E) Dance Company and con·tact Contemporary Dance Festival.

Denise's goal for the arts scene in Singapore is to see arts integration as a crucial component of our lives, and essential services such as healthcare could greatly benefit from the many aspects of what arts and movement can offer.

Denise aims to fill the gap in research and evaluation models to further enhance arts and health services for the community. This could be one of the many stepping-stones for the evolvement of the arts landscape in Singapore, but a critical one as each tiny research contributes to the knowledge of how policymakers craft and shift policies. She hopes to be at the forefront of the potential expansion of the arts and health landscape and be a change maker.

Denise is certified with An Introduction to Safe Dance Practice in MOE Schools by Nanyang Academy of Fine Arts (NAFA), En Route to Inclusivity: Working with Children with Disabilities in and through the Arts by Rainbow Centre, and Introduction to Dance for Parkinson's Disease Dance Teacher Certification by Mark Morris Dance Group (USA).




6

Tan Li Wen, Jollin

Master of Arts (English Studies: Literature, Language, Culture), Freie Universität Berlin (Germany)

Image credit: Tan Li Wen, Jollin

Tan Li Wen, Jollin will be pursuing Master of Arts (English Studies: Literature, Language, Culture) at Freie Universität Berlin. Jollin's journey in the local literature community is marked by personal experimentation, and began with two books, Bursting Seams and Derivative Faith.

Jollin has read in spoken word events at programmes ranging from Speakeasy to Spoke and Bird. Jollin has also been a moderator, speaker, and workshop programmer in various events e.g., Singapore Writers Festival over the years. Jollin has also been a featured writer with Sing Lit Station's Book-A-Writer programme and has given workshops at schools in Singapore.

Jollin's work is also found in anthologies such as Body Boundaries, SingPoWriMo The Anthology, Balik Kampung 3B: Some East, More West, and Epigram Books Collection of Best New Singaporean Short Stories V.3.

Jollin's artistic practice is continually growing, writing in various forms and styles such as love letters, poems, and essays. Jollin's work in digital media partly informs her practice — she is interested in how digital spaces present writers and artists with the opportunity for exhibition and publication of work beyond the page or even work that interacts across both digital spaces and pages. She hopes to start a digital journal to explore these relationships and encourage collaboration between artists from various disciplines. This platform will eventually grow into a publishing house that takes care of and gives back to literary arts practitioners in the community.

Through the NAC Arts Scholarship, Jollin will further her research into, and practice around digital media and literary art. Her time spent in research will also be one of gathering knowledge of practices by publishing houses or international literary arts festivals, to bring relevant programmes, forms, or arts practices back to the arts community in Singapore.




7

Tang Wei Li, Jonathan

Doctor of Philosophy (Psychology of Music), The University of Sheffield (United Kingdom)

Image credit: Tang Wei Li, Jonathan

Tang Wei Li, Jonathan is pursuing a Doctor of Philosophy (Psychology of Music) at The University of Sheffield. Jonathan is a music therapist with clinical experience in medical, special education, and mental health settings. Before music therapy, Jonathan was active in the local music scene; he performed with local artists and bands, such as electropop artist Eli T., Kings, and Common People, at various venues and events, including Timbre, Esplanade, and Mosaic Music Festival.

Jonathan pursued music therapy to apply music more meaningfully in people's lives. In addition to working as a music therapist, Jonathan helped to increase access to music therapy by pioneering music therapy programmes at Medley Music School, Extraordinary People, and the Institute of Mental Health. Jonathan also promoted music therapy awareness by facilitating public workshops through The RICE Company Limited and the Caregiving Welfare Association.

Jonathan believes in the power of the arts to foster community and health, and is passionate about developing Singapore's arts and health scene. As such, his vision for Singapore's arts and cultural landscape is for the arts to be more widely accepted as a medium for health, cultural identity, and nation-building. Given the cultural diversity in Singapore, it is pertinent to understand the intricacies of culture embedded in art practices.

The NAC Arts Scholarship will support Jonathan's research to deepen our understanding of culture and music and how they interact to promote health and well-being. Jonathan believes that research and practice have a symbiotic relationship. His research draws on his own personal and clinical experiences, and he believes it also serves to inform his practice in music therapy. Through the interplay of practice-informed research and research-informed practice, Jonathan aspires to take Singapore's arts and health scene to the next level.




8

Zulkifle Bin Mahmod

Master of Arts (Fine Arts)

Lasalle College of The Arts (Singapore)

Image credit: Zulkifle Bin Mahmod

Zulkifle Bin Mahmod is pursuing Master of Arts (Fine Arts) at Lasalle College of The Arts. Zulkifle is a professional artist and has proactively produced artwork for exhibitions, locally and internationally, for more than 20 years. Zulkifle believes in pushing boundaries when making artworks, elevating his art practice to engage with audiences, and allowing the work to be recognised on its own.

Zulkifle represented Singapore as the first sound artist at the Venice Biennale in 2007 with a full-on sound installation. In 2016, he received an inaugural Soichiro Fukutake award by the Japanese corporation, Benesse Holdings, for his sound sculpture commissioned by Singapore Art Museum for Singapore Biennale 2016. Benesse Holdings and Fukutake Foundation then subsequently acquired the artwork as part of their collection in Shodoshima Island, Japan.

Zulkifle will continue to influence society by translating art experiences and surroundings in one way or another. Through art, he will bring society together by examining what it means to be human, to be heard and seen, and to take notice of one's surroundings; it will also connect and bridge people across the globe. In the long term, Zulkifle's art practice, alongside other art practitioners, will help attract global partnerships, investments, tourism, and grow Singapore's economy. Zulkifle hopes to help pave the way and inspire younger generation of artists and culture makers to embark their journey in the arts, professionally contribute to Singapore's Singapore's arts development, and connect communities.

With the support of the NAC Arts Scholarship, Zukifle is determined to deepen his knowledge and develop better insight on contemporary and sound art through in-depth research. Pursuing his course of study will support his practice professionally and offer him a better and innovative way to approach his artmaking processes, with possibilities beyond what he already knows. Zulkifle wants to better interpret his work to the audience, society, and the world around us.
[1] D/deaf: a person who identifies as a member of the deaf community.
Back to Media Centre