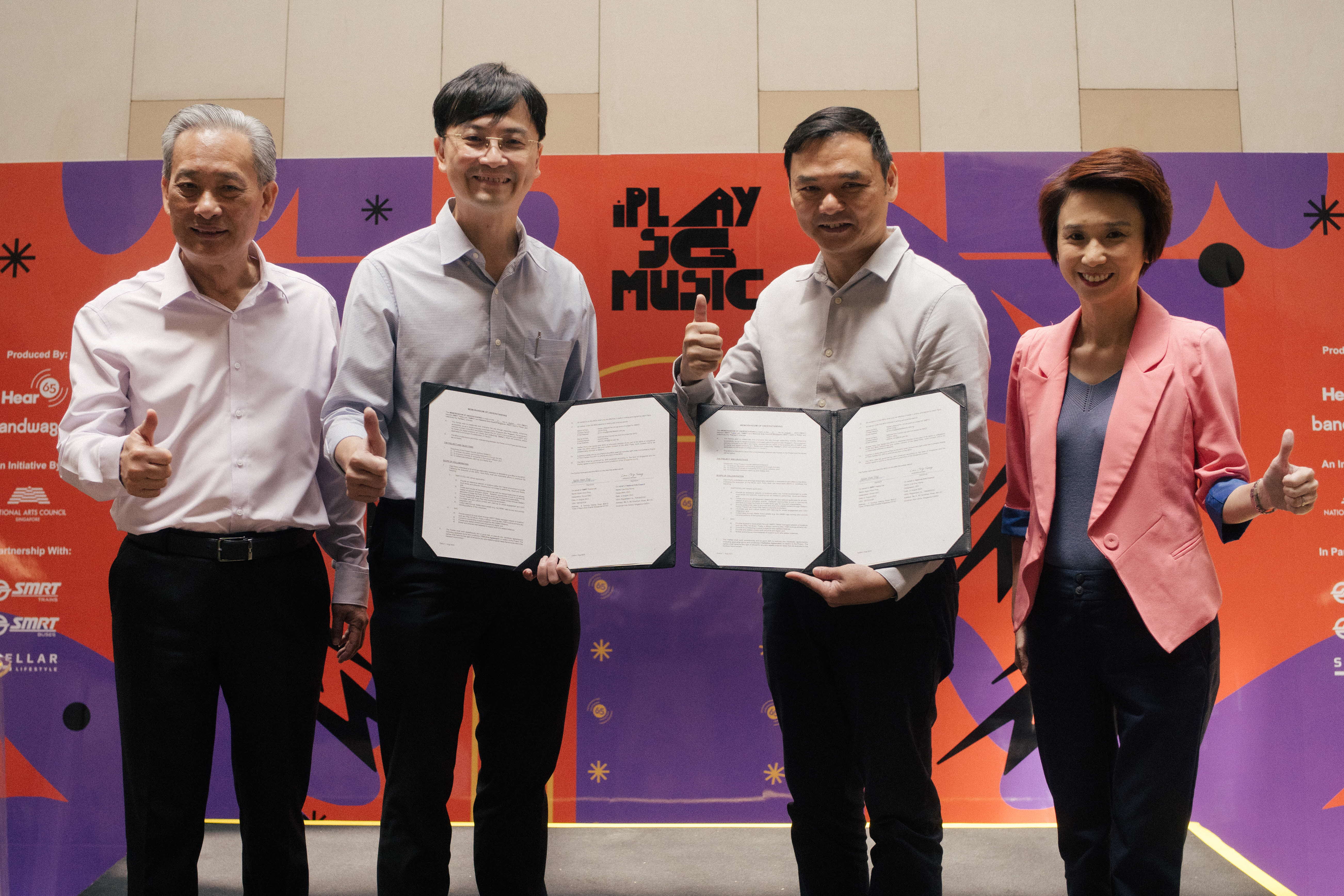 From Left to Right: Mr Seah Moon Ming, Chairman, SMRT Corporation Ltd., Mr Ngien Hoon Ping, Group CEO, SMRT Corporation Ltd., Mr Low Eng Teong, CEO, NAC and Ms Low Yen Ling, Minister of State, Ministry of Culture, Community and Youth & Ministry of Trade and Industry at the NAC-SMRT MoU exchange and launch of Hear65's 'I Play SG Music' campaign with SMRT at Bras Basah station on 30 August 2023.


SINGAPORE, 30 August 2023 – The National Arts Council (NAC) and SMRT Trains Ltd. signed a three-year Memorandum of Understanding (MoU) today, to enliven spaces of commute through music, poetry, and busking, to widen avenues of exposure to Singapore's art in public spaces. This landmark collaboration is anchored by the launch of a year-long I Play SG Music campaign led by Hear65, a national music movement by NAC and produced by music media company Bandwagon. Hear65's 'I Play SG Music' campaign brings homegrown music closer to over 3 million commuters across 125 MRT, LRT stations and bus interchanges operated by SMRT for the first time, enhancing the daily experience of commuters as they make their way to spaces where they live, work and play.
The campaign was inspired by key findings from NAC's 2021 Deep Dive Study of Singaporean Music Listeners, which revealed significant improvements in the levels of interest and perception among Singaporeans upon hearing playlists of homegrown music. In working closely with local artists, music labels, and performance rights organisations (PROs), the campaign aims to champion new opportunities and exposure of our homegrown musicians amongst wider audiences, where local music can be easily accessible in public spaces. Commuters can expect a diverse range of original Singaporean music acts, selected from artists and repertoire under music labels such as Universal Music Singapore, Warner Music Singapore, Sony Music Singapore, Cross Ratio Entertainment, Where Are The Fruits, and Ocean Butterflies. Curated by Hear65, the playlists will also fit the mood for different times of the day and refreshed quarterly to include new artists and songs.
In addition, NAC and SMRT Trains Ltd. will further enhance the commuting experience for locals and visitors alike, by introducing other initiatives under the MoU. Commuters can enjoy snippets of poetry and prose in trains as they go about their daily commute and be inspired by the beauty of local literature. Also in the works is a collaboration with ART:DIS Singapore to provide buskers with disabilities accessible platforms to showcase their musical talents at train stations across the island.
Mr Low Eng Teong, Chief Executive Officer of NAC, said, "Partnerships are key to unlocking more avenues for arts creation, presentation, and connections in Singapore. The support of valued stakeholders such as SMRT is a cornerstone of Our SG Arts Plan (2023 - 2027), as spaces across the island will be invigorated by the arts, transforming Singapore into an endearing home and A Distinctive City that inspires. We invite more like-minded partners to join us in the making of Singapore's vibrant and sustainable arts scene."
Mr Lam Sheau Kai, President, SMRT Trains Ltd. said, "This landmark partnership with NAC is one of the ways in which SMRT hopes to connect communities around our public transport network through the common language of art and music. We are happy that our spaces in the transit network can become an enabling platform for homegrown artists and buskers with disabilities to share their works with a wider audience."
- End -
For media queries, please contact:
Foo Shi Min

Associate

Tate Anzur

+65 9383 7173

Angelina Soh

Senior Manager

Strategic Communications & Marketing

National Arts Council

+65 6980 2919
Back to Media Centre