New partnership to promote and encourage the development of exchanges between artists from both countries and cooperative activities in the fields of arts and culture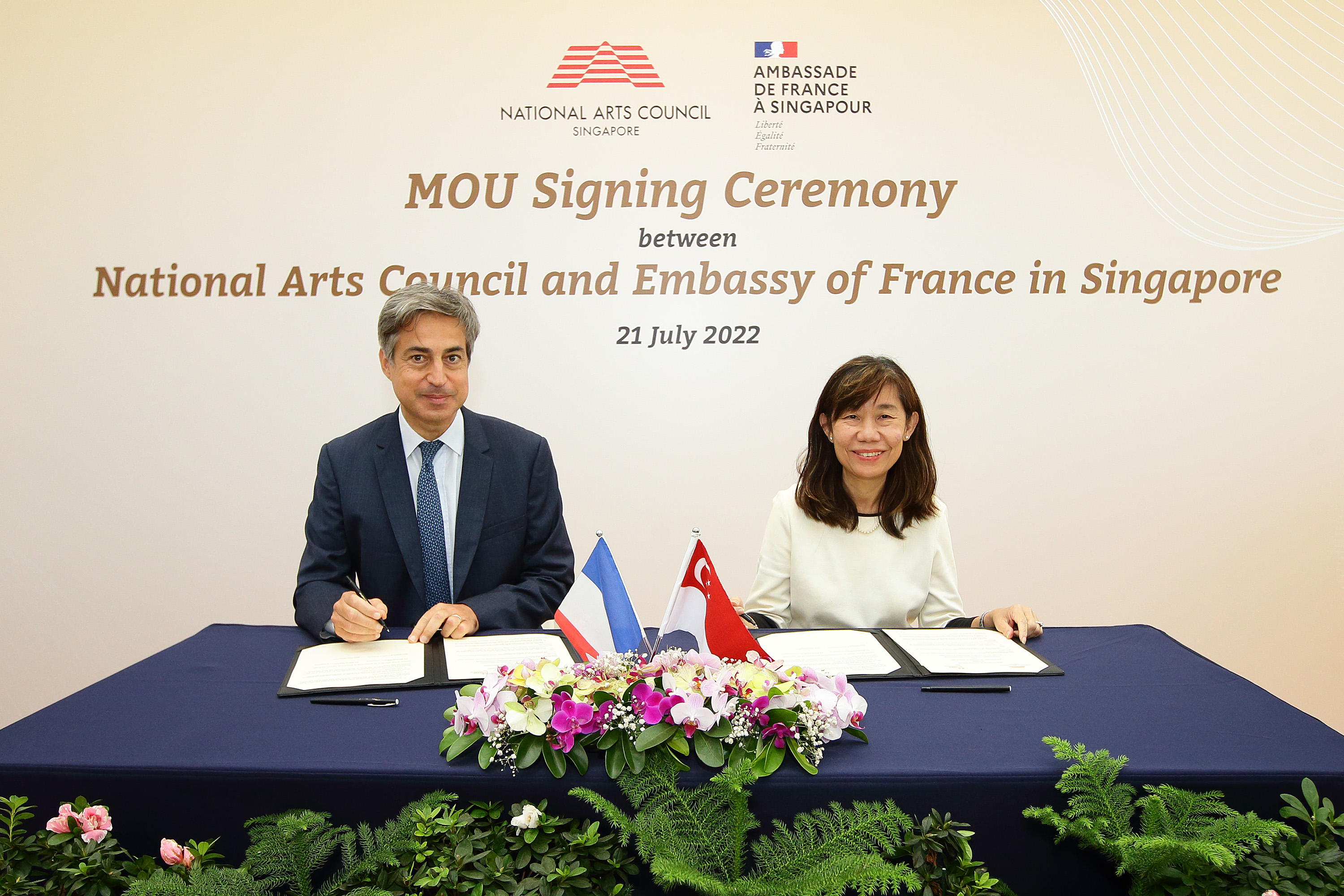 Ambassador of France to Singapore Marc Abensour with National Arts Council (Singapore) Chief Executive Officer Rosa Daniel at the Memorandum of Understanding Signing Ceremony
Singapore, 21 July 2022 – The Embassy of France in Singapore and the National Arts Council, Singapore (NAC) signed a Memorandum of Understanding (MOU) today, committing to support the creation of a bilateral Artist-in-Residency Programme by arts and culture institutions over the next five years, in the fields of visual, literary and performing arts. This is testament to the strong cultural cooperation and commitment from the two countries to support exchanges between artists and arts professionals in the future.
2 Under the MOU, arts organisations in France and Singapore that offer residency programmes will have the opportunity to receive support to welcome artists and arts professionals from both countries to conduct research and/or create artworks, for periods of at least six weeks and up to six months, in France and Singapore. In a ceremony held at the Arts House, the MOU was signed by Mrs Rosa Daniel, Chief Executive Officer of NAC and Mr Marc Abensour, Ambassador of France to Singapore.
3 Mr Marc Abensour said, "The bilateral artist-in-residency programme between France and Singapore will, without a doubt, contribute to developing co-creations, co-curations and co-productions and to deepening the cultural dialogue between our two countries. It perfectly illustrates the priorities of the intergovernmental cultural agreement signed in November 2019 between the two Ministers of Culture and will generate long-lasting collaborations that could be presented within the framework of the next editions of vOilah! France Singapore Festival."
4 Mrs Rosa Daniel added, "The cultural ties between Singapore and France rest on strong foundations built over many decades. As our arts sector grows in depth and diversity, there is a growing need to strengthen international partnerships and widen opportunities for our artists and arts group overseas. Emerging from the last two years of border restrictions, we are also more firmly committed to growing our audience base by attracting international visitors to Singapore. With this new agreement, we hope to continue supporting more dynamic exchanges that will enrich both our arts and cultural landscapes. This MOU signifies NAC's firm belief in facilitating strategic international exchanges, as we seek to build a distinctive city and creative economy over the next five years."
5 France and Singapore have enjoyed a deep cultural relationship since 2009 with the signing of the first Agreement on Cultural Cooperation by both Governments. In 2019, the Cooperation Agreement between Singapore and France on Enhancing Cultural Cooperation was signed, further underscoring both countries' shared commitment to develop and sustain cultural and artistic partnerships in the arts and heritage sectors. Since then, cultural institutions and arts practitioners of Singapore and France have worked closely together on mutually-beneficial exchanges, exhibitions and other events such as the Singapour en France – le Festival in 2015 and various editions of the vOilah! France Singapore Festival whose revised strategy has been in line with the new cultural agreement since 2019.
6 Other notable collaborative projects include 2018's Angkor: Exploring Cambodia's Sacred City co-curated by the Asian Civilisations Museum and National Asian Arts Museum – Guimet from France as well as the adaptation of a French play The Reunification of the Two Koreas restaged in English by T:>Works (formerly known as TheatreWorks Singapore); in 2020, the play The Veil of Happiness written by Georges Clemenceau, directed by Marc Goldberg and performed by Singapore artists; in 2021, the concert The Little Prince, a Musical Journey written by French composer Thierry Huillet and performed by Braddell Heights Symphony Orchestra and actor Hossan Leong as well as Alliance Francaise's 11th France + Singapore Photographic Arts Award Exhibition recognised photographers for their experimental and emerging styles. More recently in 2021-2022, the exhibition Mapping the World: Perspectives from Asian Cartography was co-created by curators from National Library Board and France, and Singapore Art Week 2022 also presented Cyril Lancelin who enthralled many with his larger-than-life work, The Art of Dreams. These platforms have provided opportunities for both countries to learn from one another and showcase the best of their respective arts and cultural offerings to global audiences.
- End -
Back to Media Centre