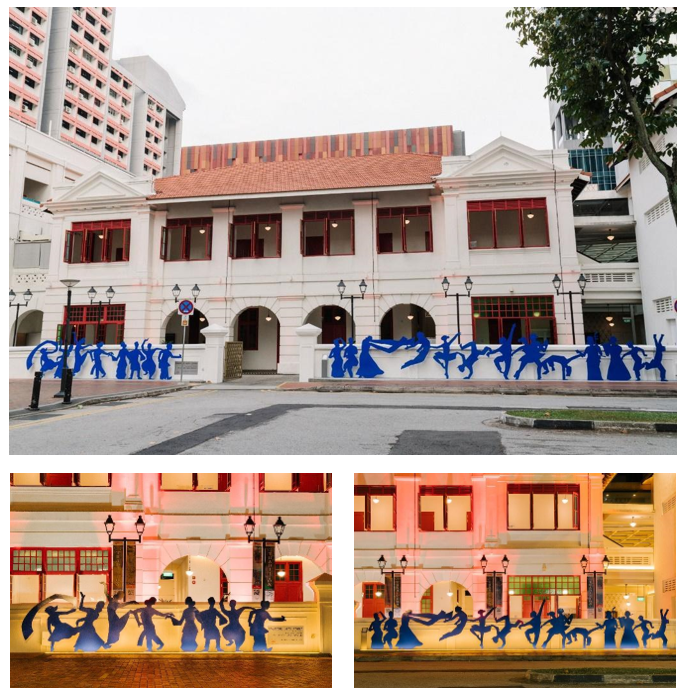 Singapore, 17 August 2022 – From today, dancing figures embodying elements of the performing arts like joget and breakdancing will be lined along the exterior façade of Stamford Arts Centre in the form of a striking blue mural. Commissioned by the Public Art Trust (PAT) under the National Arts Council (NAC), the artwork entitled Culture and Harmony by artist Leo Hee Tong symbolises the Centre's support for Singapore's multi-ethnic arts and cultural heritage through the traditional arts. The public art installation will welcome visitors at the entrance of the historical venue for the coming years.





Mounted in front of the low fence wall that is a distinct architectural feature of buildings from the 1920s, Culture and Harmony expresses the beauty of both traditional and modern performing arts that reflect Singapore's unique multicultural identity. Visitors will see a delightful and harmonious procession of traditional Indian and Malay dance, ballet and modern dances, as well as Chinese traditional instruments through the installation. The vibrant blue represents the spirit of dynamism that strengthens new visions and innovations in performing arts, elevating Stamford Arts Centre as a landmark with its striking presence. The artwork emphasises and preserves traditional arts and heritage, capturing Singapore's rich and diverse heritage while creating a photo moment for passers-by and visitors.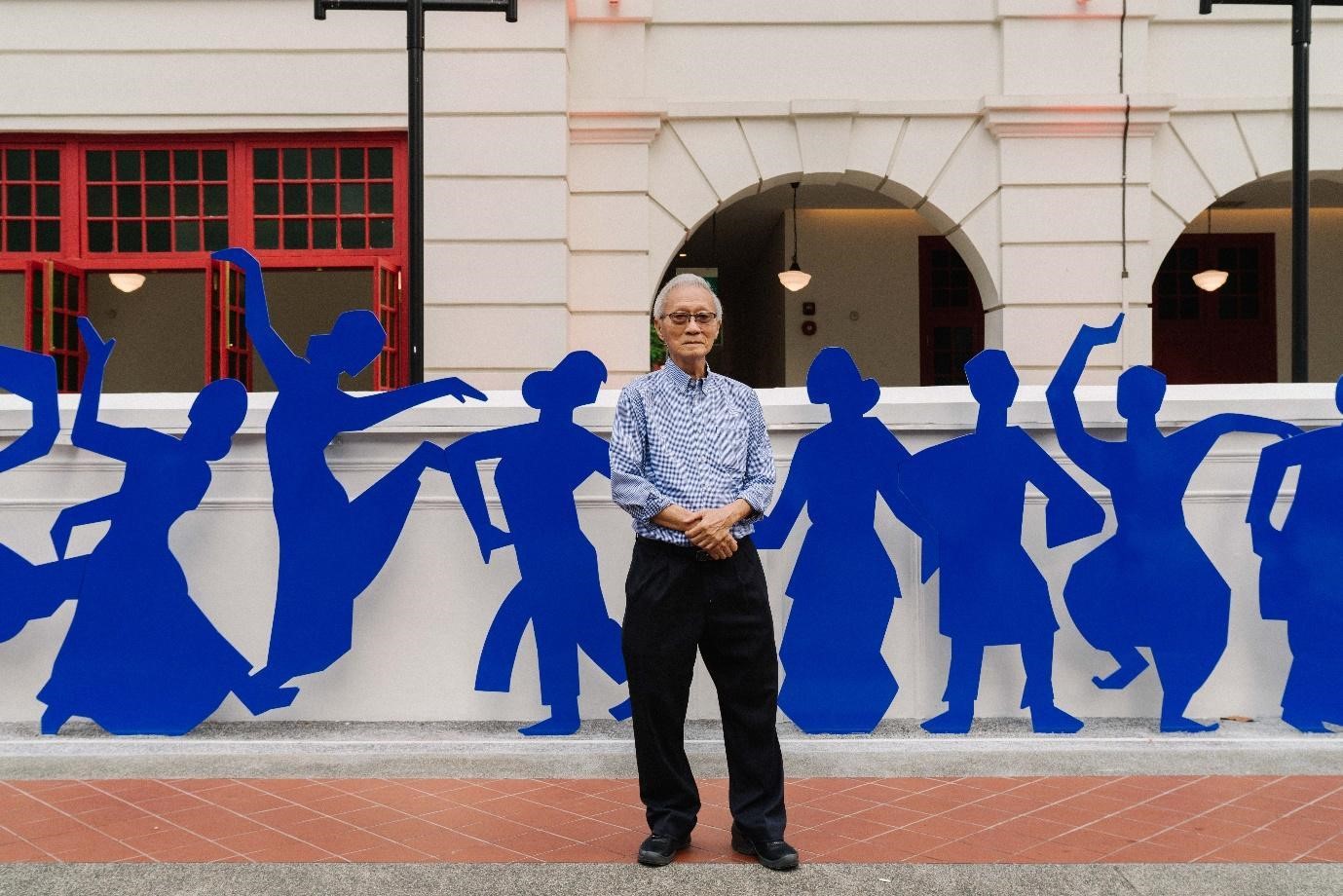 For an innovative response to transforming the exterior façade of Stamford Arts Centre, PAT selected award-winning artist Leo Hee Tong, an alumni of the Nanyang Academy of Fine Arts, and the prestigious Ashiya Art College in Japan. His works are held in many private and public collections, including those of the Istana and the Fukuoka Cultural Foundation. The public may already be familiar with his wall sculpture Towards 21st Century (1987) on display at Somerset MRT Station.

In line with PAT's aim of bringing art to public spaces, Culture and Harmony conveys the unique characteristics and aspirations of Stamford Arts Centre as a centre of innovative traditional artforms and practices at the intersection of the contemporary and traditional confluences. Culture and Harmony will further add to the vibrancy of the Centre and enliven the everyday experience of visitors to the Waterloo Arts Belt.

Culture and Harmony is co-commissioned by art patron Mr Tsai Eng Rung and the PAT initiative under NAC, highlighting the importance of public and private sector collaboration in sustaining our vibrant Singapore arts scene. More information on commissioning public art in Singapore can be found in the Guide to Commissioning Public Art here.

For more information on the artwork and artist, please refer to the NAC website, or receive the latest updates on Facebook and Instagram (@NACSingapore).

● ANNEX: ABOUT "CULTURE AND HARMONY" BY LEO HEE TONG
● Hi-res images can be found in the Digital Media Kit here: https://bit.ly/CultureandHarmonyPAT

- End -
For media queries, please contact:

Faith Leong
Manager, Communications & Marketing
National Arts Council
6346 9648 / 9173 0246
Faith_LEONG@nac.gov.sg

About Public Art Trust
The Public Art Trust (PAT) is an initiative by the National Arts Council established since 2014. Its mission is to make art a part of our urban spaces, and to bring art closer to Singaporeans. The PAT aims to achieve this by commissioning new public art in spaces where we live, work and play; bringing art closer to the community through impactful programming and outreach; as well as to promote visual literacy and best practices in public art.
About National Arts Council
The National Arts Council champions the arts in Singapore. By nurturing creative excellence and supporting broad audience engagement, our diverse and distinctive arts inspire our people, connect communities and profile Singapore internationally. We preserve our rich, cultural traditions as we cultivate accomplished artists and vibrant companies for the future. Our support for the arts is comprehensive – from grants and partnerships to industry facilitation and arts housing. The Council welcomes greater private and corporate giving to and through the arts so that together we can make the arts an integral part of everyone's lives. For more information on the Council's mission and plans, please visit www.nac.gov.sg.
ANNEX: ABOUT "CULTURE AND HARMONY" BY LEO HEE TONG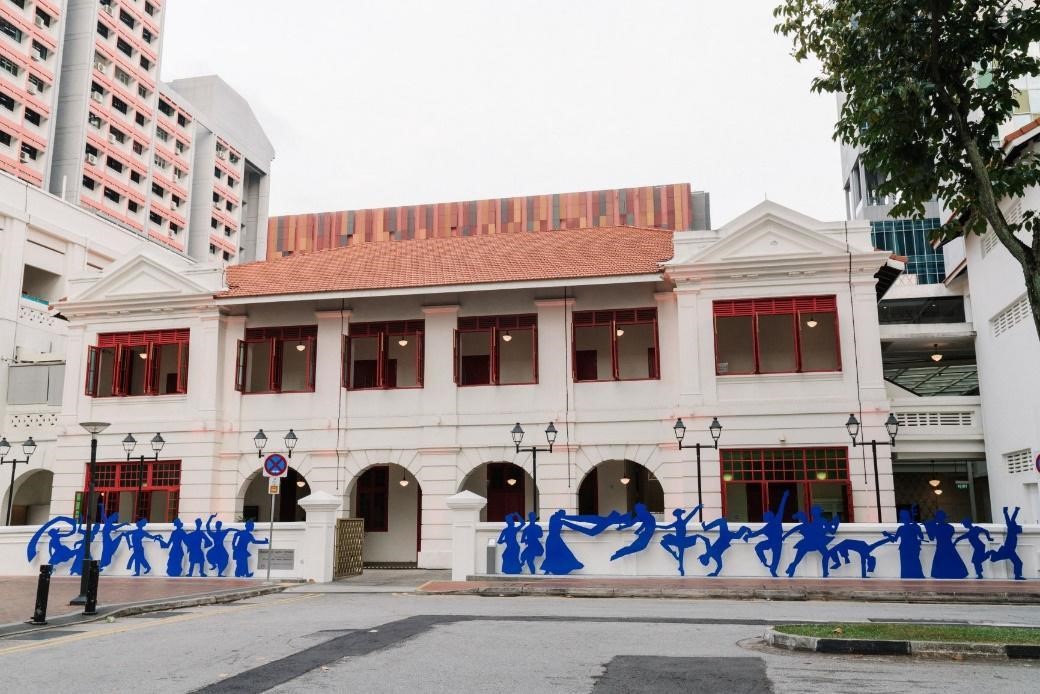 Culture and Harmony (2022)
8mm thick aluminium plate
8m x 1.5m x 0.08m and 12.8m x 1.5m x 0.08m
Located at Stamford Arts Centre
Commissioned by Public Art Trust
Sponsored by Tsai Eng Rung
Culture and Harmony symbolises the importance of Stamford Arts Centre's mission in supporting Singapore's multi-ethnic cultural heritage through performing arts. Mounted on the low fence wall of the historical building, the artwork emphasises and preserves traditional culture and heritage in a form that would reach out to future generations. The vibrant blue represents the spirit of dynamism that strengthens new visions and innovations in performing arts, and marks Stamford Arts Centre as a landmark with its striking presence and motif.
About the Artist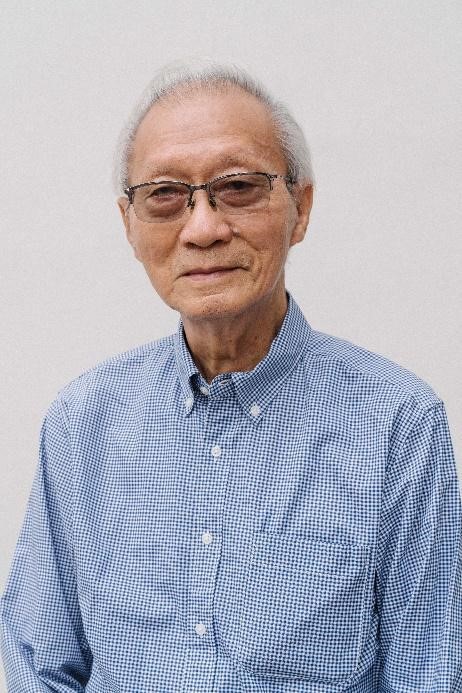 Leo Hee Tong (b. 1940) graduated from the Nanyang Academy of Fine Art in 1960 and continued art education at Art College in Japan from 1973-74. He has since held a solo exhibition in Suma, Japan in 1973, and four solo exhibitions in Singapore. He participated in group exhibitions such as the 15th International Grand Prix of Contemporary Art at Monte Carlo, Monaco (1981), Artists Contemporaries De Singapore LE Grand Palais, Paris (1988), and in countries like the United Kingdom, the United States, Bahrain, China, Japan, Taiwan, and regional Southeast Asia. He has won many awards, with paintings held in private and public collections such as Istana Singapore, Macau Culture Charity, and Fukuoka Culture Foundation. His wall murals titled
Towards 21st century
is on display at the Monetary Authority of Singapore and Somerset MRT station.
Back to Media Centre