National Arts Council shapes The Arts Plan with public feedback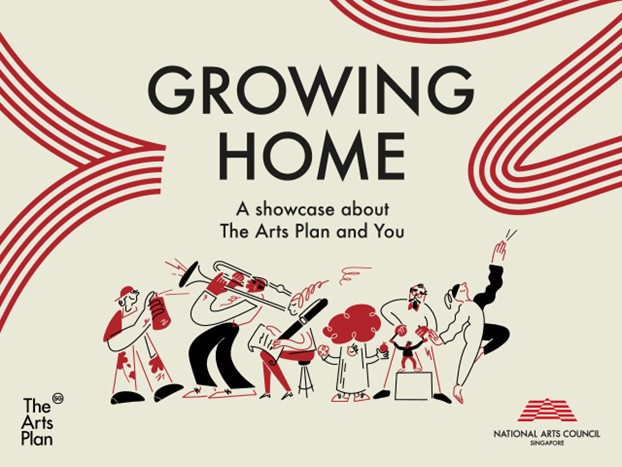 Singaporeans can learn more about the nation's next five-year masterplan contained within the draft of The Arts Plan (TAP) on a newly launched webpage. Members of the public can share their thoughts by taking part in a public poll and stand to win prizes.


SINGAPORE, 09 December 2022 – National Arts Council (NAC) launches a dedicated webpage with the draft of The Arts Plan (TAP) today, inviting the public to explore, participate, and share feedback on the five-year master plan for Singapore's arts. The webpage go.gov.sg/NAC-TAP kicks off a series of public touch points, anchored by an upcoming public roadshow titled Growing Home: A showcase about The Arts Plan and You. In line with the Forward Singapore exercise, the public can play a role in shaping the future of arts and culture, which would, in turn, create opportunities and unite Singaporeans, as well as build a more endearing home for all.
Strategic Thrusts of The Arts Plan
NAC's next Arts Plan is guided by three strategic thrusts which frames the development of the arts scene over the next five years, in partnership with the arts and the wider community:
● A Connected Society where Singaporeans across different life stages and from all walks of life will be able to enjoy and partake in quality arts programmes. Through shared arts and culture experiences, stronger bonds and mutual understanding can be forged to bridge our different communities and foster a common appreciation and personal ownership of the arts as individuals and as a society.
● A Distinctive City with vibrant places inspired by and for the arts, where the arts can breathe new life into familiar spaces and structures and elevate Singapore into a cultural and iconic city. This will be a distinctive and lively city for our local communities and friends from abroad, with opportunities to experience arts everywhere, where they live, work and play, and even in the virtual realm.
● A Creative Economy powered by artistic talent, excellence, and innovation. By nurturing dynamic and agile creative talents, and fresh business models that tap on new connections and opportunities beyond, the sector will expand the value and recognition of the arts in today's economy, create good jobs for arts and culture practitioners, and keep us at the top of our game in the global arts landscape.
Chief Executive Officer of NAC, Mrs Rosa Daniel, said, "Growing Home: A showcase about The Arts Plan and You introduces Singaporeans to the possibilities of the future of Singapore's arts scene over the next five years. With the next edition of the Arts Plan spanning 2023 to 2027, we hope that the public can get involved in the arts and NAC can gather feedback on creating a vibrant arts ecosystem that celebrates our diversity, supports the sustainable growth of the sector, and nurtures the creative talents of our people."
Online and Public Showcase
Whether online or in-person, Singaporeans can learn more about how TAP aims to grow Singapore's arts scene and share their feedback on the multiple roles the arts can play, its value in society, and how the arts can connect and foster a stronger sense of Singapore. This feedback will help refine Our SG Arts Plan (2023 – 2027) into one that propels inclusivity, vibrancy, and more opportunities for artists, cultural practitioners, and adjacent industries alike.
Visitors to the webpage can download the draft plan to better understand the next five-year strategic arts roadmap, and virtually navigate TAP journey since its inception in 2021. Singaporeans can also make their way down to a public roadshow to experience Growing Home: A showcase about The Arts Plan and You, which will be launched at The Arts House on 6 January 2023.
As a culmination of the Council's engagement efforts, this public showcase will present an array of interactive artworks across various art forms and illustrate how TAP could bridge the arts with other industries including a wide diversity of domains like heritage, lifestyle, design, and technology. The roadshow will travel to One Punggol in February 2023, with more details to be released closer to the date.
To encourage public feedback, NAC is also conducting a public poll where participants will stand a chance to win attractive prizes, including a stay at PARKROYAL COLLECTION Pickering as well as tickets to arts experiences. More details on the prizes can be found on the TAP webpage and in the Annex.
Co-Develop, Co-Create and Collaborate
These public activities bookend the final phase of NAC's efforts since July 2021 in co-developing Our SG Arts Plan (2023 – 2027) after extensive and in-depth engagements with over 1,000 stakeholders from within and outside the arts. In line with Forward Singapore's whole-of-society effort, the next Arts Plan responds to the opportunities and challenges of a changing world; it will guide the Council's ways of working, dialoguing, and engaging in the coming years, especially in the areas of co-creation and collaboration with artists, audiences, partners, and stakeholders.
Following Our SG Arts Plan (2023 – 2027) launch in 2023, NAC intends to form workgroups to continue experimenting with ideas and testing prototypes, deepen engagements, and look to synergistic efforts to unlock opportunities for the arts ecosystem.
For the latest updates on TAP, please visit NAC's dedicated webpage. Join the conversation with #OurSGArts and follow NAC's Facebook and Instagram (@NACSingapore).
For media queries, please contact:
Leck Choon Ling

Manager

Tate Anzur

+65 8288 3592

Krystle Huan

Senior Manager, Communications & Marketing

National Arts Council

+65 9062 3317
ANNEX – List of Prizes for TAP Public Poll
Prize

Description

1st Prize

3D2N hotel stay @ PARKROYAL COLLECTION Pickering Collection Club Suite, including a massage and dinner for two and a Mudrock Ceramics trial class for 2 pax

2nd Prize

1 pair of Pangdemonium Category 1 (All Access) Season Tickets

3rd Prize

ArtScience Museum: ArtScience Friends Group Membership

Monthly Prizes

(Dec 2022 – Feb 2023)

National Gallery Singapore Art X Cocktail Tour for 2 pax

Esplanade Night Tour for 2 pax

Weekend buffet dining vouchers for 2 pax at Lime Restaurant and Bar
Back to Media Centre