The National Arts Council and the People's Association present: SAW x PAssionArts
National Arts Council (NAC) and People's Association (PA) invite Singapore-based artists, curators, producers, and collectives to submit proposals for the inaugural SAW x PAssionArts Open Call as part of the 11th edition of Singapore Art Week to be held from 6 – 15 January 2023.

For SAW 2023, NAC is collaborating with PA to present a new platform for artists to work alongside Community Arts & Culture Clubs (CACCs) to engage with the community in five neighbourhoods across Singapore.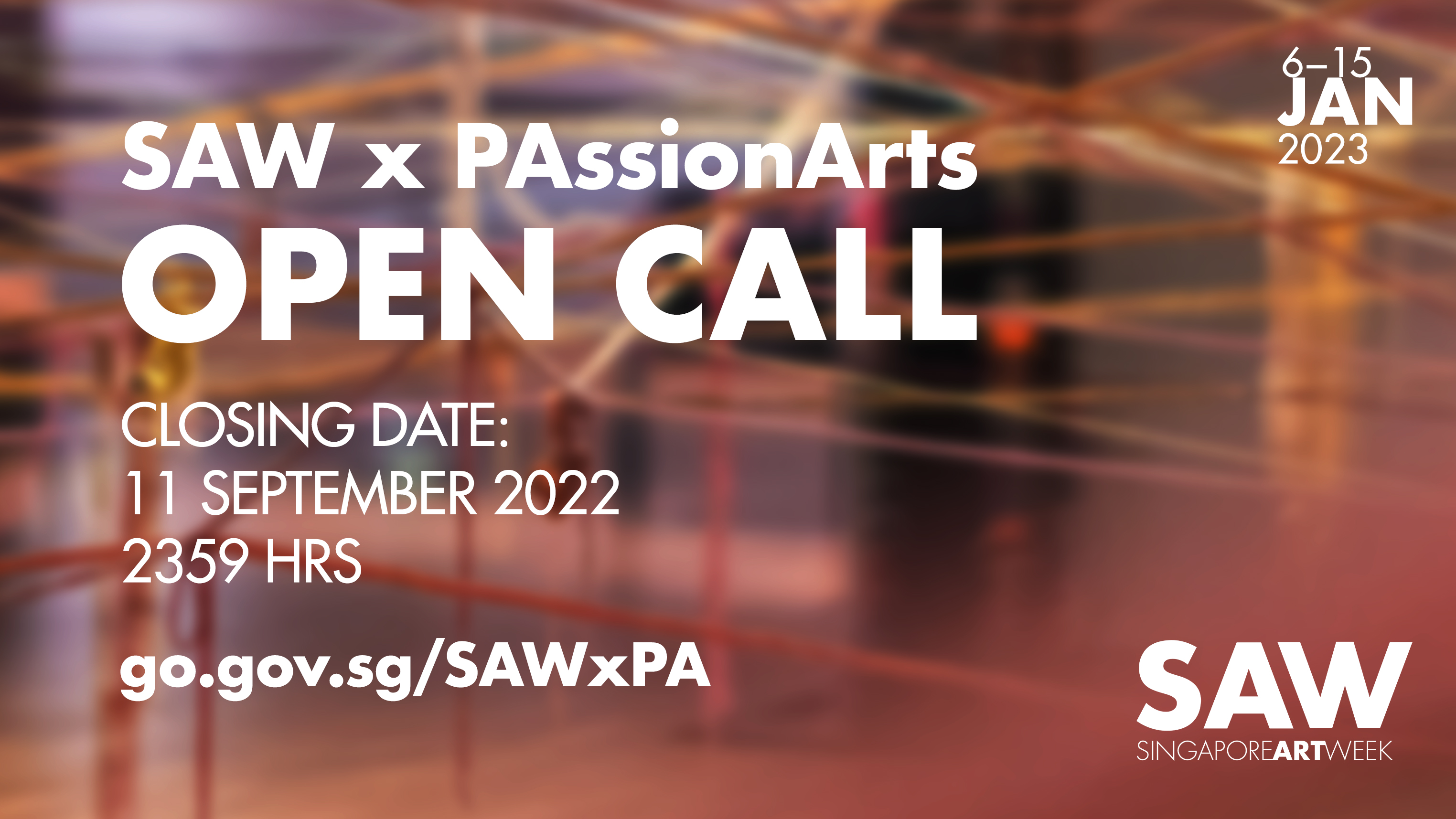 Open Call for SAW x PAssionArts Proposals
SAW 2023 welcomes proposals that respond to the theme of Play. In particular, the SAW x PAssionArts Open Call seeks interdisciplinary and participatory projects that foreground community engagement.
Proposals should contain two parts – workshops for community engagement and a physical visual arts presentation.
Successful applicants must work closely with the CACCs to present their projects within one of the following neighbourhoods: Bedok, Bukit Gombak, Limbang (Choa Chu Kang), Pasir Ris East, and Radin Mas.
Click here for the SAW x PAssionArts Open Call Brief. We encourage all interested parties to read the brief thoroughly.
How to Apply
Interested applicants are required to fill up the application form via FormSG and submit the following required documents via Dropbox by 11 September 2022 (Sunday), 2359hrs as part of their application:
Via FormSG
Via Dropbox in one single Zip file
Detailed lesson plans and learning objectives for the community engagement workshops
Proposed budget form – please use the template provided
CVs/Portfolios of key personnel
Proposed list of artists and artworks
Proposed project timeline
Other supporting documents (where relevant)
Click here for the SAW x PAssionArts Open Call application form. All other necessary documents can be downloaded here.
Late submissions will not be considered.
Briefing Sessions
We encourage interested parties to attend briefing sessions conducted by the SAW team and PA to learn more about SAW x PAssionArts and the Open Call. There will be time allocated for Q&As, should you have any queries to clarify.
These sessions will take place on
19 Aug 2022 (Fri) 4.00pm and
20 Aug 2022 (Sat) 10.30am
Please RSVP for the briefing sessions here.
General Guidelines
SAW's funding support varies by project type and applicant. All projects are evaluated by a panel and the amount of funding received by successful projects is dependent upon an evaluation score. Successful projects may receive funding of up to $30,000.

Proposals that involve collaborations with foreigners are eligible as long as the lead applicant(s) is a Singaporean Citizen or Permanent Resident based in Singapore and that at least half the artistic team comprises of Singaporeans or Permanent Residents.

Projects must be presented continuously for the entire duration of 6 - 15 January 2023. However, the project's start date may begin before 6 January 2023 and its end date may extend beyond 15 January 2023. Applicants are encouraged to stage their presentations for 30 days or more to allow for extended community engagement.

Applicants are required to include the proposed venue and complete list of artists/artworks to allow for a more holistic assessment of the proposals.

Applicants should not include open calls in their proposals as a complete list of artists/artworks is required for evaluation.



Please refer to the SAW x PAssionArts Open Call Brief for full details.
If you would like to discuss your proposals with us ahead of the submission deadline, please contact the Singapore Art Week team at artweek@nac.gov.sg.