Updated as of 4 January 2022
National Support Measures
Under the Jobs Support Scheme (JSS), the Government co-funds a percentage of the first $4,600 of gross monthly wages of each local employee on his/ her Central Provident Fund (CPF) payroll. Eligible organisations from the arts and culture sector benefitted from Tier 2 support in the first phase of implementation, as well as enhanced support from May to December 2021 due to the tightened safe management measures since Phase 2 (Heightened Alert).
Eligible organisations that are tenants of Government-owned commercial properties, as well as tenant-occupiers and owner-occupiers of privately-owned commercial properties also benefitted from rental relief.

Sector-Specific Support Measures
Since 2020, the Arts and Culture Resilience Package (ACRP) has provided a total of $75 million to support the arts and culture sector, as live performances and other cultural activities gradually resume. This includes the Capability Development Scheme for the Arts (CDSA), the Digital Presentation Grant for the Arts (DPG), and commissioned works and partnerships under the Digitalisation Fund. As time-limited schemes, the CDSA and DPG were introduced to support artists and arts organisations to grow capabilities as well as present their work in digital form or via digital mediums during COVID-19.
In addition, eligible key organisations in the arts and related sectors received the ACRP Operating Grant that helped to defray operating costs. The first tranche of $50,000 or $75,000 was administered by the National Arts Council (NAC) and the co-administering agencies (the National Heritage Board and DesignSingapore Council), followed by a second tranche of $35,000 per eligible organisation. Over 240 organisations have benefitted across both tranches of the ACRP Operating Grant.
The 80%
subsidy for venue hire and in-house production costs
was extended until December 2021. The level of subsidy is reduced to 60% for the period of January to March 2022.
Please visit here for more information
.
In June 2021, NAC launched two additional grant support namely, the Self-Employed Person (SEP) Grant and the Organisation Transformation Grant (OTG) for projects to be completed by 31 March 2022. The SEPG creates work opportunities for arts and culture freelancers by encouraging them to collaborate on projects especially those that have a longer-term impact on their practices, professionalism and livelihoods. The OTG supports arts organisations in both the digital and non-digital aspects of business transformation and encourages organisations to work together to address common pain points and/or co-create solutions. Respective engagement sessions were organised in April to May 2021 with the key stakeholders to discuss key topics and co-design parameters of the grants. Read more here.
Through support of the ACRP, NAC has: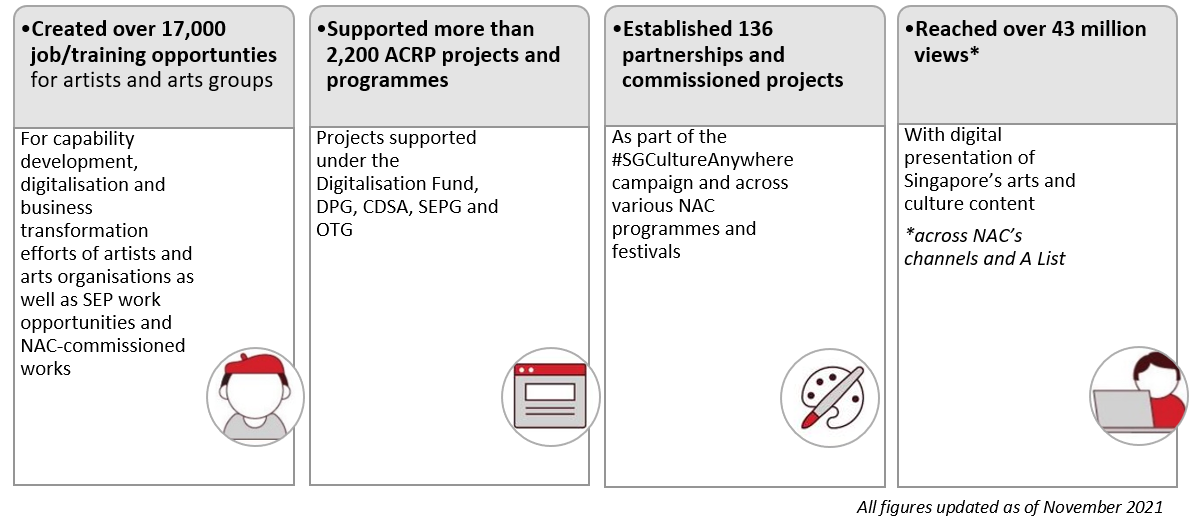 In view of the evolving situation, NAC continues to provide support through existing project grants such as the Presentation and Participation Grant (P&P), Capability Development Grant (CDG) and Market and Audience Development Grant (MAD). NAC will work with grantees to make provisions for adjustments that may now be needed, where possible and encourage grantees to approach account managers for further discussions. To sustain support for the COVID-19 time-limited schemes that have phased out, we have made some adjustments and enhancements to the relevant grants. Read more here.
Other Additional Resources