The Stamford Arts Centre (SAC) Opening Celebrations was held in April 2019, after the building's redevelopment works. Since then, as part of SAC's vision to encourage multi-disciplinary collaborations and to support the creation of innovative traditional arts content, various physical performances have been presented to engage audiences in-person as well as online programmes to bring traditional arts closer to the community.
ROUTES: A Multi-Perspective Exploration of Traditional Dance in Singapore (2021)
ROUTES follows the origins of local Chinese, Malay, and Indian traditional dance practices, and presents a multi-perspective reflection on the traditional dance scene in Singapore. Anchored on stories from Singapore's dance pioneers and practitioners including Santha Bhaskar, Som Said, Lim Moi Kim, Cai Shiji, Raka Maitra, and Noramin Farid, ROUTES taps on their first-person accounts, and delves into the preservation of traditional dance and its continuity into the future.
Visitors can enjoy an immersive journey with a 360-degree video and 3D holographic mesh experience that brings traditional dance to life! The physical exhibition at Stamford Arts Centre concluded on 12 September 2021. To share your feedback on the exhibition, please click here.
Continue to hear about the artists' stories in the videos below:
HEAR THEIR STORIES
The traditional dance landscape in Singapore is diverse and evolving. While Chinese, Indian and Malay dance sprung from different roots, we are seeing common threads across ethnic lines and growing differences within ethnic forms. The line between "traditional" and "contemporary" is also starting to blur.
Singaporean artists trained in traditional dance are pushing boundaries in interpretation and expression. What aspects of traditional dance are they choosing to retain or to discard? How did COVID-19 impact the traditional arts scene?
ROUTES paints a colourful and multi-textured picture of an evolving landscape. Watch six practitioners unpack traditional dance and share what guides their practice. And get a taste of their creative works – up close and personal.
The Journey of Each Artist
Histories of the Dance Forms
Unpacking Traditional Dance
COVID-19 and New Trajectories
---
Chinese Opera Roving Exhibition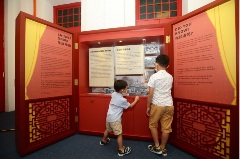 Date(s): 3 April to 31 August 2021
Time: 9am to 10pm
Venue: #01-06 at Stamford Arts Centre, 155 Waterloo Street, Singapore 187962
The Chinese Opera Roving Exhibition is an interactive exhibition that has been touring various locations across the island since 2020. It provides an up-close street opera experience with a contemporary and digital spin. Comprises three giant panels, the exhibition set-up drew inspiration from antique Chinese chests, or 多宝盒, to symbolise the importance of Chinese Opera to the Chinese heritage and culture. Each exhibition panel unfolds to reveal the history of Chinese Opera in Singapore, a closer look at how the traditional street opera stage is built, and even remnants of tactile stage-building materials. Learn more about Chinese Opera through an immersive Virtual Reality (VR) 360-degree Stage Tour, which offers a rare glimpse of what goes on backstage at a traditional local street opera performance.
The Chinese Opera Roving Exhibition concluded its stop at the Stamford Arts Centre in end-August. You may visit the exhibition at the Singapore Chinese Cultural Centre, from now until 27 December 2021. Find out more here.
---
The 360 Virtual Tour is a refresh of the SAC Walking Trail that was first launched in 2019, welcoming visitors to an immersive and interactive experience of the centre. Shot with 360-degree panoramic photography, audiences can navigate around the space, learn about the different traditional art forms, and explore the architectural highlights and history of the building. Be introduced to various aspects on traditional arts - from getting your hands on traditional ethnic music instruments such as the Sheng (笙), Pai Gu (排鼓), Kompang, and Sitar; to discovering traditional performance costumes such as the Baju Kurung and Baju Melayu of Malay dance, Kathakali, Kathak, and Bharatanatyam costumes of Indian dance, as well as the Jing (净), and Chou (丑), characters of Chinese opera.
Click here to explore!